Collin Peterson: My Coffers Are Fine, Thank You Very Much
You wouldn't know it from the media, but Peterson just recorded his strongest off-year 4th Quarter fundraising haul ever – coming in at nearly 75 percent higher than his average receipts over the previous decade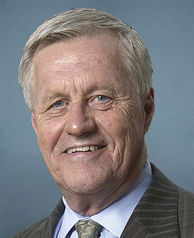 Now that Congress finally passed a farm bill, will Collin Peterson get some love from the media?
The Congressman has still not yet stated whether he will run for reelection in 2014, but press reports would have one believe he is already in trouble.
Republicans, of course, have been frustrated for years that they haven't been able to run a competitive candidate in Peterson's GOP-leaning district.
Democrats, though pleased to hold the seat, have been rankled by many of the conservative Democrat's votes over the years (e.g. voting against the Affordable Care Act and 2009 stimulus).
The media, meanwhile, continues to cast Peterson as a lawmaker nearing retirement who is unable (or unwilling) to raise sufficient funds to lock down his seat for a potential 2014 reelection bid.
Just this week, the 12-term lawmaker was singled out by The Hill as one of five fundraising "losers" in Congress for his receipts collected during the 4th Quarter of 2013.
The article adds, "The low totals hint he might not run again."
But, as reported by Smart Politics four months ago after Peterson's 3rd Quarter numbers were released and Roll Call labeled Peterson's fundraising 'low,' his receipts in both quarters have been right on target for a reelection campaign based on previous cycles.
In fact, Peterson just notched the best off-year 4th Quarter of his political career.
A Smart Politics analysis of Collin Peterson's FEC fundraising data finds that his $164K haul last quarter is the most he has raised in the 4th Quarter of an off-year since at least 1995.
(FEC fundraising data is not yet retrievable for Peterson's 1990, 1992, and 1994 campaigns).
Peterson's previous off-year 4th Quarter best came in 2007 when he chaired the House Agriculture Committee.
During October through December of that year, he received $139,341.
Two years later, in Q4 2009, Peterson raised $121,510 (when he was still the committee chair).
Over the five cycles from 2003 through 2011, Peterson averaged only $94,732 in the fourth quarter of off-years.
That makes his recent $164,634 haul 74 percent above average over the last decade during the same period. (Note: Peterson cruised to victory by an average margin of 32 points during these five cycles).
To put the congressman's Q4 2013 receipts into a greater perspective, consider this: the quarter also cracked Peterson's Top 5 list among the last 40 off-year quarters since 1995.
In fact, 2013 has actually been a banner year for Peterson, with the Democrat notching two of his five best off-year quarters dating back to at least the 1995 cycle.
The $164,981 Peterson raised in Q1 2013 was his fourth best all-time with the $164,634 raised in Q4 2013 just a few hundred dollars behind at #5.
Peterson's best off-year fundraising period during the last 10 cycles came in Q1 2007 with $229,784 followed by Q2 of 2009 with $192,691 and Q3 2007 at $166,856. (All periods during which he was the Agriculture Committee chair).
In other words, Representative Peterson was $2,223 shy of his third best off-year fundraising period across at least the last 10 cycles.
(Note: FEC filings prior to the 2003 cycle in off-years were compiled biannually, but Peterson's Q4 2013 quarterly receipts substantially top the biannual tallies from 1995, 1997, 1999, and 2001).
Collin Peterson's Top 5 Off-Year Fundraising Periods, 1995-2013
Rank

Year

Quarter

Amount

1

2007

Q1

$229,784

2

2009

Q2

$192,691

3

2007

Q3

$166,856

4

2013

Q1

$164,981

5

2013

Q4

$164,634
Table compiled by Smart Politics with FEC data.
Due to his historically large hauls in Q1 and Q4 of last year, Peterson is also on pace to have one of his best fundraising cycles ever.
The $527K raised by Peterson for his 2014 campaign through December is the third highest tally of his career at this stage, and just $6,270 off his second best tally.
Peterson's two strongest fundraising cycles came in 2007 and 2009 when he chaired the Agriculture Committee.
The congressman raised $673,428 in 2007 and $534,097 in 2009.
Peterson's average off-year receipts during the previous five cycles were just $420,902, making his 2013 tally 25.4 percent above the decade-long norm.
Collin Peterson's Off-Year Fundraising, 1995-2013
Year

Amount Raised

1995

$237,485

1997

$112,813

1999

$133,073

2001

$79,675

2003

$130,869

2005

$318,877

2007

$673,428

2009

$534,097

2011

$447,242

2013

$527,827
Table compiled by Smart Politics with FEC data.
In short, if Peterson ends up not running for reelection, the reason clearly will not be for a lack of money.
The congressman, of course could blunt speculation of his political demise (and end rumors of his retirement) by officially announcing he is running for reelection, but the latest word from the Peterson camp is he will decide by March.
While Democrats would undoubtedly be left in the lurch if Peterson opted against a run at such a late date (seven months before Election Day), the independent-minded Peterson may just be enjoying seeing the media spin in their tracks as they await his decision.
State Senator Torrey Westrom of Elbow Lake, meanwhile, is in no hurry for Peterson to confirm or deny these retirement rumors, as the congressman's possible candidacy in 2014 has probably helped keep the 7th CD GOP field entirely to himself thus far.
Westrom raised $84K last quarter after announcing his candidacy in early December.
Follow Smart Politics on Twitter.