Do Democratic Hopes of Beating Kline End with a Dayton Loss?
A political party losing control of the governor's mansion has picked up a U.S. House seat in just three cycles in Minnesota history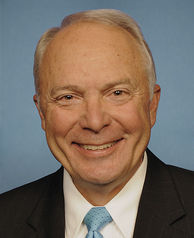 After Michele Bachmann's decision to retire last year, all the focus by Minnesota Democrats to pick up a sixth U.S. House seat shifted from the state's more conservative 6th Congressional District to the moderate 2nd, held by John Kline.
Kline's district has a +2 Republican tilt (according to Charlie Cook's Partisan Voter Index), as does Minnesota's 3rd CD, held by Republican Erik Paulsen.
Paulsen's seat, however, is not at the top of the Democratic Party's list, even though the three-term GOPer actually turned in a more conservative voting record in 2013 (111th in the House) than Kline (149th) according to National Journal's annual ratings.
At the top of the ballot, Mark Dayton's seat is considered either 'safe' or a 'likely hold' by Washington prognosticators at the moment, although Smart Politics remains skeptical of that status – previously documenting the party's historical difficulty of electing Democratic governors with a Democrat in the White House.
Consider then, for the sake of argument, that Mark Dayton does go down to defeat this November and the governor's mansion flips back to the GOP.
What can be expected to take place down the ballot in the state's eight congressional races?
Since 1886, when gubernatorial races became aligned with federal elections in the Gopher State, partisan control of the governor's office has flipped in 17 of 51 cycles, or one-third of the time.
During just five of these 17 cycles, there has been no net partisan change to the make up of the state's U.S. House delegation:
· 1898: When Democratic-People's nominee John Lind won the governor's race, the GOP retained 7-0 delegation advantage
· 1900: Republicans won back the governor's office with Samuel VanSant and held all seven seats
· 1930: Farmer-Laborite Floyd Olson ended a seven-cycle GOP run, but Republicans maintained a 9-1 advantage over the Farmer-Labor Party in the U.S. House delegation
· 1978: Republican Al Quie knocked Rudy Perpich out of office, but the delegation remained split 4-4 (after Arlan Stangeland picked up an open DFL seat in a 1977 special election)
· 1998: The election of Reform Party nominee Jesse Ventura did not alter the 6-2 DFL advantage
A more common scenario has been for the party that picks up the governor's mansion to also net at least one U.S. House seat. This has happened in eight cycles – all during the last 75 years:
· 1938: Republican Harold Stassen won the governor's race and the GOP picked up four seats from the Farmer-Laborites, winning seven of nine seats overall
· 1954: Orville Freeman's gubernatorial victory was accompanied by a gain of one U.S. House seat by the DFL to take a 5-4 advantage
· 1960: Republicans gained one seat for a 6-3 delegation lead as Elmer Andersen knocked Freeman out of office
· 1962: Karl Rolvaag's victory over Andersen turned a 3-6 DFL deficit to a 4-4 even split after reapportionment
· 1966: Republican Harold LeVander defeated Rolvaag and Republicans picked up one seat (John Zwach over Alec Olson in the 6th CD) for a 5-3 split
· 1970: Wendell Anderson won the open seat and DFLers picked up the 7th CD (Bob Bergland over Odin Langen) for a 4-4 delegation split
· 1982: Rudy Perpich won the open seat and DFLers netted two seats after redistricting (the 1st and 6th CDs) for a 5-3 advantage
· 2002: Tim Pawlenty won the open seat and Republicans gained one seat after redistricting (Mark Kennedy in the 6th CD) for a 4-4 delegation split
(Note: In 1914, partisan control of the governor's mansion also switched from Republican to Democrat (Winfield Hammond), and Republicans lost one net seat to the Progressives).
That leaves just three cycles in which the governor's mansion flipped, but the party losing the seat made gains in U.S. House races:
· 1904: Democrat John Johnson won the first of his three terms, but Republicans picked off the only Democrat-controlled congressional seat in the state (the 5th CD), sweeping all nine races.
· 1990: Republican Arne Carlson knocked Rudy Perpich out of office, but the DFL picked up the 7th CD (Collin Peterson over Arlan Stangeland) for a 6-2 delegation split.
· 2010: Mark Dayton's narrow open seat victory came in a cycle where Republicans scored a major upset victory in the 8th CD (Chip Cravaack over 18-term incumbent Jim Oberstar), evening the delegation at 4-4.
Kline is still favored in his 2014 reelection bid with former State Representative Mike Obermueller poised for a rematch.
Six-term incumbents have won reelection at nearly a 90 percent rate in Minnesota since statehood (28 of 32).
Follow Smart Politics on Twitter.