John Dingell By the Numbers
The Michigan Congressman has served with 2,448 U.S. Representatives to date including 24 named 'Smith' and 86 percent of all women elected to the chamber in U.S. history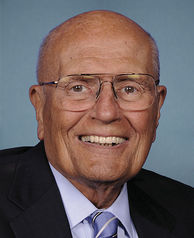 The announcement Monday that 30-term Michigan Democratic Congressman John Dingell would not seek reelection this November puts an actual end date on a career in the nation's lower legislative chamber that began during Dwight Eisenhower's first term.
Dingell's decision comes 58 years, 2 months, and 11 days since he took office on December 13, 1955 – winning a special election for the seat vacated after the death of his father, John Sr., that September.
Presuming the all-time longest serving member of the House of Representatives serves out the remainder of his term, Dingell will have compiled an inconceivable 59 years, 21 days of service when he exits on January 3, 2015.
2,448 colleagues (and counting)
Over the last six decades, Congressman Dingell has worked alongside a total of 2,448 fellow U.S. Representatives.
That tally will increase slightly over the coming months before his exit, with special elections bringing fresh faces to the chamber in March (from Florida's 13th CD), June (Florida's 19th CD), and November (North Carolina's 12th CD), with a new member filling the vacancy in New Jersey's 1st CD also sworn in at some point this year.
For a complete list of every U.S. Representative to serve with John Dingell since 1955 click here.
Dingell served alongside 88 Representatives from Michigan which ranks as the eighth most of any state during his legislative career.
In first is California with 210 Representatives who have shared the House floor with Dingell followed by New York with 196, Pennsylvania with 139, Texas with 127, Illinois with 122, Ohio with 115, Florida with 91, Michigan with 88, New Jersey with 70, and North Carolina with 68.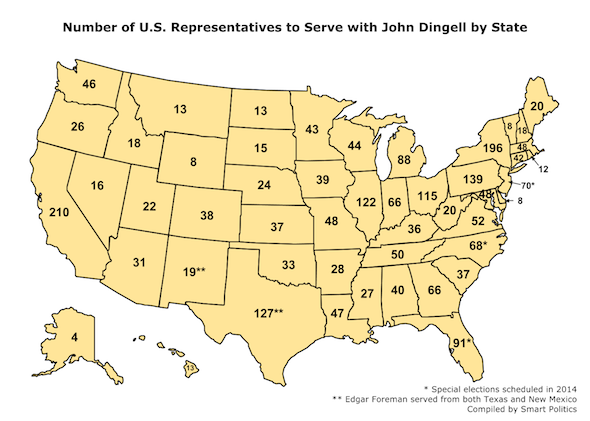 Nearly 3 out of 4 days in the majority
At the end of his term in 2015, Dingell will have served in the majority for 15,727 of his 21,571 days in office (1955-1994, 2007-2010), or 73 percent of the time.
Dingell has served in the chamber with slightly more members of his own caucus than that of the GOP.
Since entering the U.S. House, Dingell worked alongside a total of 1,254 Democrats, 1,176 Republicans, and 18 Representatives who either switched parties or served as independents.
Smith 24, Johnson 17
Across his 58+ years in office, Dingell worked alongside 24 U.S. Representatives named 'Smith' (tallying 1 percent of his colleagues) – more than any other surname.
The Smiths in question are:
Adam Smith of Washington (Democrat)
Adrian Smith of Nebraska (Republican)
Albert Smith of Alabama (Republican)
Chris Smith of New Jersey (Republican)
Dennis Smith of Oregon (Republican)
Frank Smith of Mississippi (Democrat)
H. Allen Smith of California (Republican)
Henry Smith of New York (Republican)
Howard Smith of Virginia (Democrat)
James Smith of Oklahoma (Republican)
Jason Smith of Missouri (Republican)
Joseph Smith of Pennsylvania (Democrat)
Lamar Smith of Texas (Republican)
Larkin Smith of Mississippi (Republican)
Lawrence Smith of Wisconsin (Republican)
Lawrence Smith of Florida (Democrat)
Linda Smith of Washington (Republican)
Neal Smith of Iowa (Democrat)
Nick Smith of Michigan (Republican)
Peter Smith of Vermont (Republican)
Robert Smith of New Hampshire (Republican)
Robert Smith of Oregon (Republican)
Virginia Smith of Nebraska (Republican)
Wint Smith of Kansas (Republican)
Dingell also served with 17 representatives named Johnson, 17 named Davis, 14 Millers, 10 Browns, nine named Jones, eight Wilsons, eight Thompsons, seven named Williams and seven Martins.
Women in Congress: 86 percent
Over 90 percent of the Michigan Democrat's colleagues have been men during his years in office: 2,225 men and 223 women.
That means Dingell has served with 86 percent of the 260 female U.S. Representatives elected to the chamber in history.
(Dingell's father, John Sr., worked with 27 of the remaining 37 women in the chamber who exited before John Jr. took office during his tenure between 1933 and 1955).
That tally includes all seven women elected to the chamber from Dingell's home state: Republican Ruth Thompson (from 1955 to 1957), Democrat Martha Wright Griffiths (1955-1974), Democrat Barbara-Rose Collins (1991-1997), Democrat Lynn Rivers (1995-2003), Democrat Debbie Stabenow (1997-2001), Democrat Carolyn Cheeks Kilpatrick (1997-2011), and Republican Candice Miller (2003-present).
77 challengers – all fall down
Republicans never got close to knocking Representative Dingell out of office – with the Democrat winning by an average of 46.9 points over his career.
Dingell's closest shave was a 16.8-point win during the GOP tsunami of 2010.
Since Dingell's first victory in the special election of 1955, he has defeated a total of 77 challengers: 28 Republicans, 14 Libertarians, five candidates from the U.S. Taxpayers, American Independent, and Socialist Workers parties, four from the Natural Law Party, three from the Green, Socialist Labor, and Prohibition parties, two from the U.S. Labor party, and five other independent or third party candidates.
Representative Dingell's wife Debbie is expected to run for her husband's seat this November.
Follow Smart Politics on Twitter.