Do Montanans Care Where Their Senators Are Born?
Democrats are stirring the pot after statements by 2014 hopeful Steve Daines raise questions about the depth of his connections to the Treasure State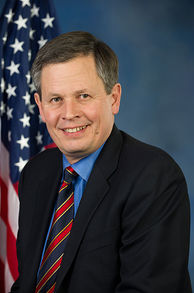 Montana Republican Congressman and U.S. Senate candidate Steve Daines has made national news after Democrats began to needle him about his home state roots.
Democrats are questioning Daines' assertion that he is a fifth-generation Montanan and have subsequently asked for him to release his birth certificate.
Where the first-term U.S. Representative was born is not at issue: Van Nuys, California in 1962.
But although Democrats are suggesting Daines has exaggerated the extent of his familial ties to the state, his California birth hardly makes him a carpetbagger (Representative Daines spent most of his childhood in Bozeman where he graduated from high school and attended Montana State University).
That said, not every Montanan may know Daines was born out of Big Sky Country and – with Democrats insisting he produce his birth certificate – that fact is certainly getting more play.
Even still – Daines' purported embellishments aside – how much do Montana voters care where their U.S. Senators are born?
Overall, just five of 22 Montana U.S. Senators in state history were born in Montana.
Montana is not unlike many western states which found most of its Senators during its first several decades since statehood to be born elsewhere only to later migrate to the Treasure State.
In fact, Montana had been a state for 71 years before its first home-grown Senator was elected into office – Democrat Lee Metcalf in 1960.
Dating back to the passage of the 17th Amendment, slightly more than one third of Montana's U.S. Senators were born within the state (five of 14).
Three of these were elected into office (Democrats Metcalf, Max Baucus, and Jon Tester) and two were appointed (Democrats Paul Hatfield and current Senator and likely 2014 nominee John Walsh).
Western states hold nine of the bottom 10 slots for the lowest percentage of home-born U.S. Senators in the nation during the direct election era, with Montana coming in at #42 with 35.7 percent.
Washington has imported the most such officeholders with just 18.8 percent born in the state.
Colorado (28.0 percent), Alaska (28.6 percent), Nevada (30.0 percent), New Mexico (31.3 percent), Wyoming (31.6 percent), Idaho (35.0 percent), Oklahoma (35.3 percent), and Arizona (36.4 percent) round out the bottom 10.
Montana had not been represented by two Treasure State-born U.S. Senators until after Jon Tester upset three-term Missouri-born Republican incumbent Conrad Burns in 2006.
With Tester's reelection victory in 2012 and the appointment of Walsh earlier this month after Baucus resigned to become the U.S. Ambassador to China, that streak has now continued for seven-plus years.
Past election cycles have shown being a Montana-born U.S. Senate nominee does not guarantee success on Election Day.
Here is a partial list of those who fell short of victory (with some losing to those born out of state and some to fellow Montana-born nominees): Orvin Fjare (1960), Alex Blewett (1964), Larry Williams (1978, 1982), Allen Kolstad (1990), Brian Schweitzer (2000), Mike Taylor (2002), Denny Rehberg (1996, 2012).
Of course, many of those nominees also lost to incumbents – a far greater predictor of electoral success than where one was born.
In addition to the five Montana-born U.S. Senators, the state has imported three from Iowa (Zales Ecton, Doc Melcher, Thomas Power), two from Missouri (Conrad Burns, Henry Myers), two from New York (Mike Mansfield, Wilbur Sanders), two from Wisconsin (John Erickson, Thomas Walsh), two from out of the country (James Murray from Canada and Lee Mantle from England), and one each from Maine (Paris Gibson), Massachusetts (Burton Wheeler), North Carolina (Joseph Dixon), Ohio (Thomas Carter), and Pennsylvania (William Clark).
Follow Smart Politics on Twitter.