Cornyn Records Weakest Ever Primary Win for Texas GOP US Senator
He may have cruised to a 40-point win, but the two-term Republican incumbent was still less than 10 points from a runoff while recording the worst ever primary performance by a Texas GOP Senator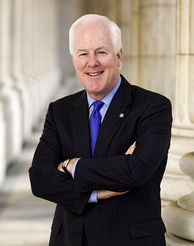 U.S. Representative Steve Stockman's late decision to enter Texas' U.S. Senate race and challenge fellow Republican John Cornyn did not work out as planned Tuesday.
Stockman won only 19 percent of the vote with the well-financed, well-known Cornyn more than tripling his support at 59 percent.
One other candidate, Dwayne Stovall, notched 10.7 percent with five other candidates winning another 10.7 percent collectively.
While Cornyn's primary victory nearly assures him of another six-year term after the general election this November in the reliably red state of Texas, it is still worth noting that he set a low water mark for a GOP incumbent in the Lone Star State.
Overall, Texas Republican U.S. Senators have run for reelection 10 times during the direct vote era.
During six of these cycles, there was no primary opposition served up while these GOPers clinched their renomination bids: John Tower in 1966, 1972, and 1978, Phil Gramm in 1990, and Kay Bailey Hutchison in 2000 and 2006.
The remaining three cycles in which a Texas Republican U.S. Senator did face primary challengers were blowouts:
· One year after her special election victory in 1993, Hutchison won 84.3 percent of the vote in a seven-candidate primary field. No other candidate reached double-digits and Hutchison won by 78.1 points.
· Two years later, in 1996, Phil Gramm coasted to a 77.3-point primary win en route to a third term with 85.0 percent of the vote in a three-candidate field.
· Just six years ago, in 2008, Cornyn won by 63.0 points with 81.5 percent of the vote in a primary with just one opponent.
And so, Senator Cornyn is not only the first Republican incumbent not to reach the 60 percent mark, but is also the first not to win 70 percent and the first failing to win 80 percent.
In short, while the Tea Party did not score a victory in Texas' Senate race, they did fire another warning shot by exposing fairly tepid support for the establishment candidate as more than four in 10 voters cast their ballots against him.
It might be argued that Cornyn's support was bound to be weakened due to the fact that there were seven candidates running against him.
However, Hutchison faced nearly as many challengers in 1994 (six) and captured another 25 percent of the vote over Cornyn in 2014.
Even more importantly, it is the fact that Cornyn inspired seven other Texans to battle him for the nomination in the first instance that remains a cause for concern among the establishment in cycles going forward – particularly when they don't have the advantage of an incumbent to rally behind (e.g. 2012).
Follow Smart Politics on Twitter.