The Elusive Republican Majority
Republican gubernatorial nominees in one state have failed to win a majority of the vote in more than 50 years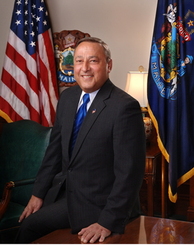 Eight months out from Election Day, Paul LePage of Maine remains at or near the top of most prognosticators' lists of the most vulnerable Republican governors on the ballot in the 2014 cycle.
Elected with a 38.1 percent plurality of the vote in 2010 over independent Eliot Cutler in a five-candidate field, it is nearly assured that whichever candidate emerges as the victor this November will also fall far short of capturing a majority of the vote.
(LePage will again face Cutler this cycle along along with likely Democratic nominee U.S. Rep. Mike Michaud and independent David Slagger, a former non-voting member of the state house).
Due to the strength of independents and third party gubernatorial candidates in Maine over the decades, as well as the electorate's relative preference for Democrats in Blaine House, it has now been more than half a century since the last time a Republican nominee for governor in the state had the backing of a majority of the electorate.
The last such GOPer to eclipse the 50 percent mark (and by a whisker at that) was John Reed – winning his second full term in 1962 with 50.1 percent of the vote. (Reed won a majority with 241 votes to spare).
Since then, Republicans in the Pine Tree State have failed to reach the 50 percent mark in 12 consecutive cycles – although the party has nonetheless claimed the governor's mansion three times during this span (John McKernan in 1986 and 1990 and LePage in 2010).
This 12-cycle stretch is currently the longest streak in the nation for the GOP, with the next longest drought more than two decades shorter.
Washington is next at eight cycles (since 1984), followed by Oregon at seven (1986), Delaware at six (1992), West Virginia (2000) and New Hampshire (2004) at five, and Minnesota at four (1998).
In addition to Maine, Republicans may see these streaks extended again this November in Delaware, Oregon, New Hampshire, and Minnesota.
Meanwhile, Republican nominees in Colorado (2002), Kentucky (2003), Maryland (2002), New York (1998), and Washington (1980) have reached the 50 percent mark in just one of the state's last 10 elections.
GOPers have done so in just two of the last 10 contests in six other states: Alaska (2002, 2010), Hawaii (2002, 2006), New Hampshire (1994, 2002), New Jersey (1985, 2013), Oklahoma (1998, 2010), Oregon (1978, 1982), and West Virginia (1984, 1996).
Follow Smart Politics on Twitter.