Advantage Sink? Women Win US House Specials at More Than 2x Rate of General Elections
Since 1980, women have won nearly a quarter of the nation's 141 U.S. House special elections (and 58 percent of contests featuring only one female major party nominee), compared to just 11 percent of general election races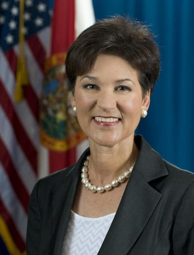 The run-up to the special election in Florida's 13th Congressional District Tuesday has taken many twists and turns since the death of 22-term Republican Bill Young last October.
Alex Sink cleared the Democratic field when she opted to run for the seat instead of a gubernatorial rematch against Rick Scott this November.
The Republican side saw public infighting as rumors circulated that the congressman's widow, son, or even brother might get into the race.
All the while, Bill Young's campaign website remains active, more than four months after his passing.
In the end, Young's former attorney, David Jolly, would win the GOP nomination and will appear on the ballot with Sink and Libertarian nominee Lucas Overby.
The race is considered to be a toss-up in one of the nation's most evenly divided districts from a partisan voting perspective, although the Democratic Party seems to be more pleased with their nominee than the GOP.
If Sink prevails on Tuesday, she will add to an ever-growing list of women who got their start in Congress via a special election.
A Smart Politics analysis of over 7,500 U.S. House races since 1980 finds that women have won congressional seats via special election at more than twice the rate (24 percent) than seats in general elections (11 percent).
Heading into Tuesday's contest there have been 141 special elections held for the nation's lower legislative chamber since 1980.
Women have been victorious in 34 of these races, or 24.1 percent.
The percentage of U.S. House seats won by women in special elections has become even more pronounced in recent years, with women winning 30.4 percent of such contests since 1998 (21 of 69), 32.6 percent since 2005 (15 of 46), and 37.5 percent since 2011 (6 of 16).
By contrast, during this 33+-year span, women have won only just a shade over one in 10 general elections to the chamber – victorious in 817 of the nearly 7,400 seats on the general election ballot since the 1980 election, or 11.0 percent, and peaking at 17.9 percent in the 2012 cycle.
Partisan Variation
While Republican women have won more than a quarter of the 478 U.S. House seats by women in general elections since 2000, they can claim just two of the last 17 special election victories recorded by female nominees across the 60 such races held during this span.
In fact – each of the last twelve women to win special elections to the House since 2007 have all been Democrats: Laura Richardson in 2007 (CA-37), Niki Tsongas in 2007 (MA-05), Jackie Speier in 2008 (CA-12), Donna Edwards in 2008 (MD-04), Marcia Fudge in 2008 (OH-11), Judy Chu in 2009 (CA-32), Kathy Hochul in 2011 (NY-26), Janice Hahn in 2011 (CA-36), Suzanne Bonamici in 2012 (OR-01), Suzan DelBene in 2012 (WA-01), Robin Kelly in 2013 (IL-02), and Katherine Clark in 2013 (MA-05).
Jean Schmidt in 2005 (OH-02) and Shelley Sekula-Gibbs in 2006 (TX-22) are the only female Republican nominees to notch special election victories since the turn of the 21st Century.
Key to Success: Get on the Ballot
So how is it that women have been so successful in special elections over the last three-plus decades?
For starters, women have won their party's nomination in special elections at a much higher rate than in general election races.
Since 1980, at least one female major party nominee graced the ballot in 54 of the 141 special election U.S. House contests, or 38.3 percent.
That includes a half-dozen contests with two female party candidates squaring off against each other:
· CT-01 (1982): Democrat Barbara Kennelly over Republican Ann Uccello
· CA-05 (1987): Democrat Nancy Pelosi over Republican Harriet Ross
· MO-08 (1996): Republican Jo Ann Emerson over Republican Emily Firebaugh
· CA-05 (2005): Democrat Doris Matsui over Democrat Julie Padilla
· CA-32 (2009): Democrat Judy Chu over Republican Betty Chu
· NY-26 (2011): Democrat Kathy Hochul over Republican Jane Corwin
By contrast, female major party nominees have appeared on the general election ballot just 22.5 percent of the time since 1980 (1,662 of 7,395 races).
Secondly, some of these female nominees in special elections have had built-in advantages (name-recognition and, perhaps, sentimental) by running for the seats of their deceased husbands.
This practice was more common in the 1920s, 1930s, and 1940s, with 15 such women victorious in special elections succeeding their husbands.
Since 1980, just seven of the 34 women who won special elections did so in a race to fill vacancies created by their deceased husbands.
Such victorious female nominees were Republican Jean Ashbrook of Ohio (1982), Democrat Sala Burton of California (1983), Democrat Cathy Long of Louisiana (1985), Republican Jo Ann Emerson of Missouri (1996), Republican Mary Bono (Mack) of California (1998), Democrat Lois Capps of California (1998), and Democrat Doris Matsui of California (2005).
Battle of the Sexes
While female major party nominees have not been on the ballot in over three-quarters of general election U.S. House races since 1980 and more than 60 percent of special elections, women have had great success at the ballot box when receiving their party's nomination in races against male nominees.
This has particularly been the case in special elections.
Overall, in races with one (and only one) female major party nominee on the U.S. House special election ballot, women have won 58.3 percent of the time since 1980, or 28 of 48 races.
This victory rate against men has remained constant – 58.8 percent from 1980-1997 (10 of 17 contests) and 58.1 percent from 1998-present (18 of 31).
By comparison, in general election races with only one female major party nominee on the ballot, women have won less than half of the time (45.3 percent, 700 of 1,545).
Follow Smart Politics on Twitter.