Will Overby's Candidacy Ignite Florida Libertarians in 2014?
Overby is just the fifth candidate to appear on the ballot as a Libertarian in a Florida U.S. House race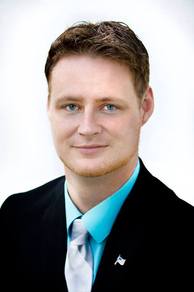 The top-line story in Florida's 13th Congressional District special election Tuesday was Republican David Jolly holding onto a competitive seat for the GOP that many D.C. prognosticators felt was ripe for the picking after the death of 22-term Republican Bill Young.
And rightfully so – the district was narrowly carried by Barack Obama in 2012 with Democrats rallying behind a well-known candidate in former Florida Chief Financial Officer Alex Sink.
Jolly defeated Sink by 1.9 points with 48.5 percent of the vote while the third candidate in the race, commercial dive supervisor Lucas Overby, won 4.8 percent as the Libertarian nominee.
Overby is just the fifth U.S. House candidate to gain ballot access under the Libertarian banner in Florida history and only the second to run in a contest challenged by both major parties:
· In 2000, Charlie Westlake won 15.4 percent in a two-candidate race won by Democrat Jim Davis in the 11th CD.
· In 2004, Robert Johnson won 14.1 percent in a two-candidate field also won by Davis in the 11th CD.
· In 2004, Frank Gonzalez won 27.2 percent of the vote in a two-candidate race won by Republican Lincoln Diaz-Balart in the 21st CD.
· In 2012, Calen Fretts won 3.3 percent of the vote in a three-candidate race in the 1st CD won by Republican Jeff Miller.
Many political observers thought Overby's candidacy could be the tipping point for Sink to capture the race, but that was not to be.
While the right-of-center candidate's vote tally was 2.9 points larger than the margin of victory, it was the Republican Jolly who prevailed.
And so, with the dust settled, how does Overby's performance rate among non-major party candidates in Florida history?
Since the end of Reconstruction in 1877, there have been 123 independent or third party candidates on the ballot in Sunshine State U.S. House races. (Note: Several additional write-in candidates received votes over the years, although most did not win more than a fraction of a percentage point).
Overby's 4.8 percent ranks #59 on this list, with 34 of these candidates reaching double-digits.
Most of those candidates, however, appeared in contests in which only one major party candidate was on the ballot, with the best such showing tallied by Reform Party nominee Jack Gargan in 1998.
Gargan recorded 33.7 percent of the vote in the 5th CD race won by incumbent Democrat Karen Thurman.
Other candidates eclipsing the 20 percent mark since 1877 while facing only one major party candidate were:
· 2010 (6th CD): Independent Steven Schonberg with 28.5 percent
· 2004 (21st CD): Libertarian Frank Gonzalez with 27.2 percent
· 1892 (2nd CD): Populist Austin Mann with 24.0 percent
· 2012 (4th CD): Independent Jim Klauder with 23.9 percent
· 2010 (4th CD): Independent Troy Stanley with 22.8 percent
· 2008 (20th CD): Independent Margaret Hostetter with 22.5 percent
· 2002 (16th CD): Constitution Party nominee Jack McLain with 21.1 percent
· 1894 (2nd CD): Populist Montholom Atkinson with 20.2 percent
Overby fares much better when rated against the 88 third party and non-affiliated candidates who shared the ballot with both Republicans and Democrats in Florida U.S. House races since the end of Reconstruction, coming in at #27 by this measure.
At the top of that list is Independent Republican D.L. McKinnon who captured 16.3 percent of the vote in the state's 1st CD race of 1882.
Six others have reached double digits over these last 135+ years:
· 1926 (4th CD): Independent Republican W.C. Lawson with 15.9 percent
· 2008 (14th CD): Independent Burt Saunders with 14.5 percent
· 1910 (2nd CD): Socialist Thomas Cox with 12.2 percent
· 1912 (1st CD): Socialist C.C. Allen with 12.0 percent
· 2010 (12th CD): Tea Partier Randy Wilkinson with 10.7 percent
· 1992 (23rd CD): Independent Al Woods with 10.3 percent
Florida's filing deadline for U.S. House candidates is still more than two months away – May 2nd.
Libertarians have already filed in two districts – both won by Republicans in 2012.
Matt Schnackenberg is running in Richard Nugent's 11th CD while Ray Netherwood filed in the 19th CD – well before freshman Republican Trey Radel resigned in late January.
Follow Smart Politics on Twitter.