Illinois Gubernatorial Primary Wrap-Up
Bruce Rauner becomes the 13th plurality winner in an Illinois gubernatorial primary election in state history; five have gone on to win the general election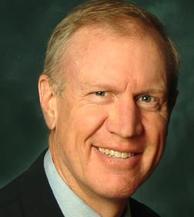 While the end result was closer than recent polls suggested, businessman Bruce Rauner emerged from Illinois' Republican gubernatorial primary with a 2+-point victory Tuesday over State Senator Kirk Dillard in a four-candidate field.
Rauner won 40 percent of the vote with State Senator Bill Brady a distant third with 15 percent and Treasurer Dan Rutherford in last with seven percent.
Illinois Republicans opted for a fresh face to lead their party at the top of the ticket this cycle, with Dillard (2010, 2014) and Brady (2006, 2010, 2014) tallying five gubernatorial runs between them.
This marks the fourth consecutive time a plurality winner has decided a GOP gubernatorial primary in Illinois.
All three previous plurality victors went on to lose their respective general election: Jim Ryan in 2002, Judy Baar Topinka in 2006, and Brady in 2010.
Brady's loss ensured that for the 50th consecutive cycle since statehood, no losing major party gubernatorial nominee has ever come back to win the governorship.
Overall, plurality gubernatorial primary winners on the Democratic and Republican sides of the ticket have won five out of 12 general elections since selecting a nominee by convention was abandoned more than 100 years ago in the state.
Plurality winners who subsequently won general elections include:
· 1912: Democrat Edward Dunne won 43.8 percent in a four-candidate primary field and 38.1 percent in the general election against two-term incumbent Charles Deneen.
· 1920: Republican Len Small won 46.5 percent in a four-candidate primary field and 58.9 percent in the general election against James Lewis.
· 1932: Democrat Henry Horner won 48.7 percent in an eight-candidate primary field and 57.6 percent against ex-governor Len Small in the general.
· 1968: Republican Richard Ogilvie won 47.5 percent in a four-candidate primary field and 51.2 percent in the general election against incumbent Samuel Shapiro.
· 2002: Democrat Rod Blagojevich won 36.5 percent in a four-candidate primary field and 52.2 percent over Jim Ryan that November.
The remaining four plurality primary winners who subsequently lost their general election races are Democrat Adlai Stevenson in 1908, Republican Len Small in 1932, Democrat Dawn Netsch in 1994, and Democrat Glenn Poschard in 1998.
On the Democratic side Tuesday, embattled incumbent Pat Quinn coasted to a 40+-point win with approximately 72 percent of the vote over Tio Hardiman.
Incumbents have run for reelection 22 times since the primary system was introduced in the state.
Five incumbents faced no primary opposition: Democrats Adlai Stevenson II in 1952 (who exited the race to run for president), Otto Kerner in 1964, and Samuel Shapiro in 1968 and Republicans Dwight Green in 1948 and Jim Thompson in 1978.
Two incumbents were ousted in the primary: Republican Len Small in 1928 (by Louis Emmerson) and Democrat Dan Walker in 1976 (by Michael Howlett).
Among Democratic governors who have faced primary opposition over the decades, Quinn's 72 percent ranks as the highest, besting Blagojevich's 70.8 percent in 2006, Dunne's 63.6 percent in 1916, Horner's 54.4 percent in 1936, Quinn's 50.5 percent in 2010, and Walker's 46.1 percent in 1976.
The Rauner vs. Quinn November matchup in Illinois will be a closely-watched race this cycle as Quinn is considered to be one of the most vulnerable gubernatorial incumbents across the nation.
Follow Smart Politics on Twitter.