West Virginia, Utah Eye All-GOP US House Delegations in 2014
It has been more than 90 years since the last time Republicans had a monopoly on every U.S. House seat in the Mountain State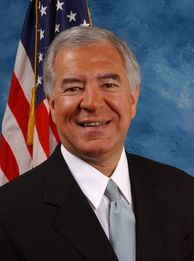 There are currently 11 multi-member, single-party U.S. House delegations in the 113th Congress, and that number is likely to increase in 2015.
Republicans currently hold all 18 U.S. House seats in Arkansas, Idaho, Kansas, Nebraska, and Oklahoma (as well as at-large seats in Alaska, Montana, North Dakota, South Dakota, and Wyoming).
Democrats, meanwhile, are the lone face of all 22 seats in Connecticut, Hawaii, Maine, Massachusetts, New Hampshire, and Rhode Island (plus at-large seats in Delaware and Vermont).
Overall, 11 percent of the nation's lower legislative chamber is comprised of single-party delegations, or 47 of the 435 seats.
That number could rise in 2014.
When Jim Matheson announced his retirement from Utah's 4th Congressional District last December, the odds of the GOP holding all four U.S. House seats from the Beehive State increased dramatically.
Matheson has been the lone Democrat in Congress from Utah during the last 13+ years.
The last time Republicans held every House seat in the state came after the Election of 1998 – one cycle after three-term Democrat William Orton was defeated by Chris Cannon.
That pales, however, to the number of years it has been since Republicans in West Virginia controlled every House seat – a feat the GOP is certainly trying to achieve in 2014.
For starters, the GOP will need to defend the open 2nd CD seat held by Shelley Moore Capito, who is running for the U.S. Senate.
The party is also heavily targeting 19-term West Virginia U.S. Representative Nick Rahall, this time with State Senator Evan Jenkins.
In 2012, sharing the ballot with a president who is very unpopular in his state, Rahall won reelection by only eight points – his second narrowest victory to the chamber among the 19 wins he has tallied since 1976.
Rahall had only one closer shave – in 1990, before reapportionment, when he served the 4th CD and defeated Marianne Brewster by just 3.9 points.
Last cycle also marked just the fourth time Rahall had been held below 60 percent of the vote (1976, 1990, 2010, 2012) – the same number of elections in which the GOP failed to field a candidate against him (1978, 1996, 1998, 2000).
If Republicans do manage a clean sweep of the state's three U.S. House seats it will mark the first time the party has done so since the Election of 1920.
During the 67th Congress (1921-1923) all six U.S. Representatives in the state were controlled by the GOP.
On the Democratic side, the prospects of adding to their list of delegation monopolies are not quite as strong.
The party is looking to pick off five-term GOPer Steve Pearce's 2nd CD seat in New Mexico to sweep that state.
Democrats last did so after the 2008 cycle (knocking then three-term Rep. Pearce out of office).
The Democratic Party is also hoping for pick ups in Iowa's open (and politically moderate) 3rd CD as well as its Republican-leaning 4th CD (held by six-term GOP firebrand Steve King).
A Democratic sweep in Iowa would be unprecedented in the Democratic-Republican era; it is also unlikely given the Republican Party's strength at the top of the ticket this November with Governor Terry Branstad.
The last time Democrats controlled every U.S. House seat in Iowa was after the Election of 1850 when the party defeated Whig nominees in each of its two districts by single digits.
Depending on how things break, as many as 22 states could have single-member U.S. House delegations after the 2014 election.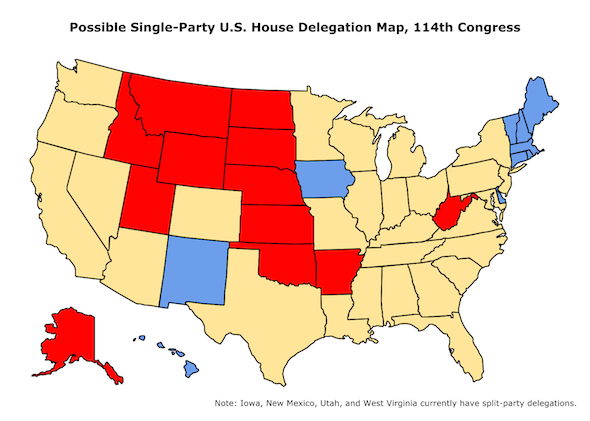 To be sure, both parties will make a play for a few seats in some of these states which currently feature single-party delegations.
For example, Democrats are cautiously eying the seat opened up by the exit of Tim Griffin in Arkansas' 2nd CD.
The party hopes that a much stronger top of the ticket this cycle (Mike Ross for governor and Mark Pryor for U.S. Senate instead of the decidedly unpopular Barack Obama) will help move the needle in that race.
Democrats are also looking at the seat opened up by freshman Steve Daines running for the U.S. Senate in Montana as well as the seat narrowly carried last cycle by eight-term Rep. Lee Terry in Nebraska's 2nd CD.
Republicans, meanwhile, will make efforts to break up Democratic monopolies in Maine (the open 2nd CD seat), New Hampshire (particularly Carol Shea-Porter's NH-01 seat), Connecticut (freshman Elizabeth Esty in CT-05), and Massachusetts (John Tierney in MA-06).
Follow Smart Politics on Twitter.