Vance McAllister: In His Own Words
If Rep. McAllister does not resign, his 2014 opponents will have a treasure trove of statements from the congressman saying one thing and doing another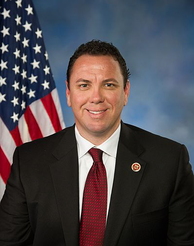 After the Ouachita Citizen released a bombshell surveillance video Monday that shows Louisiana Republican U.S. Representative Vance McAllister kissing one of his female staffers, many media outlets were quick to point out that the self-described political outsider ran for election last November as a family man touting conservative values.
And there is ample evidence to support that characterization.
Below are quotes from the then-GOP candidate's campaign for the 2013 special election:
"I am running for U.S. Congress to ensure our conservative and Louisiana values are protected." – (Campaign website Home page)

"Vance McAllister is a veteran, family man, and self-made businessman… Married for 15 years and the father of 5 children, Vance McAllister is worried about the type of future President Obama and career politicians are leaving for the next generation." – (Campaign website Bio page)

"Born and raised in West Carroll Parish, Vance was taught at a young age the importance of faith, family, and hard work. Vance and his wife Kelly have been married for sixteen years. They live in Monroe with their five children and are members of North Monroe Baptist Church." – (Campaign website Issues page: Faith and Family)

"I will maintain my integrity and tell you the truth and run a clean honorable campaign, at the end of the day I have to be true to myself and my lord and savior and know that I am setting the right example for my children." – "(Campaign Facebook post, November 10, 2013)

"I am running for U. S. Congress to ensure our conservative and Louisiana values are protected." – (Campaign Facebook post, September 30, 2013)

"I will give 100% to be your voice and representation as a common sense congressman that has values of faith, family and love." – (Campaign Facebook post, August 23, 2013)

"The values we live by are faith, family, and country. That's how I built my businesses and how my wife are raising our children here in Louisiana….I sure don't want to spend my time in Washington, D.C. away from my family….I'm Vance McAllister. Business owner, family man." – (Campaign video)
A few days after his special election victory on November 16th to fill Rodney Alexander's seat, McAllister wrote:
"Thank you so much to everyone who made this moment possible. I am truly humbled and blessed. I won't disappoint you." – (Campaign Facebook post, November 21, 2013)
As of Monday evening, Representative McAllister has not given any indication that he will resign from his seat in light of the extramarital scandal.
Instead, he released a statement Monday that read:
"There's no doubt I've fallen short and I'm asking for forgiveness. I'm asking for forgiveness from God, my wife, my kids, my staff, and my constituents who elected me to serve. Trust is something I know has to be earned whether your a husband, a father, or a congressman. I promise to do everything I can to earn back the trust of everyone I've disappointed. From day one, I've always tried to be an honest man. I ran for congress to make a difference and not to just be another politician. I don't want to make a political statement on this, I would just simply like to say that I'm very sorry for what I've done. While I realize I serve the public, I would appreciate the privacy given to my children as we get through this."
Follow Smart Politics on Twitter.