Iowa Republicans Surrender Record Number of State House Seats in 2014
Iowa Republicans failed to field candidates in a party record 32 State House districts this cycle – shattering the previous GOP high water mark by 39 percent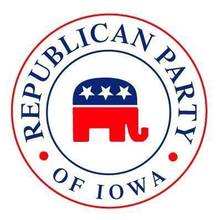 Iowa Republicans may be feeling a bit bullish heading into the 2014 elections.
The party features a strong top of the ticket candidate in 2014, with Governor Terry Branstad a decided favorite to win a record sixth four-year term this November.
Add to that a recent gaffe by Democrat Bruce Braley about popular Senator Chuck Grassley and the GOP also sees an opening to pry back a U.S. Senate seat the Democrats have held for nearly 30 years.
However, the health of the Iowa GOP is not so rosy, particularly down the ballot where the party's bench is looking historically short.
Just two cycles after netting 14 seats and taking back control of the State House of Representatives, the Republican Party is conceding a record number of seats to the Democrats in 2014 before even the primary election is held.
Smart Politics examined the nearly 6,000 general election races for the Iowa House of Representatives since 1903 and finds that Hawkeye State Republicans failed to field a candidate in a party record 32 districts in 2014.
Note: Prior to 1903, election data for Iowa House races is only partially reported or altogether unpublished in the Iowa Official Register. Republicans held the chamber during this period since first appearing on the ballot in the mid-1850s – and often by overwhelming margins – so it is unlikely the party did not field candidates at a rate anywhere close to the party's 2014 mark in this early era with scant election records.
The filing deadline for major party candidates passed last month and Iowa Republicans did not recruit a candidate in 32 districts, or nearly one-third of the 100-seat lower legislative chamber: House Districts 09, 14, 31, 32, 33, 34, 35, 36, 40, 41, 45, 46, 52, 53, 56, 62, 65, 66, 69, 70, 74, 77, 81, 83, 85, 86, 87, 89, 90, 98, 99, and 100.
The 32 house districts left fallow by the Republicans in 2014 is double the number of districts without a GOP candidate in 2012 (16) and quadruple the number from 2010 (eight).
Not only does this cycle find Iowa Republicans with gaping holes on the 2014 ballot, but the party has shattered its previous record by nearly 40 percent.
Prior to 2014, the high water mark for the GOP came in the 2004 and 2006 cycles, when Republicans did not have a candidate on the general election ballot in 23 districts each.
Democrats netted three (2004) and then five (2006) seats during those back-to-back cycles to take back control of the chamber in January 2007.
In only one other cycle in party history have Republicans surrendered 20+ seats (in 2000, with 20).
Looking back across the previous 55 cycles since the 1903 election, Iowa Republicans averaged just 6.3 districts without a candidate, or 6.2 percent of seats in the House of Representatives.
That number has more than quintupled in 2014 to 32 percent.
To put these 32 unchallenged seats into a greater historical perspective, consider this:
Republicans are conceding more seats in 2014 than the party did during the entire 23-cycle stretch between 1903 and 1948, when the GOP did not place a candidate on the ballot in just 31 out of 2,476 races, or 1.3 percent of contests during this 45-year span.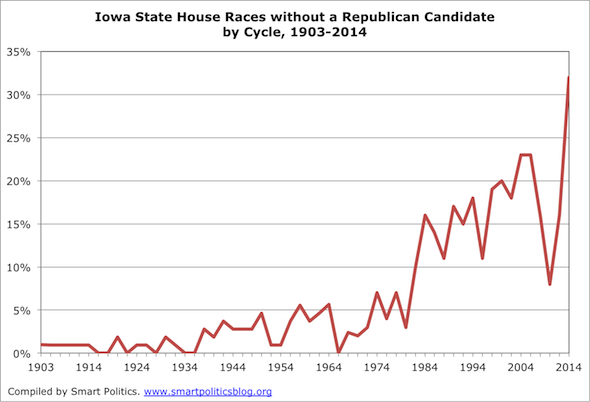 &nbsp
To be sure, several of the districts where Republicans are not running candidates in 2014 were won easily by Democrats in 2012, including 10 where the party did not place a candidate on the ballot in that cycle: HDs 31 (held by Rick Olson), 53 (Sharon Steckman), 62 (Deborah Berry), 65 (exiting incumbent Tyler Olson), 69 (Kirsten Running-Marquardt), 74 (Dave Jacoby), 85 (Vicki Lensing), 86 (Mary Mascher), 98 (Mary Wolfe), and 100 (Charles Isenhart).
However, more than two-thirds of the districts in 2014 without a Republican candidate (22 of 32) are those where the GOP fielded candidates two years ago, including a few where the party came close to victory or was fairly competitive:
· HD 56: Lost by 2.1 points to Patti Ruff
· HD 40: Lost by 6.3 points to John Forbes
· HD 66: Lost by 10.1 points to Art Staed
Republicans currently have a 53 to 47 advantage over the Democrats in the Iowa House, which means Democrats only need to net 18 seats above the 32 they are nearly assured to win to draw even with the GOP in the chamber at 50-50. (Note: major party candidates could still be challenged by third party candidates or independents).
That means Republicans will be challenging just 15 of the 47 seats currently held by Democrats, or less than one-third (31.9 percent).
Democratic incumbents will likely be on the ballot in 13 of these 15 districts. (Roger Thomas in HD 55 and Anesa Kajtazovic in HD 61 are exiting the chamber and Scott Ourth in HD 26 faces a primary opponent).
Will Democrats Fail to Capitalize?
But while Republicans may be struggling to find candidates to run for office down the ballot, recruitment has not exactly been a cakewalk for Iowa Democrats this cycle either.
Democrats are surrendering 26 seats to the GOP without a fight this cycle – failing to run candidates in House Districts 1, 2, 4, 5, 6, 10, 111, 19, 22, 23, 24, 25, 37, 38, 39, 44, 48, 54, 67, 78, 79, 80, 84, 88, 94, and 96.
That is one more than the 25 they ceded to the Republicans in 2010, when they lost 14 seats and control of the chamber.
It is also the biggest black eye for the party since the Election of 1952 when they did not run a candidate in 32 of the 108 seats in the chamber (30.6 percent).
And while several of these are deep red districts where the party did not challenge Republicans in 2012 (HDs 1, 4, 5, 6, 10, 11, 22, 23, 24, 37, 54, 78, 84, 96), many others found Democrats fairly competitive just two years ago:
· HD 80: Lost by 0.7 points to Larry Sheets
· HD 39: Lost by 4.3 points to Jake Highfill
· HD 67: Lost by 5.7 points to Kraig Paulsen
· HD 88: Lost by 7.0 points to Tom Sands
· HD 38: Lost by 9.2 points to Kevin Koester
· HD 25: Lost by 9.6 points to Stan Gustafson
· HD 48: Lost by 10.3 points to Robert Bacon
· HD 94: Lost by 10.8 points to Linda Miller
· HD 02: Lost by 13.1 points to Megan Hess
The main difference between the high number of seats yielded by the Democrats in 2014 compared to the Republicans is that it is not as unusual for Democrats to fail to run candidates in 20+ districts.
While Republicans have done so just four times since the early 1900s, Democrats have done so 17 times including six times since the 1986 cycle.
Moreover, Democrats are still at an advantage by making Republicans defend a much higher percentage of State House seats this cycle (27 of 53 districts, or 50.9 percent) than Republicans are making Democrats defend (15 of 47 districts, 31.9 percent).
A total of 11 of these GOP-held districts with Democratic challengers were won by Republicans by single digits in 2012, including nine by less than five points: HDs 7, 15, 43, 47, 58, 60, 63, 72, 95.
By contrast Republicans are challenging Democrats in just six races they lost by single digits in 2012, with only five decided by less than five points: HDs 26, 30, 55, 68, 92.
One final note: Just slightly up the ballot, Iowa Republicans also did not field candidates in 32 percent of State Senate contests up for grabs this cycle – eight of 25 districts.
Update: As the Des Moines Register notes, on occasion each major party may hold a local convention to place a candidate on the ballot after the primary. This has been done in the past if a candidate has died or dropped out of the race or to simply to fill a slot on the ballot. If the GOP does this in 2014, it is unlikely the party would nominate candidates in enough districts to avoid breaking the record detailed above.
Follow Smart Politics on Twitter.