Wisconsin US House Delegation Experience, 1848-2014
Sign of the times: 23 of the Top 25 most experienced delegations from the Badger State have been elected over the last 50 years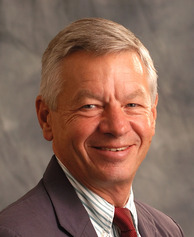 The announcement last week by 18-term Wisconsin U.S. Representative Tom Petri that he would retire at the end of this term adds another name to the ever-growing list of long-serving members of the chamber who are calling it quits in 2014.
Petri currently ranks ninth in House seniority in the 113th Congress and is the fourth longest-serving U.S. Representative in Wisconsin history.
As a result, his departure will certainly reduce the footprint of the Wisconsin delegation next January.
Petri's upcoming retirement comes on the heels of the retirement of 21-term Democrat David Obey in 2010, the defeat of two-term Democrat Steve Kagen in 2010, and an exit for the U.S. Senate by seven-term Democrat Tammy Baldwin in 2012.
Despite the loss of these members in recent cycles, Wisconsin's U.S. House delegation in the 114th Congress will still be one of the more seasoned in state history – although its collective experience will have dropped by nearly one-third from just a few years prior.
A Smart Politics analysis of the tenures of Wisconsin's 181 U.S. Representatives across the last 85 Congresses since statehood finds that 23 of the Top 25 most experienced delegations in state history have been elected during the last 50 years.
Wisconsin's current delegation of Republicans Petri (18 terms), Jim Sensenbrenner (18), Paul Ryan (8), Sean Duffy (2), and Reid Ribble (2) and Democrats Ron Kind (9), Gwen Moore (5), and Mark Pocan (1) is the sixth most experienced in state history.
The delegation to the 113th Congress boasts an average of 7.9 terms per representative in the chamber.
That tenure is bested by only five other delegations – four of which have been sworn in during the past decade.
· #1 = 111th Congress (Elected 2008) at 9.6 terms: Obey (21 terms), Sensenbrenner (16), Petri (16), Kind (7), Ryan (6), Baldwin (6), Moore (3), and Kagen (2).
· #2 = 110th Congress (Elected 2006) at 8.6 terms: Obey (20), Sensenbrenner (15), Petri (15), Kind (6), Ryan (5), Baldwin (5), Moore (2), and Kagen (1).
· #3 = 108th Congress (Elected 2002) at 8.5 terms: Obey (18), Sensenbrenner (13), Petri (13), Democrat Gerald Kleczka (11), Kind (4), Ryan (3), Baldwin (3), and Republican Mark Green (3).
· #4 = 109th Congress (Elected 2004) at 8.1 terms: Obey (19), Sensenbrenner (14), Petri (14), Kind (5), Ryan (4), Baldwin (4), Green (4), and Moore (1).
· #5 = 91st Congress (Elected 1968) at 8.0 terms: Republican Alvin O'Konski (14), Republican John Byrnes (13), Democrat Clement Zablocki (11), Republican Melvin Laird (9), Democrat Henry Reuss (8), Republican Glenn Davis (8), Democrat Robert Kastenmeier (6), Republican Vernon Thomson (5), Republican Henry Schadeberg (4), and Republican William Steiger (2). (Obey won a special election in 1969 to replace Laird who became Richard Nixon's Secretary of Defense).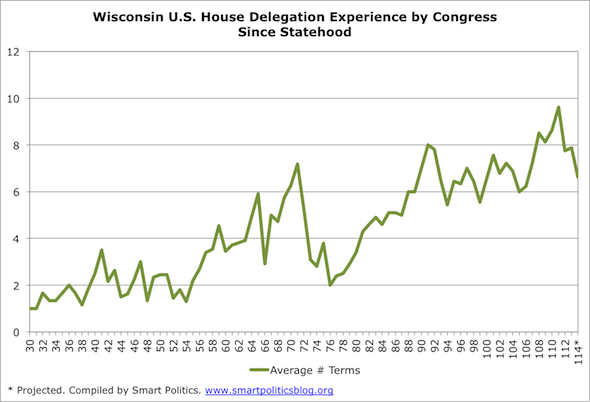 And as for the Badger State delegation in 2015?
Assuming the remaining seven incumbents win reelection as they are expected to do, the addition of a freshman in Petri's 6th CD would combine to clock Wisconsin's U.S. Representatives at an average of 6.6 terms of service in the 114th Congress.
While that is a 15.9 percent decline in tenure from the 113th Congress and a 31 percent drop from the delegation's peak in the 111th Congress, it would still rank #17 for experience across the seven-dozen Congresses since Wisconsin became a state – landing in the 80th percentile.
The 15.9 percent decline would rank as the 16th biggest cycle-to-cycle drop in delegation experience in state history.
The greenest Wisconsin delegation since the turn of the 20th Century was the one sworn in after the Election of 1938.
Wisconsin's U.S. Representatives entering the 76th Congress had an average of just 2.0 terms of service with seven of the 10 seats held by freshmen: Republicans Stephen Bolles, Charles Hawks, Harry Griswold, Lewis Thill, Frank Keefe, Reid Murray, and Joshua Johns. Six-term Republican John Schaefer, and four-term Progressive Merlin Hull, and three-term Progressive Bernard Gehrmann were the only incumbents to win reelection that cycle.
The greatest cycle-to-cycle drop in delegation experience took place during the early 1880s with a 55.6 percent decline from its eight members in the 48th Congress (3.0 terms) to its nine members in the 49th (1.3 terms).
Due to fewer U.S. Representatives losing their renomination bids, losing general election races, and dying in office over the last several decades (as well as less competitive districts generally), 23 of the Top 25 most experienced Wisconsin U.S. House delegations have been elected over the 50-year stretch from 1962 through 2012.
The only outliers are the delegations to the 70th and 71st Congresses – ranked #23 and #12 respectively – when the state's delegations were extremely stable in the mid-1920s.
Follow Smart Politics on Twitter.