Will Kathleen Sebelius Seek a Rare Political Trifecta?
Sebelius could become the first woman to serve as governor, U.S. Senator, and cabinet head, and just the ninth individual to do so during the last 100+ years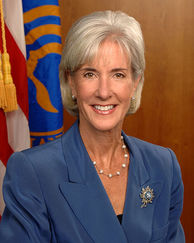 News spread quickly Wednesday when reports emerged that resigning Health and Human Services Secretary Kathleen Sebelius was contemplating a U.S. Senate run this cycle for the seat held by three-term Republican Pat Roberts in her home state of Kansas.
Sebelius would seemingly have long odds for such a campaign, despite governing the deep red state from 2003 until 2009 when she entered President Obama's cabinet.
As detailed in a Smart Politics report from a year ago, Kansas has the longest Democratic U.S. Senate drought in the nation at 82 years with George McGill the last Democrat to win a seat in the Sunflower State in 1932.
Add to that the recent high-profile drubbing Sebelius took during the rocky launch of the Affordable Care Act, and it is no wonder that some individuals close to Sebelius are skeptical she will launch such a campaign.
But while the odds may be long, the payout would be huge.
Not only would a Sebelius victory reverse a trend more than three-quarters of a century in the making, but she would accomplish a very rare feat in American politics.
A Smart Politics study finds that not only could Kathleen Sebelius become the first woman ever to serve as governor, cabinet head, and U.S. Senator, but she could become just the ninth person to serve in all three offices during the last 100+ years.
When then Governor Sebelius resigned to become Secretary of HHS in late April 2009 she became just the second woman in U.S. history to serve as governor and hold a cabinet post.
Arizona Democrat Janet Napolitano beat Sebelius to the punch when she became Secretary of Homeland Security some 97 days prior in January 2009.
Two additional women have served in the U.S. Senate and as cabinet secretaries: Elizabeth Dole (as Secretary of Transportation under Ronald Reagan and of Labor under George H.W. Bush) and Hillary Clinton (as Secretary of State under Obama).
Only one woman to date has served as governor and U.S. Senator: Democrat Jeanne Shaheen of New Hampshire.
Overall, a total of 83 individuals have served as governor and as a cabinet head over the last 200+ years.
Of these 83 men and women, just 29 have also been elected or appointed to the nation's upper legislative chamber.
Of these 29 notables, 19 first served as governor among these three offices, while 10 first served in the U.S. Senate.
Political Office Sequence for Individuals Who Served as Governor, U.S. Senator, and Cabinet Head
Position

1st

2nd

3rd

Governor

19

6

4

U.S. Senator

10

11

8

Cabinet Head

0

12

17
Table compiled by Smart Politics.
Individuals who have served as governor, U.S. Senator, and cabinet head include:
· President James Monroe of Virginia: Monroe concurrently served as both Secretary of State (1811-1817) and War (1814-1815) for a period under James Madison
· President Martin Van Buren of New York: Secretary of State under Andrew Jackson
· William Seward of New York: Secretary of State under Abraham Lincoln and Andrew Johnson
· Salmon Chase of Ohio: Treasury Secretary under Lincoln and Chief Justice of the United States Supreme Court for eight years
· James Byrnes of South Carolina: Secretary of State under Harry Truman after briefly serving as an Associate Supreme Court Justice
Only eight of these 29 individuals, however, have held all three positions during the last century.
Two are currently serving in the U.S. Senate – Republicans Lamar Alexander of Tennessee and the retiring Mike Johanns of Nebraska.
Both followed what would be the Sebelius pathway.
Alexander first served as governor (1979-1987), then Secretary of Education (1991-1993), then U.S. Senator (2003-present).
Johanns also first served as governor (1999-2005), then Secretary of Agriculture (2005-2007), then U.S. Senator (2009-present).
In addition to James Byrnes mentioned above, the remaining political figures to serve in all three political offices since the turn of the 20th Century are:
· Democrat Claude Swanson of Virginia: Naval Secretary for Franklin Roosevelt
· Democrat J. Howard McGrath of Rhode Island: Attorney General under Harry Truman
· Democrat Abraham Ribicoff of Connecticut: Secretary of Health, Education & Welfare under John Kennedy
· Republican John Ashcroft of Missouri: Attorney General under George W. Bush
· Republican Dirk Kempthorne of Idaho: Interior Secretary under George W. Bush
Each of the last five individuals to accomplish this trifecta – Ribicoff, Alexander, Ashcroft, Johanns, and Kempthorne – all served more than one term as governor, just like Sebelius.
With her five years as Secretary of HHS, Sebelius has recorded a longer tenure as cabinet head than all but five of the 29 individuals who have served in each of these three political offices:
· James Monroe served nearly six years as Secretary of State (1811-1817)
· Samuel Southard served five and one-half years as Naval Secretary (1823-1829)
· William Marcy served four years as Secretary of War (1845-1849) and four years as Secretary of State (1853-1857)
· William Seward served eight years as Secretary of State (1861-1869)
· Claude Swanson served more than six years as Naval Secretary (1933-1939)
Kansas has a filing deadline for major party candidates of June 2nd.
Senator Roberts is being challenged to the right by Milton Wolf in the Republican primary.
29 Politicians to Serve as Governor, U.S. Senator, and Cabinet Head
Name

State

Governor

US Senate

Cabinet

James Monroe

VA

1799-1802; 1811-1811

1790-1794

1811-1817 (State); 1814-1815 (War)

James Barbour

VA

1812-1814

1815-1825

1825-1828 (War)

Mahlon Dickerson

NJ

1815-1817

1817-1829; 1829-1833

1834-1838 (Navy)

John Branch

NC

1817-1820

1823-1825; 1825-1829

1829-1831 (Navy)

Martin Van Buren

NY

1829-1829

1821-1828

1829-1831 (State)

Samuel Southard

NJ

1832-1833

1821-1823; 1833-1842

1823-1829 (Navy)

William Marcy

NY

1833-1839

1831-1833

1845-1849 (War); 1853-1857 (State)

Edward Everett

MA

1836-1840

1853-1854

1852-1853 (State)

William Seward

NY

1839-1843

1849-1861

1861-1869 (State)

Thomas Corwin

OH

1840-1842

1845-1850

1850-1853 (Treasury)

William Graham

NC

1845-1849

1840-1843

1850-1852 (Navy)

Isaac Toucey

CT

1846-1847

1852-1857

1848-1849 (Attorney General)

John Crittenden

KY

1848-1850

1817-1819; 1835-1841; 1842-1848; 1855-1861

1841-1841; 1850-1853 (Attorney General)

George Boutwell

MA

1851-1853

1873-1877

1869-1873 (Treasury)

Salmon Chase

OH

1856-1860

1849-1855; 1861-1861

1861-1864 (Treasury)

Lot Myrick Morrill

ME

1858-1861

1861-1869; 1869-1876

1876-1877 (Treasury)

Alexander Ramsey

MN

1860-1863

1863-1875

1879-1881 (War)

Samuel Kirkwood

IA

1860-1864; 1876-1877

1866-1867; 1877-1881

1881-1882 (Interior)

John Dix

NY

1872-1874

1845-1849

1861-1861 (Treasury)

Redfield Proctor

VT

1878-1880

1891-1908

1889-1891 (War)

Russell Alger

MI

1885-1887

1902-1907

1897-1899 (War)

Claude Swanson

VA

1906-1910

1910-1933

1933-1939 (Navy)

J. Howard McGrath

RI

1941-1945

1947-1949

1949-1952 (Attorney General)

James Byrnes

SC

1951-1955

1931-1941

1945-1947 (State)

Abraham Ribicoff

CT

1955-1961

1963-1981

1961-1962 (Health Education & Welfare)

Lamar Alexander

TN

1979-1987

2003-

1991-1993 (Education)

John Ashcroft

MO

1985-1993

1995-2001

2001-2005 (Attorney General)

Mike Johanns

NE

1999-2005

2009-

2005-2007 (Agriculture)

Dirk Kempthorne

ID

1999-2006

1993-1999

2006-2009 (Interior)
Table compiled by Smart Politics with data culled from the National Governors Association.
Follow Smart Politics on Twitter.