Seven Is Enough: The Packed GOP Field to Replace Tom Coburn
Seven candidates may seem like a handful, but it's only half the number of Republicans who ran for the Sooner State's U.S. Senate seat in 1920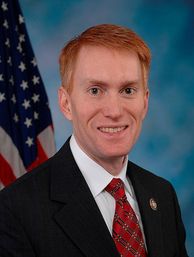 With seven Republicans currently running in the special election for the seat being vacated by Oklahoma U.S. Senator Tom Coburn, the possibility of a run-off election looms for the first time in a GOP primary for the nation's upper legislative chamber in 30 years.
The primary for the two-term incumbent's seat will be held on June 24th and has attracted GOPers from the U.S. House (favorite James Lankford, pictured at top), the state legislature (ex-House Speaker T.W. Shannon and ex-Senator Randy Brogdon), as well as conservatives from outside of government (paramedic Jason Weger, mechanical contractor Eric McCray, college professor Kevin Crow, and Army veteran Andy Craig).
Such a crowded field in Oklahoma is unusual for the Republican Party, with more than one-third of its U.S. Senate nominees receiving no such primary challenger over the last century (13 of 36 races, including nine without a GOP incumbent) and eclipsing that candidate count only three times.
In fact, it has been 70 years since the last time as many GOP candidates appeared on the primary ballot, though each was a far cry from the all-time record set nearly a century ago.
In 1920, a total of 14 Republicans ran for their party's nomination to take on who they thought would be Democratic incumbent Thomas Gore (Gore ended up losing his party's primary to U.S. Representative Scott Ferris).
One-term Republican Congressman John Harreld came out on top to claim the GOP nomination – receiving only 25.2 percent of the vote but still winning easily with his closest competitor barely reaching double-digits at 10.4 percent.
That GOP race brought out candidates with names like Dynamite Ed Perry (coming in 5th place with 7.0 percent), Cash Cade (9th place, 4.6 percent), and Summer Bisbee (14th place, 2.1 percent).
The state did not create a primary run-off until 1932, so Harreld went directly on to win the general election over Ferris to pick up the seat for the GOP and served one term.
Oklahoma Republicans also ran eight candidates in 1936 (with Herbert Hyde notching a 36.7 percent plurality before his run-off victory over Horace McKeever) and then nine candidates in 1944 (a blow-out with William Otjen winning by 42.9 points and only one other candidate reaching the 10 percent mark).
Seven candidates were also on the ballot in 1926 when Sen. Harreld ran for reelection and cruised to a 39-point primary victory.
The GOP ultimately lost each of these three races to the Democratic nominees.
The two previous special election races for U.S. Senate seats in Oklahoma history did not bring out nearly as many Republican candidates as those seen in this year's special primary.
In the 1994 primary contest to fill the seat of Democrat David Boren, James Inhofe faced only one challenger, State Representative Tony Caldwell.
Inhofe coasted to victory with 77.8 percent of the vote.
In the 1964 special set in motion by the death of Democrat Robert Kerr, Bud Wilkinson cruised to a 64.1-point Republican primary win in a three-candidate field with 79.2 percent.
Wilkinson narrowly lost to Fred Harris that November.
With a seven-candidate field it is quite possible no one will receive a majority of the vote in the June primary, in which case a run-off will be held with the top two candidates on August 26th.
The last run-off for the GOP in a Senate primary occurred in 1984 when George Mothershed won 39.3 percent – 6.2 points ahead of Bill Crozier in a three-candidate race.
Crozier nipped Mothershed in the run-off by just 199 votes to capture the Republican nomination.
Just four years prior, Don Nickles received a plurality 34.7 percent of the vote in 1980's five candidate Republican primary field – 1.4 points ahead of John Zink.
Nickles easily won the runoff with 65.6 percent.
Including the 2014 cycle, a total of 127 Republicans have run for the U.S. Senate in the direct election era, or an average of 3.4 per contest.
Three Democrats, led by State Senator Connie Johnson, are also vying for the seat in 2014's special election race as well as independent candidate Mark Beard.
Democrats have not won a Senate election in the Sooner State since Boren's win in 1990 – losing eight seats in a row for the party's seventh biggest losing streak across the nation.
Follow Smart Politics on Twitter.