Could Terry Branstad Lose?
Sitting Republican governors have won reelection 90 percent of the time they have appeared on the general election ballot in the Hawkeye State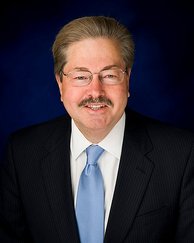 A new Public Policy Polling survey raised a few eyebrows this week with its findings that Iowa Republican Governor Terry Branstad has an underwater job approval rating and is in a tighter than expected reelection race against State Senator and Democratic challenger Jack Hatch.
The Democratic-affiliated polling company (polling on behalf of its client Progress Iowa) found Branstad up just 43 to 38 percent in the Hawkeye State six and one-half months out from Election Day, with its poll also suggesting that a series of allegations and scandals in the governor's administration is starting to negatively influence the once pro-Branstad gubernatorial preferences of the electorate.
Still, the difficulty of defeating even a politically bruised Branstad should not be underestimated, particularly in an election cycle that does not currently seem all that warm to Democrats in the region or nationwide.
For Iowans have historically shown not simply a preference for Republican governors generally over the decades, but, even more demonstrably, a strong preference for incumbents.
How strong of a preference?
Smart Politics looked back at Iowa's 71 gubernatorial elections since statehood and found that sitting Republican governors were reelected 90 percent of the time they appeared on the general election ballot, with incumbents from both parties winning at an 85 percent clip overall.
Over the last 160+ years, Iowa's governors appeared on the general election ballot 39 times – 30 Republicans and nine Democrats.
Republican governors were reelected in 27 out of these 30 bids, or 90 percent of the time.
The only cycles in which sitting Republican governors were defeated in the general election were 1932, 1956, and 1962 – and all were competitive races:
· In 1932, one-term incumbent Dan Turner was defeated by Clyde Herring by 5.5 points.
· In 1956, one-term incumbent Leo Heogh lost to Herschell Loveless by 2.4 points.
· In 1962, one-term incumbent Norman Erbe lost to Harold Huges by 5.1 points.
Democratic incumbents, meanwhile, have won six of their nine reelection bids over the decades, or two-thirds of the time.
Democratic governors were beaten during the Elections of 1893, 1938, and 2010:
· In 1893, one-term incumbent Horace Boies was defeated by Frank Jackson by 7.7 points.
· In 1938, one-term incumbent Nelson Krasche lost to George Wilson by 7.0 points.
· In 2010, one-term incumbent Chet Culver lost to Branstad by 9.6 points.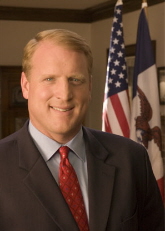 Culver's margin of loss was the largest ever for a sitting Iowa governor, although it came, like many of the aforementioned incumbent setbacks, during a wave election year for the opposing party.
In 2010, Republicans netted six gubernatorial seats across the country, including prying 11 away from the Democrats in Iowa, Kansas, Ohio, Oklahoma, Maine, Michigan, New Mexico, Pennsylvania, Tennessee, Wisconsin, and Wyoming.
Likewise, in 1938, Republicans netted 12 governorships by picking off Democrats in Colorado, Connecticut, Idaho, Iowa, Kansas, Maryland, Michigan, Ohio, Oregon, Pennsylvania, Rhode Island, and Wyoming.
In 1932, meanwhile, Turner's loss in Iowa was one of many by Republican governors around the country, with Democrats netting 11 seats by picking off GOPers in Illinois, Indiana, Iowa, Maine, Michigan, Missouri, Rhode Island, South Dakota, Washington, West Virginia, and Wisconsin.
Sitting Iowa governors were thus defeated in only two cycles in which there was not a strong national wind behind the back of the challenging party (in 1956 and 1962), although there was certainly a fair amount of gubernatorial partisan turnover during those cycles.
(It is difficult to compare the 1893 cycle as few elections were held across the nation that year. Iowa returned to holding statewide elections in even-numbered years in 1906).
In 1956, partisan control of governorships flipped in more than a quarter of the states holding elections, with Republicans picking up five states (in Iowa, Kansas, Massachusetts, Oregon, Washington) and Democrats picking up three (New Mexico, Ohio, West Virginia).
In 1962, 40 percent of governorships changed parties from the previous cycle with Democrats knocking Republican governors out of office in seven states (Hawaii, Iowa, Massachusetts, Minnesota, New Hampshire, New Mexico, Vermont), and the GOP doing so in kind in seven others (Connecticut, Michigan, Ohio, Oklahoma, Pennsylvania, Rhode Island, Wyoming).
Collectively, sitting Iowa Democratic and Republican governors have won reelection 85 percent of the time they've been on the general election ballot (33 of 39 contests).
But while incumbent governors have had an incredible streak of success in the Hawkeye State, the challenging party has generally been able to chip away at their support from the previous cycle – usually just not enough.
The percentage of the vote won by sitting governors in Iowa dropped in nearly twice as many reelection campaigns (25) as it increased (13) from the previous cycle. (Remaining flat in one additional cycle).
One final note: a fourth Republican governor, two-term incumbent Robert Blue, also failed in his reelection bid, but he did not lose to the Democrats and the GOP did maintain control of the seat.
Blue was defeated in the 1948 GOP primary by State Representative William Beardsley who would go on to win three terms.
Follow Smart Politics on Twitter.