Choices, Choices: South Dakota Voters Get Rare Options in 2014 US Senate Race
It has been more than 80 years since South Dakotans had so many candidates from which to choose in a U.S. Senate election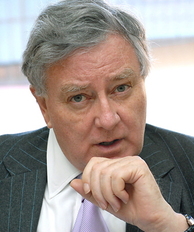 With the addition of Gordon Howie and Clayton Walker to the pool of candidates running for the U.S. Senate in South Dakota this cycle, voters will now see five names on the general election ballot come November.
Howie, a conservative former legislator who served two terms in the South Dakota House and one term in the Senate from the state's 30th district over the last decade, is running as an independent this cycle and qualified Tuesday – the last day for independent candidates to file nominating petitions.
Howie will join independent political novice Clayton Walker, Democrat Rick Weiland, and Republican-turned-independent former U.S. Senator Larry Pressler in the race as well as the winner of the June 3rd GOP primary – a large field led by former Governor Mike Rounds.
Note: In an April open letter to South Dakotans Howie stated, "My hope is that Republicans in the June primary will select an authentic conservative such as my friend Stace Nelson. If they do, I will remove my name from the ballot." Nelson, however, has polled in a very distant second place behind Rounds in limited GOP primary polling so it is very likely Howie will indeed be on the November ballot.
To have five choices available in a U.S. Senate election is very unusual for South Dakota voters.
In fact, it was only four years ago when there was only one name on the ballot – incumbent Republican John Thune – marking the first time in state history that a major party failed to field a candidate in a U.S. Senate race across 35 contests.
It has been more than 80 years since as many as five candidates appeared on the ballot in the Mount Rushmore State.
In 1932, five candidates qualified for the ballot when Republican Peter Norbeck won his third term over Democrat U.S.G. Cherry by 9.2 points. Liberty candidate Howard Platte and independents Oscar Luttio and L.J. Manbeck barely made a ripple tallying 1.6 percent of the vote collectively.
Unlike other nearby regional states, South Dakota voters have had very few candidate choices in Senate races over the decades.
Since direct elections for the office began in 1914, only 23 non-major party candidates qualified for U.S. Senate races in the Mount Rushmore State prior to the 2014 cycle.
That's a far cry from the 99 such candidates in Wisconsin, 84 in Minnesota, 67 in Iowa, and 43 in North Dakota.
Since 1938, the numbers are even more stark with only six independent or third party candidates appearing on the general election U.S. Senate ballot in South Dakota versus 67 in Wisconsin, 65 in Minnesota, 47 in Iowa, and 31 in North Dakota.
All signs suggest the presence of two former Republican officeholders running outside the major party system – Howie and Pressler – will boost the state's largest vote for non-major party candidates in a Senate election to its highest level since the 1920s.
The last time a non-major party U.S. Senate candidate reached the double digit mark was in 1924 when Farmer-Laborite Tom Ayres recorded 12.1 percent, placing third in a race won by Republican William McMaster.
Ayres also notched nearly twice that amount, 24.1 percent, in 1920 under the Non Partisan banner.
No other third party or independent candidate in South Dakota has reached even eight percent in a U.S. Senate contest.
Although he is underfunded, former three-term Senator Pressler alone could reach double-digits.
South Dakota could have also seen a sixth option in November's race, but Libertarian candidate (and 2002 nominee) Kurt Evans withdrew from the contest in December of last year.
The most candidate choices ever presented to South Dakota voters in a U.S. Senate contest came in the aforementioned 1924 cycle with seven – a Republican, Democrat, Farmer-Laborite, and four independents.
Five candidates were also on the ballot in 1914 and 1920 making the 2014 cycle tied for the second most in state history.
Follow Smart Politics on Twitter.