Crowded 2014 South Dakota US Senate Field Ties State Records
This cycle finds the Mount Rushmore State equaling historical marks for the most U.S. Senate candidates qualifying for the ballot as well as the most Republicans (or candidates from any party) in a primary race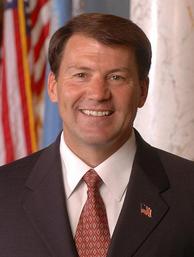 In a follow-up to last Friday's report which highlighted the unusually high number of candidates who will appear on the 2014 South Dakota U.S. Senate general election ballot, this post details how the packed field has already tied a few state records this cycle.
As expected, five Republicans qualified for the ballot: former Governor Mike Rounds, State Senator Larry Rhoden, State Representative Stace Nelson, physician Annette Bosworth, and attorney Jason Ravnsborg.
That ties the South Dakota mark for the largest number of Republican U.S. Senate primary candidates as well as the record for the most primary candidates in a Senate race by any political party in state history.
Five Republicans also appeared on the primary ballot 42 years ago in 1972 in a race that turned out much more competitive than analysts are expecting for the GOP this June.
During that cycle, Republicans were fighting to fill the seat of the ailing and retiring four-term Senator Karl Mundt, who had held the seat since 1949.
In the primary, all five candidates were separated by 15 points with former State Senator Robert Hirsch at 27.4 percent, Attorney General Gordon Mydland at 22.3 percent, Rapid City businessman Chuck Lien at 22.0 percent, future Democratic state legislator and Public Utilities Commissioner Kenneth Stofferahn at 16.6 percent, and Sioux Falls businessman Tom Reardon at 11.6 percent.
None of the candidates reached the required 35 percent mark, but Hirsch received the GOP nomination at the State Convention.
Hirsch and the Republicans ended up losing the seat to Democrat James Abourezk by 14 points.
Four Republicans ran in the 1938 U.S. Senate primary with Chan Gurney defeating Leslie Jensen, George Danforth, and Paul Bellamy.
The 1938 and 1972 races were the only cycles in which a Republican primary victor did not record a majority of the vote.
Three GOPers ran in the primaries of 1932, 1974, 1998, and 2008.
The most Democrats to ever square off in a U.S. Senate primary is three – occurring five times in 1918, 1920, 1932, 1938, and 1942.
Including the 2010 cycle, when the party failed to field a candidate, only one Democrat has faced a U.S. Senate primary opponent over the last 10 cycles since 1986 – incumbent Tim Johnson in 2002, winning 94 percent in a blow-out contest over Herman Eilers.
Overall, nine South Dakota U.S. Senate candidates qualified for the ballot in 2014 – which also ties a Mount Rushmore State record previously reached in 1924 and 1932.
In addition to the five Republicans mentioned above, Democrat Rick Weiland and three independents qualified for the ballot – former U.S. Senator Larry Pressler, former state legislator Gordon Howie, and political novice Clayton Walker.
The 1924 cycle featured the following nine candidates:
· Two Republicans: A high-profile matchup between Governor William McMaster and two-term incumbent Senator Thomas Sterling ended with McMaster winning the primary by 16.6 points (as well as the general election that November).
· Two Democrats: Sioux Falls attorney U.S.G. Cherry defeated Letcher stockman Mark Bates with 68.4 percent of the primary vote.
· One Farmer-Laborite: State Chairman Tom Ayres. (Note: Mark Bates also appeared on the Farmer-Labor line in some counties. The South Dakota Supreme Court eventually ruled a candidate could not appear more than once in a primary race for the same office, but some counties had already printed their ballots with Bates' name double-listed. Bates lost both primaries.)
· Four independents: Sioux Falls attorney George Eagan, state Supreme Court Justice Charles Dillon of Yankton, former Populist Party president H.L. Loucks, and former state marketing commissioner Don Livingston from Watertown.
The nine candidates running in 1932 featured:
· Three Republicans: Two-term incumbent Peter Norbeck easily defeated former State Senator Harry Brownell of Sioux Falls and Charles Hartsough of Hooker with nearly 75 percent of the vote in the GOP primary. Norbeck also won the general election.
· Three Democrats: U.S.G. Cherry won his third nomination for the chamber in 12 years by narrowly defeating Lewis Bicknell of Britton by 4.5 points (42.6 percent to 38.1 percent) with former State Senator Mark Sheafe of Watertown well behind at 19.3 percent.
· Liberty Party nominee Howard Platt (1926 nominee of the Farmer-Labor Party)
· Two independents: Oscar Luttio of Frederick and L.J. Manbeck
Including primaries, eight candidates ran for the U.S. Senate in South Dakota in 1920 with seven candidates in 1938 and 1972, six candidates in 1914 and 1918, and five candidates in 1942, 1980, and 1998.
Across the 35 popular vote South Dakota U.S. Senate election cycles since 1914, a total of 146 candidates have appeared on the primary or general election ballots: 67 Republicans, 53 Democrats, and 26 independents and third party candidates.
Follow Smart Politics on Twitter.