Will Obama Save Pat Quinn in 2014? Low Drag in Presidents' Home States
Eighty percent of gubernatorial nominees from the sitting president's party have been victorious in his home state over the last century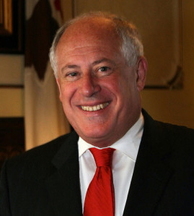 As expected, Illinois Republican gubernatorial nominee Bruce Rauner has emerged from his primary win in March in a dead heat with or perhaps a slight advantage over embattled Democratic incumbent Pat Quinn.
Quinn, along with one-term Republicans Tom Corbett of Pennsylvania and Paul LePage of Maine, are generally seen as the most vulnerable gubernatorial incumbents this cycle (with another half-dozen also in danger of losing their seats).
While one gubernatorial race does not determine the success or failure of the GOP in the midterm elections, a Republican victory in the top elected office in President Obama's home state would naturally be a huge symbolic victory for the GOP coming out of 2014.
And as well it should. For very few presidents, even those with low approval ratings, have endured such a loss over the last century.
A Smart Politics study finds that the party of the sitting president has won his home state's gubernatorial race 80 percent of the time over the last 100 years.
Governor Quinn is undoubtedly hoping that President Obama, while enduring administration-low approval ratings nationally, will remain popular enough in Illinois not to be a drag in the midterms to help him keep his job.
And that makes sense: presidents usually get a bit of a home state boost or benefit of the doubt vis-à-vis the rest of the nation, and thus the president's party might not feel as much of the brunt of an unpopular president back home.
That played out to some extent in Illinois in 2010 when Quinn narrowly captured the governor's seat by 0.9 points during the Republican tsunami. Obama's approval rating was in the lower-mid 40s at that time.
Gallup reported earlier this year that Illinois was one of just 11 states in which the president had an approval rating north of 50 percent. And that's good news for Quinn.
This trend has also played out across the decades.
Since 1913, there have been 30 races for governor in the home state of the sitting president.
The president's party has won 24 of them, or 80 percent during this 100-year period.
In fact, just two gubernatorial nominees of the president's party have lost in his home state over the last half-century plus.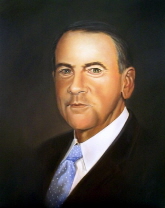 The most recent example took place in Arkansas in 1998 during Bill Clinton's second term.
Republican Mike Huckabee had ascended to the governorship in 1996 after the resignation of Democrat Jim Tucker.
During the 1998 midterms, Huckabee cruised as an incumbent to a 21.1-point victory over Democratic nominee Bill Bristow.
The only other instance in which the sitting president failed to carry his party's home state gubernatorial nominee to victory since the mid-1950s came in Texas during the 1990 cycle.
With George H.W. Bush in the White House, Democrat Ann Richards eked out a 2.6-point win over Republican Clayton Williams with a plurality 49.5 percent of the vote in the open seat race.
That was the first such setback after 10 consecutive gubernatorial victories by the president's party in his home state from the mid-1950s through 1986.
Although there were a few close calls along the way:
· Massachusetts, 1962 (John Kennedy): Democrat Endicott Peabody defeated Republican incumbent John Volpe by 0.2 points.
· Michigan, 1974 (Gerald Ford): Republican incumbent William Milliken held off Democratic challenger Sander Levin by 4.1 points.
· California, 1982 (Ronald Reagan): Republican George Deukmejian nipped Democrat Tom Bradley by 1.2 points in an open seat race for a GOP pick up.
Between 1913 and 1954, the party of the sitting president lost the governor's race in the president's home state in four cycles.
The 15.6-point loss of Democratic nominee H. Otto Wittpenn to Walter Edge in Woodrow Wilson's home state of New Jersey in 1916 is the least surprising of the group.
Wilson also lost his home state by double digits in that year's presidential election – marking just the second time in history that a winning presidential candidate failed to carry his home state in the two-party era (joining James Polk of Tennessee in 1844).
A few cycles later, in 1922, Republicans could not hold the governorship in Warren Harding's home state of Ohio.
Democrat Vic Donahey picked up the seat for his party with a 1.2-point win over Republican Carmi Thompson in the open seat race.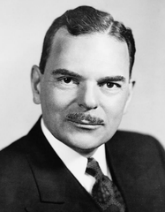 Two decades later, a good portion of the political gains achieved by the Democrats and Franklin Roosevelt in state and federal offices had been yielded back to the GOP by the late 1930s and early 1940s.
In 1942, the New York governorship returned to the Republican column when future presidential nominee Thomas Dewey won an open seat race over Democrat John Bennett by 15.7 points.
Finally, in 1954, Dwight Eisenhower saw Republicans yield the governorship in New York with Democrat W. Averell Harriman beating GOPer Irving Ives by 0.2 points in an open seat race.
(Note: There is some debate among historians whether to classify Eisenhower's home state as New York or Pennsylvania during the 1950s. The World War II hero was a New York resident when he won the White House in 1952).
Overall, from 1913 through 2012, the gubernatorial nominee of the president's party in his home state averaged wins of 11.5 points across these 30 contests.
Even presidents with under water approval ratings like Harry Truman in 1952, Lyndon Johnson in 1968, Ronald Reagan in 1982, and Bill Clinton in 1994 saw their home state gubernatorial nominees prevail that cycle.
But while gubernatorial nominees of the president's party have had a clear upper hand in the commander in chief's home state over the last 100 years, this has not always been the case.
From the birth of the two-party system in 1828 through 1912, sitting presidents helped carry their party to victory in just 22 of 39 home state gubernatorial races, or 56 percent of the time.
Victory by Gubernatorial Nominee of Sitting President's Party in Home State
Period

# Won

# Lost

% Won

Ave MoV*

1828-1912

22

17

56.4

7.5

1913-2012

24

6

80.0

11.5
* Denotes average margin of victory (or margin of loss) across all such elections during the designated period. Table compiled by Smart Politics.
Gubernatorial nominees fell short in 17 presidential home state races during this 84-year period:
· Tennessee, 1835 (Andrew Jackson): Anti-Van Buren Democrat Newton Cannon beat incumbent Democrat William Caroll by 10.5 points.
· New York, 1838 (Martin Van Buren): Whig William Seward defeated incumbent Democrat William Marcy by 2.8 points.
· New York, 1840 (Martin Van Buren): Seward won reelection over Democrat William Bouck by 1.2 points.
· Tennessee, 1847 (James Polk): Whig Neill Brown picked off incumbent Democrat Aaron Brown by 1.1 points.
· New York, 1852 (Millard Fillmore): Democrat Horatio Seymour beat incumbent Whig Washington Hunt by 4.3 points.
· New Hampshire, 1855 (Franklin Pierce): American Party nominee Ralph Metcalf defeated incumbent Democrat Nathaniel Baker by 8.9 points.
· New Hampshire, 1856 (Pierce): Metcalf narrowly won a second term defeating Democrat John Wells by 0.1 points.
· Pennsylvania, 1860 (James Buchanan): Republican Andrew Curtin won an open seat race by 6.5 points over Democrat Henry Foster.
· Tennessee, 1867 (Andrew Johnson): Republican incumbent William Brownlow easily won reelection by 53.7 points over Conservative Emerson Etheridge (no Democrat was on the ballot).
· Ohio, 1873 (Ulysses Grant): Democrat William Allen beat incumbent GOPer Edward Noyes by 0.2 points.
· Ohio, 1877 (Rutherford Hayes): Democrats picked up an open seat with Richard Bishop beating Republican William West by 4.1 points.
· New York, 1882 (Chester Arthur): Future Democratic President Grover Cleveland picked up a seat for his party when he beat Republican Charles Folger by 21.2 points.
· Indiana, 1892 (Benjamin Harrison): Democrat Claude Matthews beat incumbent Republican Ira Chase by 1.3 points.
· New York, 1894 (Grover Cleveland): Republican Levi Morton held an open seat for the GOP with a 12.2-point win over Democrat David Hill.
· New York, 1896 (Cleveland): Frank Black kept the governorship in the Republican column with a 15.0-point win over Democrat Wilbur Porter.
· Ohio, 1910: Democratic incumbent Judson Harmon defeated future Republican President Warren Harding by 10.9 points.
· Ohio, 1912: Future Democratic presidential nominee James Cox won an open seat race by 15.8 points against Republican Robert Brown.
Will Quinn join this list in 2014?
Although non-partisan polling of a head-to-head Rauner vs. Quinn matchup has been sparse, the Democratic governor has not yet led the GOP businessman in a survey this year.
Follow Smart Politics on Twitter.