Will the Number of Female US Senators Drop After 2014?
The number of women in the chamber has remained stable or increased in every cycle since the late 1970s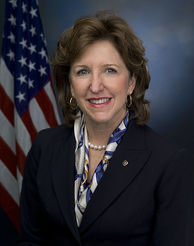 With Republican U.S. Representative Shelley Moore Capito and Democratic Secretary of State Natalie Tennant easily winning their West Virginia U.S. Senate primaries as expected Tuesday, the stage is set for at least one new female U.S. Senator to be sworn into the 114th Congress next year.
But will there be more women in the Senate overall?
A record 20 women now serve in the nation's upper legislative chamber – a number that has been slowly on the rise for the last quarter-century.
However, in a cycle in which the number of vulnerable female incumbents might outpace the number of newly-elected women, the U.S. Senate might see its first downturn in female Senators for the first time in decades.
On the one hand, none of the 20 women currently serving in the chamber are among the seven who are retiring or resigning at the end of the year.
Add to that only four female Senators are up for election this cycle: Republican Susan Collins of Maine and Democrats Mary Landrieu of Louisiana, Jeanne Shaheen of New Hampshire, and Kay Hagan of North Carolina (pictured).
Collins is expected to easily coast to a fourth term this November, and, if she should somehow stumble, her Democratic opponent is also a woman: Shenna Bellows, who served as the Executive Director of the ACLU in Maine for the last eight years.
However, none of the three Democratic seats occupied by women on the ballot in 2014 are safe, particularly those held by Landrieu and Hagan.
If two or more should fail in their reelection bids, then at least one other woman will need to join the winner of West Virginia's contest to ensure that the number of women in the chamber does not fall come January 2015.
For it has been decades since the U.S. Senate saw a decline in its female membership.
Since the 96th Congress convened in 1979, each cycle has seen the number of women in the chamber maintained or increased.
The chamber had two female U.S. Senators throughout the 1980s, doubling to four in the 102nd Congress (1991-1993), then seven in the 103rd (1993-1995), nine in the 104th (1995-1997), 14 in the 107th (2001-2003), 16 in the 110th (2007-2009), 17 in the 111th (2009-2011), and 20 today in the 113th.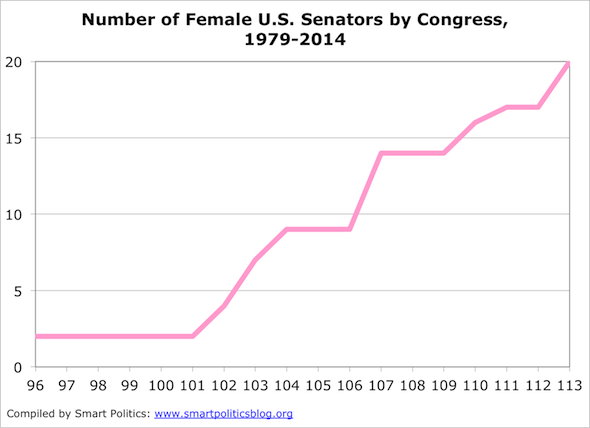 The number of female Senators dropped from three to two from the 95th to 96th Congresses in 1979 after appointed Democrats Maryon Allen of Alabama and Muriel Humphrey of Minnesota lost their nomination and retired respectively and the only new member to join Republican Nancy Kassebaum of Kansas was Florida GOPer Paula Hawkins.
And where might women pick up another Senate seat to offset these possible losses in North Carolina and Louisiana?
It would be difficult to say another female challenger or candidate in an open seat race is a clear favorite to emerge as the victor in November of this year, though some will have a chance as many women will be major party nominees.
Most notably, female Democratic nominees in Kentucky and Georgia will emerge after primaries this coming Tuesday in those states – Alison Lundergan Grimes and Michelle Nunn respectively.
Nunn also has an outside chance of facing a female Republican nominee in the general election.
Secretary of State Karen Handel is in a tight race to make the run-off in Georgia's must-watch, highly competitive GOP field.
Female candidates also have a good chance to win the Republican nomination in several other states:
· Michigan: Former Secretary of State Terri Lynn Land will face Democratic Congressman Gary Peters in what is considered a competitive race this fall.
· Oregon: Neurosurgeon Monica Wehby is battling State Representative Jason Conger for the GOP nod to take on one-term Democratic incumbent Jeff Merkley.
· Iowa: State Senator Joni Ernst is battling former energy executive Mark Jacobs with three other candidates possibly sending the nomination decision to the party convention if no candidate reaches 35 percent.
· Minnesota: State Senator Julianne Ortman remains a contender in a crowded GOP field but faces a big fundraising disadvantage against her main competitor, businessman Mike McFadden.
As for the Democrats, while nominees may yet emerge in Texas (Lyndon LaRoucheite Kesha Rogers is in a runoff later this month) and special elections in Oklahoma (State Senator Constance Johnson) and South Carolina (Councilwoman Joyce Dickerson), the best chance to send a woman to the U.S. Senate outside of Kentucky and Georgia is in Hawaii.
U.S. Representative Colleen Hanabusa is challenging appointed Democratic incumbent Brian Schatz in the August primary, but, despite early sentiment in her favor, she has seen several key groups and lawmakers endorse her primary opponent.
Should Hanabusa emerge as the nominee she would be the overwhelming favorite to win the general election.
Follow Smart Politics on Twitter.