Allyson Schwartz Could Set Pennsylvania Democratic Record Even With Loss
No female Democratic candidate for governor in Pennsylvania has eclipsed the 20 percent mark in a primary to date; only seven of 165 Democratic and GOP primary candidates in state history have been women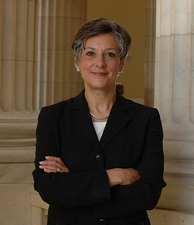 Pennsylvania U.S. Representative Allyson Schwartz jumped into the 2014 gubernatorial race early and was heralded as the frontrunner well into late 2013, but is now bracing for a distant second place finish in Tuesday's Democratic primary.
Former Keystone State Department of Revenue Secretary Thomas Wolf launched one of the most impressive Democratic candidacies over the last half year and is expected to flirt with winning an outright majority of the vote as he moves on to face embattled incumbent Governor Tom Corbett in the general election.
State Treasurer Rob McCord and former Secretary of Pennsylvania's Department of Environmental Protection Katie McGinty complete the four-candidate Democratic field.
But while political observers do not believe Schwartz is in contention for her party's nomination, she can nonetheless set a new benchmark on Tuesday.
If Schwartz receives just 20 percent of the primary vote, she will set the all-time mark in Pennsylvania for a female Democratic gubernatorial candidate.
Overall, just five women have appeared on the Democratic gubernatorial primary ballot over the 100 years since the first primary in 1914 – including Schwartz and McGinty.
None have won their party's nomination.
The high water mark thus far is 19.6 percent recorded by Treasurer Catherine Baker Knoll 20 years ago in 1994 in a seven-candidate field won by acting Governor Mark Singel.
Placing fourth in that race was another woman – 1992 Democratic U.S. Senate nominee Lynn Yeakel – who garnered 13.9 percent of the vote.
The only other woman to make it to the primary ballot in a Democratic gubernatorial race was Jennifer Alden Wesner in 1978 – the first such female candidate for governor in state history.
Wesner, the former mayor of Knox, a small town in northwestern Pennsylvania, placed fourth out of four candidates that cycle with just 2.9 percent.
Wesner later became a state constable and ran for president in 1988.
Overall, just five of the 84 Democratic gubernatorial primary candidates in Pennsylvania since 1914 have been women, or 5.9 percent.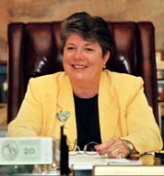 Pennsylvania Republicans, meanwhile, have had only two female candidates for governor on the primary ballot, but can claim one female gubernatorial nominee – Barbara Hafer in 1990.
Hafer, then the state's sitting State Auditor, won 54.4 percent to secure her party's nomination for governor in a race against fellow female GOPer Peg Luksik.
Hafer subsequently lost the general election to Democratic incumbent Bob Casey.
Luksik and Hafer are the only two women to appear on a Pennsylvania primary gubernatorial election ballot over the last 100 years out of more than 80 such candidates.
Despite low approval ratings Governor Corbett will run unopposed for his party's nomination Tuesday.
Pennsylvania Republicans have coalesced around their nominees much more than Democrats in recent decades.
Keystone State Republican gubernatorial nominees have not faced a primary opponent in six of the last nine cycles: Dick Thornburgh (1982), Bill Scranton III (1986), Tom Ridge (1998), Mike Fisher (2002), Lynn Swann (2006), and Corbett (2014).
Democratic nominees, meanwhile, have run unopposed in the primary in just two of 26 gubernatorial contests in state history: John Hemphill in 1930 and Ed Rendell in 2006.
Only 15 Republicans have appeared on the primary ballot since 1982 – just one more than the record 14 GOPers who ran in the 1934 cycle – compared to 30 Democrats during this span.
Pennsylvania is one of two-dozen states in which a woman has never served as governor.
Follow Smart Politics on Twitter.