McConnell Records Weakest Kentucky US Senate Incumbent Primary Victory in 75+ Years
McConnell wins the lowest percentage of the primary vote among the last 22 Kentucky U.S. Senators vying for a renomination bid following the 1938 election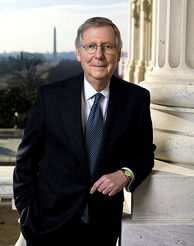 Few political observers thought Mitch McConnell would have much difficulty in winning his party's nomination since businessman Matt Bevin entered the Kentucky U.S. Senate race last July.
And McConnell did record a 24+ point win Tuesday against the well-funded Bevin and three other lesser-known Republicans (Brad Copas, Chris Payne, Shawna Sterling) in the first step to avoid becoming just the second U.S. Senate Minority Leader to be defeated at the ballot box. (South Dakota's Tom Daschle is the lone member of that club).
But McConnell's 60.2 percent to 35.4 percent win over his Tea Party-backed opponent was hardly an impressive victory for an incumbent when situated in the context of Kentucky electoral history.
Smart Politics reviewed primary election data over the last century and found that the 60 percent won by Mitch McConnell Tuesday is the lowest support registered by a sitting Kentucky U.S. Senator from either party since 1938.
Over the last 100 years, a sitting U.S. Senator from Kentucky has sought his party's nomination in 31 primary elections.
The only primaries in which an incumbent was not on the ballot were in 1914 (full term), 1918, 1946 (short term), 1950 (short and full terms), 1956 (short term), 1968, 1972, 1998, and 2010.
The last time a sitting senator from the Bluegrass State registered less voter support than McConnell's 60 percent was during a primary election 76 years ago in 1938.
In that cycle, two-term Democrat Alben Barkley faced six challengers on the primary ballot including Governor Happy Chandler, en route to winning 56.1 percent of the vote.
Chandler notched 42.6 percent in that race with no other candidate winning one percent. (Chandler would soon find his way to the chamber via a prearranged appointment in 1939 and then winning a special election in 1940).
Over the next seven-plus decades, only one other sitting Kentucky U.S. Senator failed to reach the 70 percent mark in a primary: Democratic incumbent Earle Clements won 60.9 percent in a three-candidate race in 1956.
Clements, however, had served just a shade over six years in the chamber, while McConnell has served nearly 30.
Among the remaining 20 incumbent U.S. Senators seeking renomination bids since 1940:
· Five won their party's nomination without opposition: Democrats Thomas Underwood (1952, special), Dee Huddleston (1984), and Wendell Ford (1986, 1992), and Mitch McConnell (2002)
· Four eclipsed the 90 percent mark: Republicans Thruston Morton (1962) and John Cooper (1948, 1960, 1966)
· Eight others received more than 80 percent of the vote: Democrats Alben Barkley (1944) and Wendell Ford (1980) and Republicans John Cooper (1954), Marlow Cook (1974), Mitch McConnell (1990, 1996, 2008), and Jim Bunning (2004)
· Three others reached 70 percent: Democrats Happy Chandler (1940 special, 1942) and Dee Huddleston (1978)
The fact that McConnell inspired four fellow Republicans to run against him this cycle is also of note.
The last time as many as four challengers took on a sitting Kentucky U.S. Senator in a primary was during the 1944 cycle, when a half-dozen Democrats ran against Alben Barkley.
Across the 18 primaries featuring incumbents between 1944 and 2014, an average of just 1.1 challengers ran against sitting senators of their own party in the Bluegrass State.
On the Democratic side Tuesday, Alison Lundergan Grimes had one of the best primary performances by a non-incumbent Kentucky U.S. Senate candidate over the last 60 years.
Grimes defeated her three opponents (Burrel Farnsley, Gregory Leichty, Tom Recktenwald) with more than 76 percent of the vote.
Since the mid-1950s, the only non-incumbent Kentucky U.S. Senate candidates to win a larger percentage of the primary vote were Democrat Wendell Ford in 1974 (84.8 percent), McConnell in 1984 (79.2 percent), and Democrat Wilson Wyatt in 1962 (77.0 percent).
Grimes and McConnell will square off in November with two other candidates on the ballot: Libertarian David Patterson and independent Ed Marksberry.
Follow Smart Politics on Twitter.