Ralph Hall Faces Uneasy Odds in Texas Runoff
Second-place primary finishers have won 16 of 35 Texas Republican U.S. House runoffs since 1992; Hall might become just the second Texas GOP U.S. Representative to lose his party's nomination in history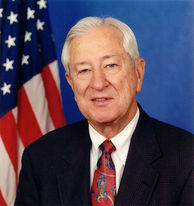 Election Day is here again in Texas where several primary runoff elections are being held Tuesday, including a high-profile race in the state's 4th Congressional District.
Seventeen-term Democrat-turned-Republican Ralph Hall faces former U.S. Attorney John Ratcliffe and is trying to avoid becoming the second Republican U.S. Representative in Texas history to lose his or her party's nomination.
Hall, the oldest member of the U.S. House at 91 and one of its two remaining World War II veterans, won 45.4 percent in last March's primary in a six-candidate field with Ratcliffe garnering 28.8 percent.
And what are Hall's chances Tuesday as he hopes to continue his run for an 18th and final term?
Since 1992, there have been 382 primary elections for U.S. House seats in Texas, of which the GOP has competed in all but 35, or 90.8 percent.
In more than half of these 347 contests (176, or 50.7 percent), only one candidate was on the ballot and ran unchallenged for the Republican nomination.
Of the remaining 171 contested races with at least two Republicans on the primary ballot, 38 resulted in a runoff, or 22.2 percent.
Three of those will be resolved Tuesday – in the 4th (Hall vs. Ratcliffe), 23rd (Will Hurd vs. Quico Canseco), and 36th Congressional Districts (Brian Babin vs. Ben Streusand).
Of the previous 35 runoffs, the second-place finisher in the primary won the runoff and nomination 16 times, or 45.7 percent.
That bodes well for Ratcliffe as he seeks what would be one of the rare political upsets so far this primary season.
Hall has struggled to run away from his competition for each of the last three cycles, although Ratcliffe was the only one to push the Texas Congressman into a runoff.
Since 1992, Texas Republican U.S. House members have run for reelection 184 times and averaged 92.1 percent of the primary vote.
In only four instances have such incumbents received less than 60 percent of the primary vote – and Hall owns three of those.
Hall won 59.4 percent in a six-candidate field in 2010, then 58.3 percent in a three-candidate field in 2012, and 45.4 percent in this year's six-candidate GOP primary.
There is one thing going in Hall's favor, however.
Of the 16 second place finishers who went on to win a GOP U.S. House runoff over the last 12 cycles, only one came back from a primary deficit as large as Ratcliffe faces Tuesday.
Ratcliffe trailed Hall by 16.6 points in the March primary.
Of the 16 who came back to win the runoff, the average primary day deficit was just 6.1 points with 10 of these less than five points behind the leader.
Meanwhile, the 19 second place primary candidates who failed to win the runoff had a much larger hurdle to overcome – trailing by an average of 12.3 points in the primary.
The only Republican who has come back from a bigger primary day deficit than Ratcliffe since 1992 was future Congressman Michael Burgess.
In 2002, Burgess won just 22.5 percent of the vote in the six-candidate field for the 26th CD GOP primary – some 22.9 points behind Scott Armey's 45.4 percent.
Burgess won the head-to-head runoff that April with 54.6 percent of the vote.
And as for the very, very short list Hall is attempting to avoid Tuesday: the only Texas Republican U.S. Representative in history who failed to win his party's nomination is Greg Laughlin in 1996, although it comes with an asterisk.
Laughlin was elected as a Democrat to the state's 14th Congressional District four times but switched parties in June 1995 – about a half-year after Republicans swept into office in the 1994 midterms.
Laughlin then ran as a Republican in the 1996 primary and won 42.5 percent in a four-candidate race that included former U.S. Representative Ron Paul.
In the runoff, Paul defeated Laughlin by 8.1 points.
Hall, like Laughlin, was first elected to the House as a Democrat.
Hall served as a Democrat in the chamber from 1981 until January 2004 when he switched his allegiances to the GOP.
Overall, Texas Republican U.S. Representatives who sought reelection have won the GOP nomination at a 99.6 percent rate since statehood – doing so successfully in 256 of 257 instances heading into Hall's runoff Tuesday.
Technically, Hall would be the first to lose his party's renomination bid, as the aforementioned Laughlin was never nominated as a Republican.
Follow Smart Politics on Twitter.