Will Michigan Split Its Ticket This November?
In one out of every three cycles for the past century the Wolverine State has split its vote for governor and U.S. Senator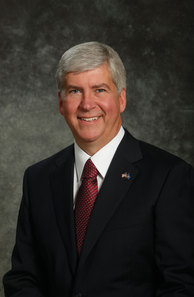 With just a shade over five months until Election Day, the status quo seems to be holding in two big contests in Michigan this cycle.
In the race for governor, Republican incumbent Rick Snyder remains the favorite against Democrat Mark Schaeur – polling ahead of the former U.S. Representative in every non-partisan poll conducted over the past year.
In the U.S. Senate race to fill retiring Carl Levin's seat, Democratic U.S. Representative Gary Peters appears to have gained some traction against former Michigan Secretary of State Terri Land.
In recent weeks, polling seems to indicate the gap could even be growing between the GOP advantage in the governor's race and the Democratic tilt in the U.S. Senate contest.
If this momentum holds, Michigan will split its ticket in the state's two highest profile races this November.
But how unusual would this be?
Smart Politics examined the 25 election cycles during which Michigan held gubernatorial and U.S. Senate contests over the last 100 years and found that the electorate split its vote between the two offices approximately one-third of the time.
During this century-long period, Michiganders have voted candidates into office from the same party in both races 17 times, or 68 percent of the time.
In 10 cycles the state has voted Republicans into both offices, although only twice since the mid-1940s: in 1916, 1918, 1924, 1928, 1930, 1934, 1942, 1946, 1966, and, most recently 1994 when John Engler won his second term as governor and Spencer Abraham won an open seat race to the nation's upper legislative chamber.
In seven cycles Michigan has voted Democrats to both positions: 1936, 1954, 1958, 1960, 1982, 2002, and 2006 when Jennifer Granholm and Debbie Stabenow each won second terms.
That leaves eight cycles in which the electorate split its gubernatorial and U.S. Senate vote, or 32 percent of the time.
Five of these cycles found the state electing a Republican governor and a Democrat to the U.S. Senate, including four of the last nine cycles in which both offices were on the ballot:
· 1922: One-term incumbent Alex Groesbeck was elected governor while former Governor Woodbridge Ferris upset two-term GOP U.S. Senator Charles Townsend
· 1964: One-term incumbent George Romney won the governorship while one-term incumbent Phillip Hart retained his Senate seat
· 1970: Incumbent William Milliken was elected governor while incumbent Phillip Hart won his third term in the Senate
· 1978: William Milliken was elected governor for a third consecutive term while Carl Levin unseated incumbent U.S. Senator Robert Griffin
· 1990: John Engler denied incumbent Governor James Blanchard his quest for a third term while Carl Levin was victorious for a third term in the U.S. Senate race
In three cycles Michigan elected a Democratic governor and a Republican U.S. Senator:
· 1940: Murray Van Waggoner defeated incumbent Luren Dickinson and Arthur Vandenberg was elected to his third full term (and fourth overall)
· 1948: Soapy Williams won his first term by unseating Kim Sigler while Homer Ferguson won his second U.S. Senate term
· 1952: Soapy Williams won his third of six terms as Charles Blair defeated appointed U.S. Senator Blair Moody in special and general elections held that November
In each of these aforementioned three cycles the Wolverine State also cast its Electoral College votes for a Republican presidential nominee at the top of the ticket.
The 2014 cycle is only the fourth over the last century with an incumbent governor and open-seat U.S. Senate race on the same ballot in Michigan, following 1918, 1936, and 1994.
In none of those cycles did Michiganders split their ballot in these statewide races with Republicans winning both seats in 1918 and 1994 and Democrats claiming both in 1936.
Governor Snyder's favorable position heading into the general election is consistent with the state's electoral history.
Overall, Michigan governors who appeared on the general election ballot have won reelection 77 percent of the time since statehood including 82 percent (23 of 28) for Republican incumbents.
The last Republican governor to lose at the ballot box was Kim Sigler in 1948.
Follow Smart Politics on Twitter.