Ernst Eyes Outright Primary Victory in Iowa GOP US Senate Race
Only one out of 68 Democratic and Republican U.S. Senate primaries has gone to a special nominating convention in Hawkeye State history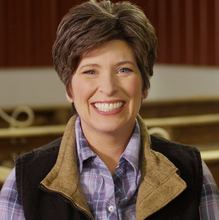 If recent public opinion polls are accurate, momentum appears to be on the side of Joni Ernst heading into Tuesday's Republican U.S. Senate primary in Iowa.
In only one publicly released survey of the five-candidate GOP field has any candidate eclipsed the 35 percent threshold necessary to avoid having the nomination decided at the state convention.
That poll, conducted by the Des Moines Register of likely voters last week, gave State Senator Ernst 36 percent and a comfortable double-digit advantage over ex-Reliant Energy executive Mark Jacobs at 18 percent, former U.S. Attorney Matthew Whitaker at 13 percent, radio talk show host Sam Clovis at 11 percent, and car salesman Scott Schaben at two percent.
Ernst and Jacobs have been the leading GOP candidates throughout 2014 in the open seat race to take on Democratic Congressman Bruce Braley, with the big question mark being whether either hopeful would reach the 35 percent mark.
For failing to do so would be very unusual in Iowa political history.
Smart Politics examined the 68 Democratic and Republican U.S. Senate primaries conducted in Iowa since the first such contest in 1914 and found that only one primary failed to produce a winner reaching the 35 percent threshold – GOPer Jack Miller in 1960.
In 1960, one-term Republican incumbent Thomas Martin did not seek reelection to his seat – opening up the floodgates for six members of his party who qualified to appear on the primary ballot.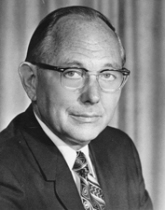 Four candidates ended up in double-digits, but the race came down to State Senator Jack Miller and former Iowa Attorney General Dayton Countryman.
Miller came in at 30.8 percent with Countryman just 1.8 points behind at 29.0 percent.
The nomination went to convention where Miller prevailed en route to winning two terms to the nation's upper legislative chamber.
Not only was the 1960 GOP primary an aberration in its failure to produce a winner, but also for the competitiveness of the race.
Lack of Competition
U.S. Senate primaries over the years have had a history of blowouts in the Hawkeye State.
The overall victory margin has averaged 59.0 points across the 68 such primaries conducted between 1914 and 2010.
Democrats, who have won many more uncontested U.S. Senate nominations than their GOP counterparts over the decades, have enjoyed an average margin of victory of 68.4 points, compared to 49.7 points for the Republicans.
Including Braley in the 2014 cycle, U.S. Senate candidates have received their party's nomination without opposition in 28 out of 70 races, or 40 percent of the time – 18 Democrats and 10 Republicans.
Moreover, of the 68 races prior to 2014, just five were decided by single digits:
· In 1920, two-term Republican incumbent Albert Cummins defeated Smith Brookhart by 9.5 points with 54.5 percent of the vote in a head-to-head matchup.
· In 1924, Democrat Daniel Steck was victorious over John Denison by 2.9 points with 39.0 percent of the vote in a three-candidate field.
· In 1950, Democrat Albert Loveland defeated Nelson Kraschel by 7.1 points with 38.5 percent of the vote in a six-candidate field.
· In 1960, Republican Jack Miller led Dayton Countryman by 1.8 points with 30.8 percent of the vote in a six-candidate field. Miller was chosen as the nominee at the convention.
· In 2008, Republican Christopher Reed defeated George Eichorn by 0.8 points with 35.3 percent of the vote in a three-candidate field.
Democrats have had only three other races decided by less than 20 points (in 1914, 1932, and 1936) while Republicans have had seven (in 1924, 1926, 1932, 1936, 1938, 1942, and 2002).
Five Is A Handful
The five-candidate GOP field in 2014 is tied for the fifth largest number of candidates in an Iowa U.S. Senate primary in state history.
Races for the upper legislative chamber attracted six Republicans in a 1922 special (won by Smith Brookhart), 1936 (Lester Dickinson), and 1960 (Jack Miller) and six Democrats in 1950 (Albert Loveland).
Five candidates also appeared on the Republican primary ballot in 1926 (Smith Burkhart) and on the Democratic ballot in 1932 (Louis Murphy) and 1938 (Guy Gillette).
Overall, Democrats have averaged 2.0 U.S. Senate primary candidates since 1914 with Republicans averaging 2.6.
The Incumbency Advantage
While the current cycle is an open seat race, incumbents have of course fared extremely well when challenged in past cycles, winning 27 of 29 bids overall (93.1 percent).
Democratic U.S. Senate incumbents are a perfect 11-0 when seeking a renomination bid from their party with seven not facing any opposition.
Republican U.S. Senators have won 16 renomination bids against two defeats:
· In 1926, three-term incumbent Albert Cummins was defeated by ex-U.S. Senator Smith Burkhart by 17.0 points in a five-candidate field. Cummins died a month after the primary loss.
· In 1932, Smith Burkhart, who won the 1926 election, was defeated by Henry Field by 12.3 points in a four-candidate field. Field lost the general election to Louis Murphy.
Note: There have been two additional U.S. Senate special elections held with candidates chosen from a nominating convention (no primary was held).
Those special elections occurred in 1926 after the death of Republican Albert Cummins and 1936 after the death of Democrat Louis Murphy.
David Stewart won the GOP nod in 1926 while Democrats did not challenge for the seat.
In 1936, Democrat Guy Gillette and Republican Berry Halden were given their party's nominations with Gillette winning the special election by 5.6 points.
Follow Smart Politics on Twitter.