Rounds Rolls in South Dakota GOP US Senate Primary
Despite facing a field that was tied for the largest in party history, Mike Rounds notched the sixth biggest victory margin in a contested Republican South Dakota U.S. Senate primary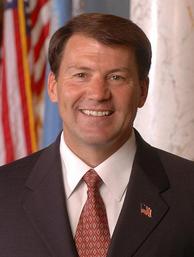 Efforts by his opponents to brand Mike Rounds as too moderate over the last year did not sway the Republican South Dakota electorate Tuesday, when it nominated the former two-term governor in the 2014 U.S. Senate race.
Rounds won with 55.4 percent of the vote, with State Senator Larry Rhoden in second with 18.5 percent followed by State Representative Stace Nelson with 17.6 percent, physician Annette Bosworth with 5.7 percent, and attorney Jason Ravnsborg in last with 2.8 percent.
The 36.9-point victory by Rounds was more than decisive – it was one of the strongest performances in a GOP U.S. Senate primary in state history.
Smart Politics examined the 35 Republican U.S. Senate primaries in South Dakota history and found that Mike Rounds' victory margin was the sixth largest among the 20 contested GOP primaries since 1914.
All that in what was tied for the largest field in party history.
The five candidates in the Republican Party's primary this cycle was matched only once over the nearly three-dozen such contests in state history.
In 1972, Robert Hirsch finished first of five candidates with 27.4 percent of the vote and was later nominated at the state convention because he did not reach the 35 percent threshold.
The other five GOP primary victors with larger victory margins than Rounds had fewer candidates in the race to contend with:
· In 1926, incumbent U.S. Senator Peter Norbeck won by 37.2 points in a head-to-head matchup against George Danforth
· In 1932, Norbeck won by 52.7 points in a three-candidate field over Harry Brownell
· In 1978, Larry Pressler won by 47.8 points in a two-candidate race against Ronald Williamson
· In 1980, James Abdnor was victorious by 45.8 points in a head-to-head matchup against Dale Bell
· In 2008, Joel Dykstra won by 40.9 points in a three-candidate field over Sam Kephart
The average victory margin in contested GOP U.S. Senate primaries over the last 100 years has been 23.3 points.
The odds of Rounds winning north of 55 percent again in the general election in five months is perhaps not so rosy.
In November, Rounds will face Democratic nominee Rick Weiland, former GOP U.S. Senator turned independent Larry Pressler, former GOP State Senator turned independent Gordon Howie, and independent Clayton Walker.
Early public opinion surveys with Pressler in the mix have seen the former three-term U.S. Senator poll in the mid-teens, helping to depress Rounds' support down to the high 30s to low 40s.
South Dakota voters have not had so many candidate options in a U.S. Senate race in more than 80 years.
Follow Smart Politics on Twitter.