Lindsey Graham Gets Into the Record Books
The two-term incumbent sets a new low water mark in primary voter support for a Republican U.S. Senator from South Carolina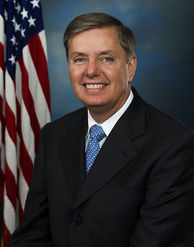 Unlike Eric Cantor in the U.S. House, South Carolina U.S. Senator Lindsey Graham survived and advanced Tuesday in his Republican primary election.
Graham won 56.6 percent of the vote with State Senator Lee Bright his closest opponent 40 points back at 15.6 percent.
And so while Senator Graham did win an outright majority of the vote to avoid a runoff, he did not exactly overwhelm – at least when compared to his predecessors.
Smart Politics examined South Carolina primary election data and found that Lindsey Graham received the lowest ever support in a Republican primary by a sitting U.S. Senator, and the lowest by any elected senator in the state since 1950.
Graham's 56.6 percent is the weakest showing among the 10 Republican incumbents who sought reelection to the nation's upper legislative chamber from the Palmetto State.
Strom Thurmond ran unopposed as a Republican four times: in 1966, 1972, 1978, and 1990.
Thurmond also won 94.3 percent in 1984 and 60.6 percent in 1996 – which was the low water mark until Graham's performance Tuesday.
Appointed Senator Tim Scott won 90.0 percent in his special primary Tuesday in a two candidate race.
Meanwhile, Jim DeMint won 83.0 percent in 2010 and Graham tallied 66.8 percent in the 2008 primary for his first renomination bid.
For decades, Democratic incumbents have also garnered more support come primary day than Graham achieved Tuesday.
The last time an elected U.S. Senator from either party in South Carolina won less than Graham's 56 percent in a primary was Olin Johnston in 1950.
In that cycle, the incumbent Johnston defeated then Governor Thurmond with 54.0 percent of the vote in the head-to-head matchup.
Since 1950, six Democratic incumbents did not face any primary opposition: Burnet Maybank in 1954, Johnston in 1956, and Fritz Hollings in 1974, 1986, 1992, and 1998.
Thurmond won 89.5 percent of the primary vote in 1960, Johnston won 65.6 percent in 1962, and Hollings won 81.2 percent in 1980.
The only incumbent in the last 60+ years who fared worse than Graham was not elected to the office.
Democrat Donald Russell famously appointed himself (in effect) when he resigned as governor of the state in April 1965 after the death of Senator Johnston. His successor, Robert McNair, appointed Russell to the post that same day.
In the subsequent 1966 special primary for the seat, Democratic voters did not reward Russell for his act and overwhelmingly nominated Hollings instead. Russell won just 39.2 percent of the primary vote.
As for Senator Graham, his numbers were depressed in part due to the quantity of opponents he faced – the most in a South Carolina U.S. Senate primary in history.
However, Graham shouldn't exactly get a pass for that, because the legislator rankled South Carolinians enough to see a record six of its residents decide to challenge him.
Fortunately, for Graham, they were not strong opponents.
Follow Smart Politics on Twitter.