Will Obama Stop Referring to Washington as the "Redskins?"
A monumental trademark decision Wednesday may put pressure on the president to stop using the "disparaging" name he has used in the past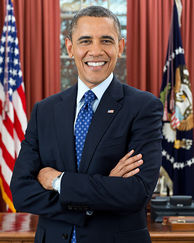 Washington was abuzz Wednesday when sports news met politics after the U.S. Patent and Trademark Office appeal board canceled trademark registrations of the Washington Redskins because the majority of the board determined the name of the team was "disparaging to Native Americans at the respective times they were registered."
The Redskins name has been seen in some quarters as culturally insensitive or offensive for years, but the controversy has gained steam in recent years, as the team's prickly owner Dan Snyder has dug in his heels against changing the name.
Some high profile journalists, such as Sports Illustrated writer Peter King at his MMQB site last August, announced that his site would cease from publishing the full official team name going forward, choosing instead to refer to the "Washington football team."
President Obama weighed in on the issue just last fall during an Associated Press interview, when he stated, "If I were the owner of the team and I knew that there was a name of my team — even if it had a storied history — that was offending a sizable group of people, I'd think about changing it."
However, Obama himself has on several occasions referred to the Washington franchise as the "Redskins" in off-the-cuff remarks, including just two months before the AP interview.
For example:
During a meeting on fatherhood at the White House in June of his first year in office, the President addressed former Pittsburgh Steelers coach Bill Cowher who was a participant in the town hall:
"Well, look, I think you make a great point. First of all, I do want to thank all these wonderful men who took the time to go out and–Coach Cowher, this is the first time that you've seen Redskins fans cheer for you–that doesn't happen that often–but these extraordinary men for taking the time to do this. Please give them a big round of applause." – Remarks at a Town Hall Meeting on Fatherhood and a Question-and-Answer Session, June 19, 2009
A year later, Obama was in Wheaton, Maryland at a town hall for seniors on the recently passed Affordable Care Act.
After an audience member made a comment, "Instead of buying expensive football teams, what we need is more archers," the President replied:
"Well, let me–I'm not going to comment on football–because the–are most people around here Ravens fans or Redskins fans? – Remarks at a Town Hall Meeting and a Question-and-Answer Session in Wheaton, Maryland, June 8, 2010
Later that autumn – with the 2010 NFL season underway – Obama tossed out an unrelated football comment referencing Washington's 30-27 loss to the Houston Texans during the second week of the season:
"So with that, what I want to do is I just want to open it up for any questions, comments, concerns that people have. We're focused mostly on health care, but if you want me to talk about what happened to the Redskins on Sunday, I can talk about that too." – Remarks and a Question-and-Answer Session in Falls Church, Virginia, September 22, 2010
And less than a year ago, the President spoke at the White House at an event honoring the Miami Dolphins – 40 years after their undefeated season that culminated with a win in Super Bowl VII over Washington:
"Winning the Super Bowl, however, was not a foregone conclusion. The Dolphins had to win in Pittsburgh just to make it there. And once they did, they still were slight underdogs to the Redskins in the big game." – Remarks Honoring the 1972 Super Bowl Champion Miami Dolphins, August 20, 2013
Note: All presidents since Lyndon Johnson have referred to the Washington football team as the "Redskins" at some point during their presidency.
Follow Smart Politics on Twitter.