Cochran Advances: Six-Term US Senators Improve to 16-2 in Renomination Bids
Twice as many members of the chamber's Six-Term Club have died in office (four) than lost their party's nomination to a seventh term (two)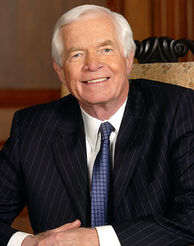 Mississippi U.S. Senator Thad Cochran turned a narrow second place primary finish from three weeks ago into a narrow runoff victory Tuesday – and turned many beltway heads along the way.
With more than 99 percent of precincts reporting, Cochran led GOP State Senator Chris McDaniel with just shy of 51 percent of the vote.
The win marked the 22nd consecutive renomination victory by a Mississippi U.S. Senator since Democrat Wall Doxey's loss in 1942 to James Eastland.
The only other U.S. Senator from the Magnolia State to lose a renomination bid during the direct election era was James Vardaman in 1918.
Cochran's win marks the third time a second place Mississippi U.S. Senate primary finisher came back to win the runoff out of eight such contests in state history, following Hubert Stephens in 1922 (over Vardaman) and Theodore Bilbo in 1934 (over Stephens).
First place primary finishers won the subsequent runoff in 1942 (Eastland), 1978 (Maurice Danton), 1994 (Ken Harper), 2000 (Troy Brown), and 2006 (Erik Fleming).
Three weeks ago, Cochran and McDaniel battled in what was the second most competitive U.S. Senate primary by either party in Mississippi history – decided by just 0.5 points.
That competitiveness was on full display Tuesday as the 50.9 percent won by Cochran marked the lowest victory tally in any of the eight U.S. Senate runoffs in Mississippi history, besting Bilbo's 51.8 percent in 1934.
With his victory, Cochran avoided an embrassing primary loss that has been quite rare among members of the U.S. Senate's Six-Term Club.
How rare?
Twice as many six-term U.S. Senators have died in office than have lost their party's nomination.
A Smart Politics analysis finds that Cochran was the 18th six-term U.S. Senator who sought his party's nomination to a seventh term in the direct election era, and the 16th to successfully do so.
By just a few thousand votes, Cochran narrowly avoided adding his name to a list of six-term primary losers that has just two names on it: Tennessee Democrat Kenneth McKellar and Indiana Republican Dick Lugar.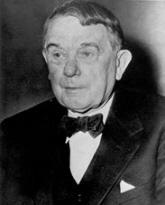 McKellar was the Volunteer State's first popularly elected senator to its Class I seat in 1916, winning with 54.4 percent of the vote.
He would go on to win with 68.0 percent of the vote in 1922, 59.3 percent in 1928, 63.4 percent in 1934, 70.8 percent in 1940, and 66.6 percent in 1946.
But in 1952, McKellar sought an unprecedented seventh term and received a primary challenge from seven-term U.S. Representative Al Gore, Sr.
Gore – who at age 44 was 39 years younger than the sitting Senator – defeated McKellar in that summer's Democratic primary by a decisive 15.6-point margin.
Over the next 60 years following McKellar's defeat, 15 six-term U.S. Senators won their renomination bids:
· 1962: Arizona Democrat Carl Hayden
· 1964: Virginia Democrat Harry Byrd, Sr.
· 1966: Georgia Democrat Richard Russell
· 1980: Louisiana Democrat Russell Long
· 1980: Washington Democrat Warren Magnuson
· 1982: Mississippi Democrat John Stennis
· 1990: South Carolina Democrat-turned-Republican Strom Thurmond
· 1994: Massachusetts Democrat Ted Kennedy
· 1994: West Virginia Democrat Robert Byrd
· 1998: Hawaii Democrat Dan Inouye
· 1998: South Carolina Democrat Fritz Hollings
· 2002: Alaska Republican Ted Stevens
· 2008: Delaware Democrat Joe Biden
· 2010: Vermont Democrat Patrick Leahy
· 2012: Utah Republican Orrin Hatch
In 2012, however, Indiana's Dick Lugar became the second six-term U.S. Senator to lose his party's renomination bid when he was defeated by 21 points in the GOP primary by a more conservative candidate, Richard Mourdock.
Like Mourdock, McDaniel positioned himself as a more conservative alternative to his opponent.
With his victory, history suggests Cochran would seem to have even better odds in the general election.
Out of the 15 previous six-term U.S. Senators to win their renomination bids, just one lost that November: Republican Slade Gorton defeated incumbent Warren Magnuson in Washington in 1980.
And as for those who passed away before being able to run for a seventh term, four six-term U.S. Senators have died in office office over the last century:
· Louisiana Democrat Allen Ellender died in July 1972 as he was finishing his sixth term in office
· Arkansas Democrat John McClellan died in November 1977, about one year shy of the end of his sixth term
· Washington Democrat Scoop Jackson died in September 1983, shortly into his sixth term
· North Dakota Democrat Quentin Burdick died in September 1992 a little over halfway into his sixth term
Overall, just 14 of the 32 six-term U.S. Senators serving entirely in the direct election era were elected to a seventh term, with the remaining 18 either retiring at the end of their term, losing at the ballot box, or dying in office.
In addition to the four deaths, two failed primary bids, and one general election loss, an additional 11 six-term U.S. Senators decided not to seek reelection, including two this cycle:
· 1956: Georgia Democrat Walter George
· 1968: Alabama Democrat J. Lister Hill
· 1974: Vermont Republican George Aiken
· 1978: Alabama Democrat John Sparkman
· 1978: Mississippi Democrat James Eastland
· 1980: North Dakota Democrat Milton Young
· 1988: Wisconsin Democrat William Proxmire
· 1996: Rhode Island Democrat Claireborne Pell
· 2008: New Mexico Republican Pete Domenici
· 2014: Michigan Democrat Carl Levin
· 2014: Montana Democrat Max Baucus
The political fate of Cochran will be determined this November against former Democratic Congressman Travis Childers.
One additional six-term U.S. Senator who has served completely during the direct election era – Iowa Republican Chuck Grassley – appears to be on track to run for a seventh term in 2016.
Follow Smart Politics on Twitter.