Could Dayton Be the Lone Democratic Victor in 2014 Midwestern Gubernatorial Races?
At least one other Midwestern state has voted a Democrat into office each of the 15 times Minnesotans have elected a Democratic governor since statehood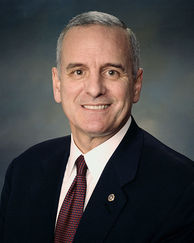 Earlier this year, Smart Politics examined the possibility that the Republican Party might win all nine gubernatorial elections in the Midwestern region this cycle – something that has not happened in the region since 1946.
To be sure, the cards would have to fall just right for the GOP for that to happen, and, in any event, it is quite likely that the margin of victory will be in the single digits either way in the majority of the gubernatorial races being held this cycle.
A mid-year review of the region's nine contests suggests that Republicans still have the upper hand in most states, and that there is probably only one state in which Democrats are clearly favored at this point – Minnesota.
It would, however, be quite unusual for Minnesota to be the only state in the victory column for the Democrats in November.
In fact, it's never happened before.
Minnesota has joined at least one other Midwestern state in each of the 15 cycles it has elected a Democratic governor since statehood out of 64 such contests.
Working to incumbent Governor Mark Dayton's advantage at the moment is his ability to sit back and wait while one of the fiercest Republican gubernatorial nomination battles plays out over the next month and a half.
Four high profile GOPers will remain in the race through the primary – Hennepin County Commissioner Jeff Johnson, former State Representative Marty Seifert, State Representative Kurt Zellers, and businessman Scott Honour – and recent polling shows Dayton ahead of each.
Until the GOP settles on a nominee it is unlikely to see much movement in the polls.
While Dayton by no means has a lock on the election, if Minnesota goes blue in 2014, history suggests at least one other governorship will as well.
In the 15 election cycles in which Minnesota did elect a Democratic candidate, at least one Midwestern state did so as well:
· 1857 (Henry Sibley): Missouri
· 1898 (John Lind, Democratic-People's): Nebraska (Fusion) and South Dakota (Fusion)
· 1904 (John Johnson): Missouri
· 1906 (John Johnson): North Dakota
· 1908 (John Johnson): Indiana, Nebraska (Fusion), North Dakota, Ohio
· 1914 (Winfield Hammond): Michigan
· 1954 (Orville Freeman): Michigan, Ohio
· 1956 (Orville Freeman): Iowa, Kansas, Michigan, Missouri
· 1958 (Orville Freeman): Iowa, Kansas, Michigan, Nebraska, Ohio, South Dakota, Wisconsin
· 1962 (Karl Rolvaag): Iowa, Nebraska, North Dakota, Wisconsin
· 1970 (Wendell Anderson): Kansas, Nebraska, Ohio, South Dakota, Wisconsin
· 1974 (Wendell Anderson): Nebraska, South Dakota, Wisconsin
· 1982 (Rudy Perpich): Kansas, Michigan, Nebraska, Ohio, Wisconsin
· 1986 (Rudy Perpich): Michigan, Ohio
· 2010 (Mark Dayton): Illinois
The only race that currently seems poised for a blowout among the nine states holding gubernatorial elections in the Midwest this cycle is South Dakota, where incumbent Dennis Daugaard has a decided advantage on all fronts against newly nominated State Representative Susan Wismer.
Meanwhile, Republican incumbents Terry Branstad of Iowa, Rick Snyder of Michigan, John Kasich of Ohio, and Scott Walker of Wisconsin are also all favored against their nominated or likely Democratic challengers (Jack Hatch, Mark Schauer, Ed Fitzgerald, and Mary Burke respectively).
Where Democrats are turning heads, however, are in the deep red plains states of Kansas and Nebraska – though for different reasons.
In Kansas, Republicans are vulnerable due to the waning popularity of former U.S. Senator and incumbent Governor Sam Brownback.
Democrats also recruited a strong challenger in Paul Davis, Minority Leader of the Kansas House of Representatives.
Recent polling by SurveyUSA found Davis with a six-point lead over Brownback, in what seems to be a race about the candidates, not party (the same survey found Kansas U.S. Senator Pat Roberts with a double-digit advantage over his potential Democratic challengers for that statewide office).
Nebraska, meanwhile, has an open seat gubernatorial race in which ex-Ameritrade executive Pete Ricketts emerged from a brutal GOP primary with the lowest support in state history.
By contrast, Democrats rallied behind their nominee Chuck Hassebrook who ran uncontested in the primary.
The result of which finds early polling with Ricketts hanging on to a single-digit lead just outside the margin of error in a race that seemed unwinnable for the Democrats a year ago.
One state the Democrats cannot count on for a victory in 2010, however, is the usually reliably blue state of Illinois.
Democratic incumbent Pat Quinn seems to be in a similar situation as Brownback in Kansas – an embattled governor with low approval ratings opening the door to victory for the underdog opposing party.
Quinn is being challenged by business executive Bruce Rauner, who has not trailed Quinn in any publicly released head-to-head poll this year.
And so, with just a shade over four months until Election Day, nearly every one of these races mentioned above still has the potential to see a momentum shift.
The end result is that, while Mark Dayton currently seems to be in the best shape of any Democratic Midwestern gubernatorial candidate, history suggests it is unlikely that if he does record a win in November, that he will be the only one in his party to do so.
Follow Smart Politics on Twitter.