The 8th Congressional District: Minnesota's Political Roller Coaster?
If Republicans pick up the 8th CD this November it will be just the sixth time the same Minnesota U.S. House seat has changed partisan control in three consecutive cycles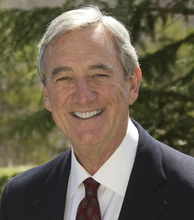 Last week Smart Politics took a somewhat playful look at the role age is playing in Minnesota's 8th Congressional District race, where 42-year old Republican Stewart Mills III is challenging 70-yeard old DFLer Rick Nolan.
In truth, the race is being taken quite seriously by both political parties with ads up and running in a district that has just a 1-point Democratic lean according to the Cook Partisan Voting Index.
The 8th CD certainly has received its share of interest in recent cycles and, as a result, is becoming one of the most electorally colorful districts in the nation.
First, in 2010, Republican Chip Cravaack knocked the longest serving U.S. Representative in Minnesota history out of office – 18-term DFLer Jim Oberstar.
Two years later, Nolan set the mark for the longest gap in service to the nation's lower legislative chamber, returning after an absence of 32 years after defeating the freshman Cravaack.
And now, in 2014, Mills and the GOP have a chance to accomplish a rare feat in Minnesota politics: flip the same congressional seat in three consecutive election cycles.
Such an event has not happened in Minnesota politics in 66 years.
Minnesota has conducted elections for 584 seats to the U.S. House of Representatives since statehood across 79 election cycles and only five times has a congressional seat changed partisan control in at least three straight cycles.
Three of these instances occurred during the mid-1880s to early 1890s.
This was a period of tumultuous change in congressional representation in the Gopher State with a series of highly competitive races after years of Republican dominance.
While Republicans never relinquished control of the governor's office during this span, they only just escaped with wins by one percentage point in both 1886 and 1890.
In races for the U.S. House, more than half of all contests after redistricting in 1882 were decided by single digits through 1890 (14 of 25 races) plus six of the seven contests conducted after redistricting in the 1892 cycle.
The chaotic series of elections began in earnest in 1886 when a three-cycle sweep by the GOP from 1880 to 1884 came to an end.
Democrats picked up seats in the open 1st and 3rd Congressional districts and defeated freshman John Gilfillan in the 4th.
Gilfillan was the first of four consecutive freshmen to lose their 4th CD seats when he was defeated by Democrat Edmund Rice that year by 7.9 points.
Rice then lost to Republican Samuel Snider in 1888 by 12.1 points and Snider subsequently lost to Democrat James Castle in 1890 by 8.3 points.
After redistricting and reapportionment in 1892, Castle lost to Republican Andrew Kiefer by 9.4 points with People's and Prohibition Party candidates winning more than 12 percent of the vote collectively.
This four-cycle stretch is the only time in Minnesota history in which four incumbents from the same district have been defeated in back-to-back-to-back-to-back cycles.
During this time, Congressional turnover was also happening at a quick pace in the state's 1st CD.
After an open seat win by Democrat Thomas Wilson in the 1st CD in 1886, Mark Dunnell defeated Wilson and took back the seat for the GOP in 1888.
Dunnell then lost in 1890 to Democrat-Farmers Alliance nominee William Harries and Harries lost in 1892 to Republican James Tawney.
In the 3rd CD, Democrat John MacDonald won the open seat race of 1886, but then lost to Republican Darwin Hall in 1888. Hall subsequently lost to Democrat Osse Hall in 1890.
The only other period during which Minnesota U.S. House seats flipped partisan control in three straight cycles took place after the DFL merger in 1944.
In 1944, the DFL was able to pick up two Republican seats in congressional races in the 3rd and 4th CDs.
Both seats would turn back to the GOP after the 1946 elections and then back again to the DFL two years later in 1948.
In the 3rd CD 1944 race, DFLer William Gallagher defeated incumbent Richard Gale. Gallagher had been renominated in 1946 but died that August and Republican George MacKinnon defeated Gallagher's replacement, Roy Wier by 4.2 points.
Wier won the rematch bout in 1948, however, to claim the 3rd CD once again for the DFL.
In the 4th CD 1944 race, Republican incumbent Melvin Maas was knocked out of office by DFLer Frank Starkey.
Starkey was then defeated in 1946 by Republican Edward Devitt, but held the seat for only two years when DFLer Eugene McCarthy won back the seat for the DFL in 1948.
The DFL has held the St.Paul area 4th CD seat ever since with McCarthy, Joseph Karth, Bruce Vento, and Betty McCollum winning the next 33 elections since 1950.
Congressional seats flipping partisan control in three or more consecutive cycles has thus been rare in Minnesota political history, but there also haven't been too many instances of seats flipping in back to back cycles.
All told, congressional districts have seen a change in partisan control in Minnesota in back-to-back cycles just 14 times including five seats mentioned above and the Oberstar-to-Cravaack-to Nolan pathway in the 8th CD.
The remaining eight instances are:
● 2nd CD, 1866-1870: Republican (Ignatius Donnelly) to Democrat (Eugene Wilson) to Republican (John Averill)
● 2nd CD, 1876-1880: Republican (Horace Strait) to Democrat (Henry Poehler) to Republican (Horace Strait)
● 5th CD, 1888-1892: Republican (Solomon Comstock) to Farmers Alliance-Prohibition (Kittel Halvorson) to Republican (Loren Fletcher)
● 5th CD, 1900-1904: Republican (Loren Fletcher) to Democrat (John Lind) to Republican (Loren Fletcher)
● 5th CD, 1934-1938: Republican (Theodore Christianson) to Farmer-Laborite (Dewey Johnson) to Republican (Oscar Youngdahl)
● 8th CD, 1934-1938: Republican (William Pittenger) to Farmer-Laborite (John Bernard) to Republican (William Pittenger)
● 6th CD, 1978 to 1982: Democrat (Rick Nolan) to Republican (Vin Weber) to Democrat (Gerry Sikorski). Note: The inclusion of this seat comes with an asterisk. After redistricting changed up the state's maps in 1982, Weber ran and won in the 2nd CD while 1st CD U.S. Rep. Arlen Erdahl was outdistricted and ran and lost in the 6th.
● 6th CD, 1990 to 1994: Democrat (Gerry Sikorski) to Republican (Rod Grams) to Democrat (Bill Luther)
In addition to Nolan and Mills, Green Party candidate Ray Sandman has also filed to be on the ballot in the 8th CD race this November.
Follow Smart Politics on Twitter.