Kansas US Representatives Boast 99 Percent Renomination Rate Over Last 50 Years
After Tuesday's sweep, Kansas U.S. Representatives have now won 102 of 103 renomination bids since the 1964 cycle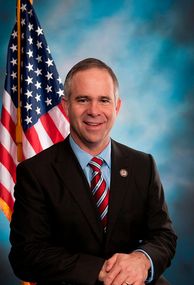 Although a few Kansas U.S. Representatives were sweating it out down the home stretch of the primary campaign, Tuesday's elections saw all four Republican incumbents move ahead to November.
One incumbent, two-term GOPer Kevin Yoder in the 3rd CD, ran unopposed for his party's nomination while another, three-term Republican Lynn Jenkins, cruised with just south of 70 percent of the vote in the 2nd CD against Joshua Tucker.
In the 4th CD, the money spent by two-term incumbent Mike Pompeo worked to easily fend off a late challenge by the underfunded former eight-term congressman Todd Tiahrt, to the tune of a 25-point victory.
And, in the most-watched U.S. House primary in the state Tuesday, two-term Republican Tim Huelskamp (pictured at top) survived a challenge from political newcomer Alan LaPolice in the 1st CD by 9.9 points.
All told, the status quo prevailed once again – and that's exactly how it's been in congressional primaries for both parties for nearly every cycle in Kansas for the last half century.
A Smart Politics review of Kansas primary election data finds that, with a clean sweep Tuesday, incumbent U.S. Representatives from the Sunflower State have now won 102 of 103 renomination bids over the last 50 years.
Since 1964, the only member of the Kansas U.S. House delegation who lost his or her party's nomination was Republican Dick Nichols in 1992.
Nichols was a freshman from the 5th Congressional District, which was eliminated after reapportionment that cycle.
Nichols chose to run in the state's 4th CD to take on eight-term Democrat Dan Glickman, but was upended before he got the chance in a competitive three-candidate GOP primary.
Eric Yost won the nomination with 45.1 percent of the vote with Nichols at 33.6 percent and Richard LaMunyon with 21.3 percent.
In all other 102 instances, sitting U.S. House members from Kansas have prevailed in their renomination bids since 1964.
Overall, 15 of the state's 117 U.S. Representatives since statehood eventually lost their party's nomination, although just six during the last 104 years.
Freshman William Brown was the first to lose his party's nomination in 1876 – a fate that would befall eight other Kansas congressmen over the next 34 years:
Three-term Republican William Phillips in 1878
Four-term Republican John Anderson in 1886 (and, again, after his sixth term in 1890)
Freshman Populist John Otis in 1892
Four-term Republican Case Broderick in 1898
Five-term Republican Charles Scott in 1910
Seven-term Republican William Calderhead in 1910
Six-term Republican James Miller in 1910
Six-term Republican William Reeder in 1910
Within the last century, it has become less common to see sitting U.S. Representatives fail to pick up a renomination win, although it has happened to a few with long tenures on the Hill:
Ten-term Republican Philip Campbell in 1922
Seven-term Republican James Strong in 1932
Eight-term Republican William Lambertson in 1944
Four-term Republican Thomas Winter in 1946
Freshman Republican Walter McVey in 1962
Freshman Republican Dick Nichols in 1992
None of the 25 Democrats elected to serve in the U.S. House from Kansas ever lost their party's nomination.
However, all but five of them were eventually defeated in the general election.
Only William Carpenter, Dennis Moore, George Neeley, Bill Roy, and James Slattery exited the chamber on their own terms. (Note: Neeley and Roy launched unsuccessful U.S. Senate bids in 1914 and 1974 respectively and Slattery lost a gubernatorial campaign in 1994).
Winning their party's nomination for another cycle keeps the hope alive that one of these four current U.S. Representatives may be the next U.S. Senator from Kansas in the coming years.
Over the last half-century, four Kansas U.S. House members went on to be elected to the nation's upper legislative chamber: Republicans Bob Dole (in 1968), Pat Roberts (1996), Sam Brownback (1996), and Jerry Moran (2010).
Follow Smart Politics on Twitter.