Alexander Records Weakest Primary Win for GOP US Senator in Tennessee History
Alexander becomes the fifth Republican U.S. Senator to set a low water mark for an incumbent in a GOP primary election this cycle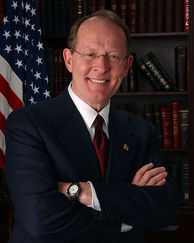 Although State Representative Joe Carr was never cast by political observers as a top-tier, bona fide challenger to U.S. Senator Lamar Alexander over the last year, the two-term incumbent from Tennessee was only able to score a modest victory in Thursday's primary.
Alexander won by nine points with just shy of 50 percent of the vote in the seven-candidate field.
That marks by far the lowest winning percentage and margin of victory ever recorded in a primary for a Republican U.S. Senator from the Volunteer State.
Prior to Alexander's win Thursday, incumbent GOP Senators from the Volunteer State had never seen a challenger reach double-digits and had won by an average margin of 91 points.
Republicans did not win a popular vote Senate race in Tennessee until 1966 – when Howard Baker broke through for the party in an open seat race.
The seven GOP primary campaigns featuring incumbents on the ballot over the next 46 years – with Baker, Bill Brocker, Fred Thompson, Bill Frist, Lamar Alexander, and Bob Corker – had all been overwhelming landslides for the sitting Senators.
In three cycles, incumbents did not face any GOP primary challenger: Brock in 1976, Frist in 2000, and Alexander in 2008.
In the four remaining races, 11 challengers appeared on the primary ballot and collectively netted 40.3 percent of the vote.
Carr received approximately 40 percent of the vote against Senator Alexander Thursday.
Prior to Carr, the best mark by a GOP primary challenger was the 8.6 percent won by Harvey Howard as Baker sought his third term in 1978.
Howard lost by 74.8 points to Baker, which was the closest a candidate had ever come:
● In 1972, Hubert Patty was defeated by Howard Baker by 94 points in a two-candidate field.
● In 1996, Jim Counts lost to Fred Thompson by 88.2 points in a head-to-head matchup.
● In 2012, Zach Poskevich lost to Bob Corker by 79 points in the five-candidate field.
Including incumbents without challengers, Republican U.S. Senators from Tennessee had won their primaries with an average of 94.2 percent of the vote and were victorious by an average of 90.9 points.
And thus Alexander adds his name to a rather substantial list of history-making low water marks in GOP U.S. Senate primaries this cycle.
Senator John Cornyn of Texas won 59.4 percent of the vote in March against Congressman Steve Stockman and six others which shattered the Lone Star State record for the lowest primary support for a Republican U.S. Senator.
Prior to Cornyn's 2014 performance, none of the nine previous cycles with a GOP Senator running for reelection saw an incumbent receive less than 80 percent of the primary vote. (Cornyn also held the previous mark with the 81.5 percent he won against Larry Kilgore in 2008).
Senate Minority Leader Mitch McConnell of Kentucky was next in May and was held to 60.2 percent by Matt Bevin – the lowest mark across the 15 attempts by Kentucky Republicans seeking renomination to their seat in state history.
Just like in Texas, no previous Kentucky GOP U.S. Senator had won less than 80 percent of the primary vote. The lowest victory tally prior to McConnell was held by Jim Bunning in 2004 when he won 83.9 percent against Barry Metcalf.
Not only did McConnell set a record for the weakest Republican primary performance by a sitting Kentucky U.S. Senator, but it was also the weakest victory by a Senator from either party in more than 75 years.
In early June, Thad Cochran of Mississippi barely made a runoff with 49.0 percent in a second place primary finish against State Senator Chris McDaniel.
That marked the worst ever performance of the 10 Republicans seeking renomination in a Mississippi U.S. Senate primary in state history and was more than 40 points less than the previous low set by Roger Wicker in 2012 with 89.2 percent.
Lindsey Graham of South Carolina also got his name into the record books in June with the 56.4 percent he received against a field of challengers led by State Senator Lee Bright, who came in a distant second with 15.4 percent.
Graham was the first incumbent GOP Senator from the Palmetto State out of 10 seeking to hold their seat who failed to reach the 60 percent mark in a primary, with Strom Thurmond owning the previous record of 60.6 percent in a 1996 race against Harold Worley and one other opponent.
The last time an elected U.S. Senator from either party in South Carolina won less than Graham's 56 percent in a primary was Democrat Olin Johnston in 1950.
But the so-called GOP Civil War is almost over – at least for sitting members of the chamber.
The last Republican primary featuring a U.S. Senator this cycle will be held in Wyoming on August 19th with Mike Enzi seeking a fourth term to the chamber.
Follow Smart Politics on Twitter.