Neil Abercrombie is the first Hawaii governor to lose a renomination bid while Brian Schatz avoided becoming the first Aloha State U.S. Senator to do so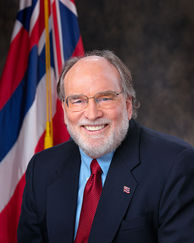 One-term Hawaii governor Neil Abercrombie made headlines a little over a week ago not by losing to State Senator David Ige as all polls suggested he would, but failing to win even half the support of his opponent.
Abercrombie's loss marked the first time in Hawaii history that a sitting governor seeking reelection failed to win his party's nomination.
Aloha State governors had previously been successful in each of the previous eight renomination attempts since statehood: Republican William Quinn (1962), Democrat John Burns (1966, 1970), Democrat George Ariyoshi (1978, 1982), Democrat John Waihee (1990), Democrat Benjamin Cayetano (1998), and Republican Linda Lingle (2006).
The 31.4 percent won by Abercrombie was less than half of the vote carried by Ige (67.5 percent) in the three-candidate field.
While that is abysmally low, it is not the worst primary performance in recent years by a sitting governor: in 2006, Alaska Republican Frank Murkowski mustered just 19.1 percent of the primary vote in a five-candidate field won by Sarah Palin.
Four years later, Nevada Republican Governor Jim Gibbons tallied only 27.2 percent in a five-candidate field won by Brian Sandoval.
Abercrombie is the only governor seeking reelection to lose his or her renomination bid so far this cycle and the first Democratic governor to lose a primary since Bruce Sundllin of Rhode Island lost to Myrth York in 1994.
Overall, Abercrombie is the 26th sitting governor of either party to lose a renomination bid over the last 50 years.
In the much more suspenseful Democratic U.S. Senate primary, it took an extra week to make incumbent Brian Schatz the official winner, by 0.7 points.
Schatz edged Congresswoman Colleen Hanabusa by less than 1,800 votes in one of the most-watched primaries of the cycle to date.
With his victory, Senator Schatz keeps alive the perfect renomination record by Hawaii U.S. Senators since statehood.
Incumbents seeking reelection have been renominated in all 17 attempts: Republican Hiram Fong (1964, 1970), Democrat Daniel Inouye (1968, 1974, 1980, 1986, 1992, 1998, 2004, 2010), Democrat Spark Matsunaga (1982, 1988), Democrat Daniel Akaka (1990, 1994, 2000, 2006), and Democrat Brian Schatz (2014).
Hawaii is one of just eight states in which U.S. Senators seeking reelection have never lost their party's nomination along with Kentucky, Massachusetts, New Mexico, Rhode Island, Vermont, Washington, and Wyoming.
Follow Smart Politics on Twitter.