Arizona Republican Gubernatorial Primary Election Results By the Numbers
Doug Ducey advances while flirting with the lowest support ever recorded for a GOP gubernatorial nominee in the most crowded Republican field since statehood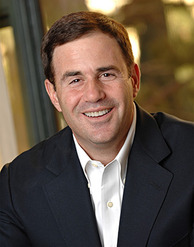 The hard-fought battle to replace outgoing Arizona Governor Jan Brewer saw a record six primary candidates vie for the Republican Party nomination Tuesday.
In the end, State Treasurer and favorite Doug Ducey won the primary with a plurality 36.3 percent of the vote and the second lowest tally ever recorded for a GOP gubernatorial primary winner in the state – 14 points ahead of Mesa Mayor Scott Smith.
Four candidates landed in double-digits with ex-Go Daddy executive Christine Jones in third at 16.2 percent and Arizona Secretary of State Ken Bennett in fourth at 12.1 percent.
Former Assistant State Attorney General Andrew Thomas and former three-term California Congressman Frank Riggs rounded out the bottom of the field with 8.5 and 4.5 percent respectively.
The six candidates in the 2014 GOP race are the most ever for a Republican gubernatorial primary in the history of the Grand Canyon State.
The previous high water mark of five candidates vying for the GOP nomination to the state's highest office came in two previous cycles – in the 1974 contest won by Russell Williams and the 1990 race won by Fife Symington.
Four Republican candidates have appeared on the Republican primary ballot twice (2006, 2010) with three candidates running in seven cycles (1928, 1932, 1956, 1966, 1978, 1998, 2002).
To be sure, the pathway to the Republican nomination has not always been as difficult as it was this year.
GOP nominees ran unopposed in 18 of the 41 election cycles since statehood: 1914, 1916, 1918, 1920, 1922, 1930, 1934, 1938, 1940, 1946, 1950, 1952, 1954, 1958, 1960, 1962, 1968, and 1970.
But now the number of Republican candidates is on the rise: more GOPers have run for governor during the last two (10), three (14), four (17), and five (20) cycles than during any such stretches in state history.
With such a large field of candidates splintering the GOP vote in 2014, it should come as little surprise that Ducey emerged with one of the lowest vote totals of any Republican gubernatorial nominee in state history, with his 36.3 percent just north of Russell Williams' 35.6 percent in 1974.
Forty years ago Williams defeated Evan Mecham (20.3 percent) in his second run for the GOP gubernatorial nomination followed by William Jacquin (18.2 percent), John Driggs (15.8 percent), and Milton Graham (10.3 percent).
Five other Arizona Republican gubernatorial primaries saw a candidate win his party's nomination with a plurality of the vote:
● 1928: John Phillips (44.1 percent) defeated John Udall (37.3 percent) with Celora Stoddard in third (18.6 percent)
● 1956: Horace Griffin (46.0 percent) beat O.D. Miller (40.1 percent) and Fred Trumpt (13.9 percent)
● 1966: Jack Williams (44.3 percent) was victorious over John Haugh (30.7 percent) and Robert Pickrell (25.1 percent)
● 1978: Evan Mecham (44.1 percent) won his first of two GOP gubernatorial nominations by beating Jack Londen (34.9 percent) and Charles King (21.1 percent)
● 1990: Fife Symington (43.8 percent) beat former Governor Mecham (24.5 percent), Fred Koory (16.5 percent), former five-term Congressman Sam Steiger (13.2 percent), and Bob Barnes (2.1 percent)
Just as in 2014, there was no Republican incumbent running for renomination in any of these previous contests with plurality winners.
The cycles either had a Democratic governor running for reelection (1928, 1956, 1966) or open seat races with Republican (1974) or Democratic (1978, 1990) governors not seeking another term.
The double-digit win by Ducey means that only five Republican gubernatorial primaries in state history have been decided by single-digits out of more than three-dozen such contests:
● 1926: E.S. Clark defeated Tom Maddock by 8.2 points
● 1928: John Phillips beat John Udall by 6.8 points
● 1956: Horace Griffin defeated O.D. Miller by 5.9 points
● 1978: Evan Mecham beat Jack Londen by 9.2 points
● 1986: Evan Mecham defeated Burton Barr by 7.4 points
Ducey will face Democratic nominee Fred DuVal, Libertarian Barry Hess, and Americans Elect nominee John Mealer in November's general election.
Follow Smart Politics on Twitter.