A Brief History of Ex-Governors Returning to Power
Nearly 150 ex-governors in U.S. history have returned to their position after a gap in service; five have done so after changing parties since 1900 with Charlie Crist of Florida hoping to be the sixth in 2014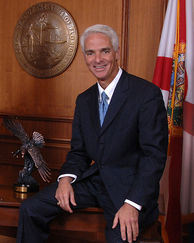 Four years ago, five ex-governors appeared on the general election ballot seeking to reclaim their old position in state government.
Three of those governors were successful – Democrats Jerry Brown of California and John Kitzhaber of Oregon and Republican Terry Branstad of Iowa – each of whom is seeking reelection this November. (Democrat Roy Barnes of Georgia and GOPer Bob Ehrlich of Maryland were defeated that cycle).
That was the largest number of ex-governors to make it to the general election in a quarter century, when six did so in 1986 (Democrat Cecil Andrus of Idaho and Republicans Frank White of Arkansas, Jim Rhodes of Ohio, Henry Bellmon of Oklahoma, Winfield Dunn of Tennessee, and Bill Clements of Texas) plus three others who were knocked out in the primary (Republicans Wally Hickel of Alaska and Orval Faubus of Arkansas and Democrat Fob James of Alabama).
Andrus, Bellmon, and Clements were victorious that cycle.
In 2014, however, only Republican-turned-independent-turned-Democrat Charlie Crist from Florida is seeking a return to gubernatorial power in one of the most closely watched and competitive races this cycle against one-term GOP incumbent Rick Scott.
But just how rare is it for ex-governors to get back on the job?
Smart Politics culled data from the National Governors Association and found that 144 governors have recorded interrupted tenures since the late 1700s including 74 who have served since 1900.
It should be notes that not all of these twelve-dozen officeholders were elected to the position of governor for each of their stints.
Some ascended to the position while serving as lieutenant governor or state senate president after a gubernatorial death or resignation.
Others who wished to serve more than one term were required to have a gap in service as many states banned consecutive terms (only Virginia does now).
To date, just five states have never had a governor return to power after leaving office since statehood: Hawaii, Kansas, Nevada, Utah, and Wyoming.
On the other end of the spectrum, Mississippi and New Jersey have each had 10 governors serve interrupted terms over the last two centuries.
Georgia is next with nine, followed by Tennessee with seven, Massachusetts, New Hampshire, and Ohio with six, and Alabama and Louisiana with five.
As for Florida, only one of its 43 governors in history came back into office after a gap in service –
Democrat William Bloxham.
Bloxham was elected to four-year terms from 1881 to 1885 and 1897 to 1901 during a period in which governors could not serve consecutive terms.
Among the dozens of governors in U.S. history who have served interrupted terms are:
● Future presidents James Monroe of Virginia (1799-1802, 1811-1811), Andrew Johnson of Tennessee (1853-1857, 1862-1865), Rutherford Hayes of Ohio (1868-1872, 1876-1877), and Bill Clinton of Arkansas (1979-1981, 1983-1992)
● Failed presidential candidates DeWitt Clinton of New York (1817-1823, 1825-1828), Horatio Seymour of New York (1853-1855, 1863-1865), James Cox of Ohio (1913-1915, 1917-1921), Al Smith of New York (1919-1921, 1923-1929), George Wallace of Alabama (1963-1967, 1971-1979, 1983-1987), and Michael Dukakis of Massachusetts (1975-1979, 1983-1991)
● Ma Ferguson of Texas (1925-1927, 1933-1935) – the second woman to serve as governor in the United States (15 days after Wyoming's Nellie Tayloe Ross took office in January 1925)
Many governors served more than two stints in office including:
● Jeffersonian Republicans Charles Pinckney of South Carolina (1789-1792, 1796-1798, 1806-1808) and James Fenner of Rhode Island (1807-1811, 1824-1831, 1843-1845)
● Republicans Richard Oglesby of Illinois (1865-1869, 1873-1873, 1885-1889) and Ed Mechem of New Mexico (1951-1955, 1957-1959, 1961-1962)
● Democrats Alva Adams of Colorado (1887-1889, 1897-1899, 1905-1905), George Hunt of Arizona (1912-1917, 1917-1919, 1923-1929, 1931-1933), Arthur Moore of New Jersey (1926-1929, 1932-1935, 1938-1941), Earl Long of Louisiana (1939-1940, 1948-1952, 1956-1960), George Wallace of Alabama (1963-1967, 1971-1979, 1983-1987), Edwin Edwards of Louisiana (1972-1980, 1984-1988, 1992-1996), and Bruce King of New Mexico (1971-1975, 1979-1983, 1991-1995).
Crist is not the only former governor who changed his partisan stripes in an attempt to win back his old job in recent decades.
Over the past century, five have done so successfully:
● Philip La Follette of Wisconsin served as a Republican during his first term (1931-1933) before switching to the Progressive Party for his last two (1935-1939)
● Wild Bill Langer of North Dakota was elected as a Republican to his first term (1933-1934) and then, after being removed from office and seeing his wife lose as the GOP candidate in 1934, ran again and won as an independent for his second term (1937-1939).
● Mills Godwin of Virginia served as a Democrat during his first term (1966-1970) and a Republican during his second (1974-1978)
● Wally Hickel of Alaska served as a Republican during his first stint as governor (1966-1969), was elected under the Alaska Independence Party banner for his second (1990-1994), but then rejoined the GOP at the end of his term.
● Fob James of Alabama was elected as a Democrat for his first gubernatorial victory (1979-1983), lost as a Democrat in two subsequent primaries, and then won as a Republican for his second term (1995-1999)
Unlike Crist, who will return to office after just a four-year absence if he is victorious in 2014, some governors waited decades before they won back their job.
Republican Cecil Underwood of West Virginia had a 36-year gap between his first (1957-1961) and second (1997-2001) terms while Democrat James McCreary of Kentucky logged 32 years (1875-1879, 1911-1915), Democrat Jerry Brown of California had 28 years (1975-1983, 2011-present), Republican Walter Edge of New Jersey had nearly 25 years (1917-1919, 1944-1947), and Wally Hickel of Alaska waited nearly 22 years (1966-1969, 1990-1994).
As for Crist's odds, more than half of ex-governors have been victorious in general election bids to return to their old seats since the end of World War II, although the success rate has been just 41 percent against incumbents.
Joining Crist and Governor Scott on the Florida ballot this November are Libertarian nominee Adrian Wyllie and independents Joe Allen, Glenn Burkett, and Farid Khavari.
Follow Smart Politics on Twitter.