Will a New Female Governor Be Elected in 2014?
Up to five female major party nominees will be on the ballot this November attempting to win their first gubernatorial election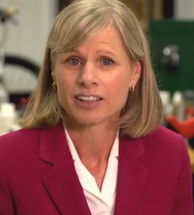 For each of the last seven cycles dating back to 2000, at least one woman has been newly elected to a governorship across the country.
A handful of electoral opportunities remain to continue that streak in 2014, although there are no guarantees at this point in the cycle.
Four female governors are running for reelection – and all are favored to retain their seats: Republicans Susana Martinez of New Mexico, Mary Fallin of Oklahoma, and Nikki Haley of South Carolina plus Democrat Maggie Hassan of New Hampshire.
Four years ago, these three aforementioned Republican women won gubernatorial seats at the ballot box for the first time (plus Arizona GOPer Jan Brewer); however, if a woman is going to break through and win the governorship for the first time in 2014, it will be a Democrat.
Three non-incumbent major party female nominees have been selected thus far this cycle, and all are Democrats: Mary Burke of Wisconsin, Susan Wismer of South Dakota, and Wendy Davis of Texas.
Burke is by far the favorite to be victorious of this trio, and is currently in a dead heat with one-term Republican incumbent Scott Walker in the Badger State.
The prospects of Davis ending her party's statewide election drought in Texas have dimmed since her filibuster as a state senator to block abortion restrictions launched her onto the national scene more than a year ago.
State Representative Wismer, meanwhile, is not expected to give GOP incumbent Dennis Daugaard much of a challenge in the deep red state of South Dakota, although she will go down in the history books as part of the fourth all-female gubernatorial ticket in U.S. history.
Two other female Democratic nominees may emerge from Northeastern primaries next week in states with retiring Democratic incumbents.
In Massachusetts, State Attorney General Martha Coakley is the favorite to win the September 9th primary, where she faces State Treasurer and former DNC Chair Steven Grossman and former health care administrator and executive Donald Berwick.
Should Coakley win her primary as expected she would then likely face 2010 GOP gubernatorial nominee Charlie Baker in the general election.
Baker has trailed Coakley by single digits in most polls conducted since July, with a large swath of the electorate still undecided.
In neighboring Rhode Island, State Treasurer Gina Raimondo is battling neck and neck with two other hopefuls in a four-candidate Democratic primary field.
Raimondo and Providence Mayor Angel Taveras have alternately led in polls throughout the year, with U.S. Department of Education Deputy Assistant Secretary Clay Pell seemingly surging to make the primary contest a three-candidate photo finish. (Pell is the grandson of former U.S. Senator Claiborne Pell).
Both Raimondo and Coakley would be favored in general election matchups, though their partisan affiliation does not guarantee them a runaway first-place finish despite the deep blue tilts of the Bay and Ocean States.
Dating back to 2000, there have been 16 newly elected female governors across the country, including at least one during every even-numbered election year:
● Two were elected in 2000: Democrat Ruth Ann Miner of Delaware and Republican Judy Martz of Montana
● Four in 2002: Republican Linda Lingle of Hawaii and Democrats Janet Napolitano of Arizona, Kathleen Sebelius of Kansas, and Jennifer Granholm of Michigan
● One in 2003: Democrat Kathleen Blanco of Louisiana
● One in 2004: Democrat Christine Gregoire of Washington
● Two in 2006: Republicans Sarah Palin of Alaska and incumbent Jodi Rell of Connecticut, who was elected to the position of governor for the first time that cycle.
● One in 2008: Democrat Beverly Perdue of North Carolina
● Four in 2010: Republicans Susana Martinez of New Mexico, Mary Fallin of Oklahoma, Nikki Haley of South Carolina, and incumbent Jan Brewer of Arizona, who was elected to the position of governor for the first time that cycle.
● One in 2012: Democrat Maggie Hassan of New Hampshire
To date, 30 women have been elected to the office of governor since the first to do so in 1924 (Democrat Nellie Tayloe Ross of Wyoming).
Follow Smart Politics on Twitter.