US Senators Record Renomination Sweep for 15th Time Since 1914
Incumbency advantage alert: 11 of these 15 cycles have occurred since 1982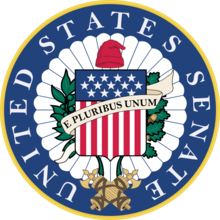 Despite many high profile primary races – particularly on the Republican side of the aisle – all 28 U.S. Senators running for election this cycle won their party's nomination.
Four Northeastern states hold primaries on Tuesday, but all four (Democratic) incumbents are running to keep their seat without any challenger from their own party: Chris Coons of Delaware, Ed Markey of Massachusetts, Jeanne Shaheen of New Hampshire, and Jack Reed of Rhode Island.
The "incumbency advantage" in Congress has been well documented in recent decades, and that has been especially the case during the nomination phase of sitting U.S. Senators.
Smart Politics examined the 51 election cycles since the passage of the 17th Amendment in 1913 and found that U.S. Senators running for reelection have been undefeated in their renomination bids in 15 cycles – 11 of which have occurred since 1982.
From 1914 through 1980, just four of 34 cycles saw all non-retiring incumbents run the table and win their party's nomination.
In fact, it took 42 years and 22 cycles before the first time a cycle went by without at least one U.S. Senator losing a renomination bid.
That first occurred in 1956, when all 29 incumbents seeking another term moved on to the general election in November.
Incumbents also were undefeated in primaries in 1958, 1960, and 1976 during this 34-cycle, 66-year stretch through 1980.
Over the last 30+ years, however, the incumbency advantage has been much more pronounced.
Across the 17 cycles since 1982, U.S. Senators running for reelection have swept through the primaries in 11 of them: in 1982, 1984, 1986, 1988, 1990, 1994, 1998, 2000, 2004, 2008, and now 2014.
A total of just eight Senators were defeated in their quest for renomination during this period, or just 0.5 per year.
That is less than one-sixth the number of incumbents who lost their renomination bids from 1914 to 1980 – 98 or 3.1 per year.
(Note: Two of the eight Senators who lost their primaries since 1982 – Democrat Joe Lieberman of Connecticut and Republican Lisa Murkowski – ultimately won their general elections in 2006 and 2010 respectively).
The cycles with the largest number of U.S. Senators who lost their party's nomination came in 1932 and 1946 with six each.
In 1932, Republicans Samuel Shortridge of California and Smith Brookhart of Iowa fell short along with Democrats Edwin Broussard of Louisiana, John Blaine of Wisconsin, and Cameron Morrison of North Carolina for both the special and general elections held that November.
Incumbents who lost their party's nomination in 1946 were Republicans Henriek Shipstead of Minnesota and Robert La Follette, Jr. of Wisconsin and Democrats Charles Gossett of Idaho, George Radcliffe of Maryland, Burton Wheeler of Montana, and Edward Carville of Nevada.
Five U.S. Senators were defeated in renomination bids in the 1924, 1926, 1930, 1940, 1944, and 1950 cycles, with four losing in 1916, 1920, 1942, 1968, and 1980.
Despite the 28 for 28 sweep in 2014, five Republican U.S. Senators recorded the lowest ever mark for an incumbent in a GOP primary election: John Cornyn of Texas, Mitch McConnell of Kentucky, Thad Cochran of Mississippi, Lindsey Graham of South Carolina, and Lamar Alexander of Tennessee.
Follow Smart Politics on Twitter.