Tierney Loss Ends Massachusetts US Rep Renomination Streak at 95
It had been 22 years since the last time a member of the Bay State's U.S. House delegation lost a renomination bid; only two of 220 incumbents have lost a primary since 1972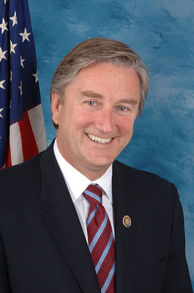 Ten-term Democratic U.S. Representative John Tierney's luck finally ran out on Tuesday.
The Congressman from Massachusetts' 6th CD was defeated in his renomination bid by U.S. Marine Corps veteran Seth Moulton of Salem.
Moulton defeated Tierney by a 13-point margin with the remaining three candidates Marisa DeFranco of Middleton, John Devine of Woburn, and John Gutta of Groveland in single digits.
Tierney had staved off competitive Republican challengers during the last two cycles, but it ended up being a member of his own party that ended his tenure on Capitol Hill.
And that has certainly been a rarity in the Bay State.
A Smart Politics analysis finds that Tierney's primary loss ends a Massachusetts U.S. Representative renomination winning streak of 95 in a row dating back to the 1994 cycle.
The last U.S. Representative from Massachusetts to lose his or her party's nomination was four-term Democrat Chet Atkins in 1992.
After winning his first term in Congress in 1984, Atkins ran for reelection unchallenged in the Democratic primaries of 1986, 1988, and 1990.
However, in the 1990 general election Atkins defeated GOP nominee John MacGover by only 4.4 points, and subsequently received a primary challenge during the next cycle by then Middlesex District Attorney Marty Meehan.
Meehan trounced Atkins by 30.3 points in the 1992 primary to end his congressional career.
For the next 10 cycles, from 1994 through 2012, Democratic and Republican U.S. Representatives from Massachusetts rattled off 95 consecuctive primary wins including:
● 10 by Democrat Richard Neal
● 10 by Democrat Ed Markey
● 9 by Democrat John Olver
● 9 by Democrat Barney Frank
● 8 by Democrat Jim McGovern
● 8 by Democrat John Tierney
● 7 by Democrat Mike Capuano
● 7 by Democrat Marty Meehan
● 6 by Democrat Stephen Lynch
● 6 by Democrat Bill Delahunt
● 4 by Democrat Joe Moakley
● 3 by Democrat Niki Tsongas
● 2 by Republican Peter Blute
● 2 by Republican Peter Torkildsen
● 2 by Democrat Joe Kennedy II
● 1 by Democrat Bill Keating
● 1 by Democrat Gerry Studds
Massachusetts' other eight U.S. Representatives won their party's nomination Tuesday, with 5th CD freshman U.S. Representative Katherine Clark the only other incumbent to draw a challenger.
Clark easily defeated Shelly Schwartz with more than three-quarters of the vote.
The fact that only two incumbents faced primary opponents is not unusual in Massachusetts.
From 1994 through 2014, members of the Massachusetts U.S. House delegation sought renomination without a challenger in 85 of 104 primaries, or 81.7 percent of the time.
The impressive renomination record of Bay State U.S. House members is highlighted by an even deeper dive into history.
From 1972 to 2014, U.S. Representatives from Massachusetts running for reelection won their party's nomination in 218 of 220 attempts.
Prior to Tierney and Atkins, the last Massachusetts U.S. Representative to lose a renomination bid was Democrat Philip Philbin all the way back in 1970.
Philbin was defeated by Boston College Law School Dean Robert Drinan in a three-candidate field by 10.4 points. Drinan recorded 46.0 percent of the vote with 35.6 percent for Philbin and 18.4 percent for Charles Ohanian.
To be sure, the defeat of Tierney is a blow to Republicans, who are trying to snap a 92-election losing streak to the U.S. House dating back to 1996 with the 6th CD seemingly their best hope.
2012 GOP nominee Richard Tisei had led Tierney in recent polls of a rematch but was trailing Moulton in head-to-head surveys.
Moreover, Republicans have come within single digits of beating a Democrat in Massachusetts just five times in general and special U.S. House contests since 1996, and two have come against Tierney.
After winning reelection by a margin of 36 to 42 points between 2000 and 2008, Tierney was victorious by only 13.9 points in 2010 and just 1.2 points in 2012 – in a district Barack Obama carried by 11 points.
Tierney also won his first term by just 0.1-point over Republican incumbent Peter Torkildsen back in 1996.
Representative Tierney last drew a Democratic primary opponent in 1998 when he defeated David Francoeur with 87.0 percent of the vote.
Pick-ups have certainly been a rarity for Massachusetts Republicans over the decades.
Since 1944, Massachusetts Democrats have held 292 of their 294 U.S. House seats in general and special elections, or 99.3 percent of all contests.
Follow Smart Politics on Twitter.