Wisconsin Gubernatorial Pathways: How Does Burke's Measure Up?
Eleven of the last 12 Badger State governors were previously elected to state government dating back to the mid-1950s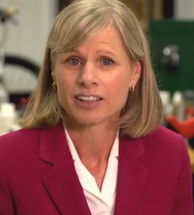 Wisconsin's gubernatorial matchup between Democratic challenger Mary Burke and one-term Republican incumbent Scott Walker is one of several high profile races to watch in the Midwest this cycle, with contests in the Badger State, Illinois, Michigan, and Kansas poised to see either a flip in partisan control, or at the very least go down to the wire.
Burke and Walker have both enjoyed statistically insignificant leads in multiple public polls conducted over the last two months with national Democrats viewing Walker as a top prize in what may otherwise be a difficult election cycle for the party this November.
Burke – a former Wisconsin Secretary of Commerce and executive at Trek Bicycle – only recently won her first election to political office when she spent an eye-opening $128K to win a Madison School Board seat in 2012 – mere months before she launched her gubernatorial campaign.
All but a handful of Wisconsin governors in state history were elected to political office prior to their gubernatorial win – and Burke has now technically checked that box – though most recorded more experience as an elected official and served in a higher political office than Burke.
And what pathways to the governorship have been the most frequently traversed in Wisconsin history?
Thirty of Wisconsin's 44 governors (plus Progressive Orland Loomis who was elected in 1942 but died before taking office) were elected to state government prior to becoming governor, or 68 percent.
In fact, 11 of the last 12 Wisconsin governors dating back to Republican Vernon Thompson nearly 50 years ago had won an election to state government, with the exception being GOPer Lee Dreyfus in 1978.
A survey of the political background of Wisconsin's 44 governors since statehood finds:
● 10 had served as Lieutenant Governor: MacArthur Arthur, Edward Salomon, James Lewis, James Davidson, Walter Goodland, Oscar Rennebohm, Warren Knowles, Patrick Lucey, Martin Schrieber, and Scott McCallum. Arthur, Salomon, Davison, Goodland, Rennebohm, and Shrieber became governor after the death or resignation of their predecessors. Only Davidson, Goodland, and Rennebohm were subsequently elected to the office in their own right.
● Five served as Wisconsin Secretary of State: William Barstow, Louis Harvey, James Lewis, Lucius Fairchild, and Fred Zimmerman
● Five were elected Wisconsin Attorney General: James Blaine, Vernon Thompson, Orland Loomis (gov-elect), John Reynolds, and Jim Doyle
● One was elected Wisconsin Treasurer: James Davidson
● 11 served in the State Senate: Coles Bashford, Louis Harvey, William, Taylor, Edward Scofield, James Blaine, Orland Loomis, Walter Goodland, Gaylord Nelson, Warren Knowles, Martin Schrieber, and Scott McCallum
● 12 won seats in the State Assembly: Nelson Dewey (territorial assembly), Alexander Randall, William Taylor, Jeremiah Rusk, James Davison, Fred Zimmerman, Orland Loomis, Vernon Thompson, Patrick Lucey, Anthony Earl, Tommy Thompson, and Scott Walker
Eighteen, meanwhile, won elections at the local governmental level, or 40 percent, although all but five of these also won contests for higher office in state or federal government.
● Nine were elected District Attorney: Nelson Dewey (Grant County), Coles Bashford (Wayne County, New York), Alexander Randall (Waukesha County), James Lewis (Columbia County), Robert La Follette (Dane County), Francis McGovern (Milwaukee County), Phillip La Follette (Dane County), and Jim Doyle (Dane County).
● One was elected County Executive: Scott Walker (Milwaukee County)
● Seven were elected Mayor: Harrison Ludington (Milwaukee), George Peck (Milwaukee), William Upham (Marshfield), James Davison (Soldiers Grove, village president), James Blaine (Boscobel), Albert Schmedeman (Madison), Walter Goodland (Racine)
● One was elected Sheriff: Jeremiah Rusk (Bad Axe County, later Vernon County)
● Three won seats as Aldermen: Harrison Ludington (Milwaukee), William Upham (Marshfield), and Albert Schmedeman (Madison)
The only Badger State governors who, like Burke, had recorded victories in elections to just local governmental offices were Republicans Harrison Ludington, William Upham, Francis McGovern, and Phillip La Follette and Democrat Albert Schmedeman (though Schmedeman had been appointed U.S. Minister to Norway).
Three governors, meanwhile, had previously been elected to federal office: Republicans Cadwallader Washburn, Jeremiah Rusk, and Robert La Follette all won seats to the U.S. House of Representatives.
Rusk is the only governor in Wisconsin history who had been elected to local, state, and federal office prior to his governorship.
Only two Wisconsin governors were never involved in politics prior to winning the state's highest elected office.
Whig Leonard Farwell (1852-1854) was one – a land baron in the Madison area who also worked in the milling industry before winning the Election of 1851.
The other was Republican Lee Dreyfus (1979-1983), a university professor, president, and chancellor who seemingly came out of nowhere with his red vest in 1978 in his first electoral bid at any level.
Five other Wisconsin governors were never elected into office but held political or governmental positions at some point prior to their governorship:
● Republican William Hoard (1889-1891) was a Justice of the Peace and Sergeant-at-Arms of the State Senate
● Republican Emanuel Philipp (1915-1921) was a Republican Chairman of the Milwaukee County Convention and Milwaukee Police Commissioner
● Republican Walter Kohler, Sr. (1929-1931) was a GOP presidential elector in 1916
● Republican Julius Heil (1939-1943) was appointed by President Franklin Roosevelt to the state advisory board for the National Recovery Administration
● Republican Walter Kohler, Jr. (1951-1957) was not only the son of a former governor but also a delegate-at-large to the Republican National Convention in 1948
Burke and Walker will be joined on the ballot this November by Libertarian Robert Burke and Dennis Fehr of the Peoples Party.
Follow Smart Politics on Twitter.