Democratic US Senators Slow Out of the Gate to Respond to Syrian Bombing
Republican U.S. Senators issued press releases on the air strikes within the first 24 hours at more than twice the rate of Democrats and at four times the rate for those who are running for reelection in 2014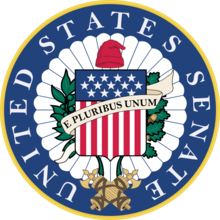 One day after President Barack Obama ordered air strikes against ISIL and al-Qaeda affiliates in Syria, the vast majority of the nation's upper legislative chamber remained on the sidelines in perhaps a strategic game of wait-and-see.
Smart Politics examined the official U.S. Senate websites of all 100 members of the chamber and found that less than one-fifth had issued a press release on the bombings within 24 hours after the launch of the air strike campaign.
Overall, Republican members issued statements on the ISIL strikes in Syria at more than twice the rate of Democrats: 12 of 45 GOPers (26.7 percent) versus just six of 53 Democrats (11.3 percent).
The difference between the parties was even more stark among those running for reelection in 2014.
Just two of the 16 Democratic U.S. Senators on the ballot this November issued press releases within 24 hours on the Syria bombings, or 12.5 percent: Jeanne Shaheen of New Hampshire and Mark Begich of Alaska.
Interestingly, neither Shaheen nor Begich mention Obama in their release – perhaps keeping a strategic distance from the president as they continue to juggle legislating with competitive reelection fights.
Both Senators Begich and Shaheen stress the importance of allied support and the need for coalitions so that the U.S. does not take on this terrorist threat alone.
The other four Democratic U.S. Senators issuing press releases were Majority Leader Harry Reid of Nevada, retiring Carl Levin of Michigan, and Dianne Feinstein and Barbara Boxer of California.
By contrast, six of the 12 Republican U.S. Senators on the ballot in 2014 issued statements within 24 hours on their official governmental websites: Minority Leader <a href="http://www.mcconnell.senate.gov/public/index.cfm?p=PressReleases&ContentRecord_id=eba5c8a5-fef3-4b87-ab80-9edf3bf6bb65
" target="new">Mitch McConnell of Kentucky, <a href="http://www.cochran.senate.gov/public/index.cfm/news-releases?ID=90eb179e-b188-4f1d-9115-2f0279234106
" target="new">Thad Cochran of Mississippi, <a href="http://www.lgraham.senate.gov/public/index.cfm?FuseAction=PressRoom.PressReleases&ContentRecord_id=60e7aa1a-bc0b-286b-d281-49b50a73d69e
" target="new">Lindsey Graham of South Carolina, <a href="http://www.alexander.senate.gov/public/index.cfm/pressreleases?ID=f7633f55-b662-4e1c-b0eb-aac00815d03c
" target="new">Lamar Alexander of Tennessee, <a href="http://www.cornyn.senate.gov/public/index.cfm?p=InNews&ContentRecord_id=98d21bbc-a7d1-47d1-9475-bd1c84827e56
" target="new">John Cornyn of Texas, and Jim Inhofe of Oklahoma.
The other Republicans issuing statements were John McCain of Arizona, Marco Rubio of Florida, Saxby Chambliss of Georgia, Roger Wicker of Mississippi, Rob Portman of Ohio, and Bob Corker of Tennessee.
All 18 U.S. Senators issuing press releases were supportive of the military action, though many Republicans used the opportunity to question the president's larger strategy in the region, the need for greater legislative involvement in the military action, and the suggestion that the president was late in taking this action:
"The president needs to propose a clear military plan and ask Congress for its approval if we want to unite our country and civilized nations against this threat." – Lamar Alexander
"The President still has not presented to the American people his long term objectives or vision for what success looks like in Syria, and so it's not clear how his short term tactic to 'simultaneously pressure ISIL' fits into a larger strategy that can succeed." – Jim Inhofe
"I've been calling on the President to take action and now that the U.S. is moving forward with a military plan, it's crucial that we have the resolve to see it through to the end." – Rob Portman
I have argued for months that President Obama has the authority to confront this threat to the United States wherever they seek refuge. – Marco Rubio
"Although there are many questions that have not been answered about the Administration's full strategy, I am hopeful that last night's actions are indicative of a turning point in U.S. policy in the region." – Roger Wicker
"To succeed, the Administration must also resolve a contradiction in its policy: its desire to deal with ISIS first and defer the challenge posed by the Assad regime for later…The sooner the Administration wakes up to this reality the better." – John McCain and Lindsey Graham (joint statement)
Note: Official governmental websites were checked for press releases on the air strike campaign by U.S. Senators through 12:00 am Wednesday.
Follow Smart Politics on Twitter.