Can Iowa's Split US Senate Delegation Tradition Save Bruce Braley?
The Hawkeye State has the second highest rate in the nation over the last 100 years of sending members from two different parties to the nation's upper legislative chamber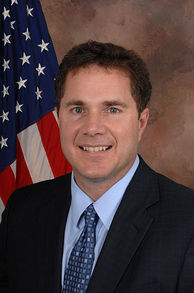 A new Des Moines Register poll released over the weekend found Republican State Senator Joni Ernst up six points on Congressman Bruce Braley, 44 to 38 percent, in the race to replace retiring Iowa Democratic U.S. Senator Tom Harkin.
The contest is getting substantial coverage as a key battleground state with the GOP eying a takeover of the nation's legislative chamber this cycle, and was recently found by Smart Politics to be the quintessential 'toss-up' race according to a review of modeling by prominent prognosticators.
In a statement made earlier this summer, Harkin commented on how having members of each party in the U.S. Senate worked well for Iowa because "Iowa..is a state where we are not Republican. We are not Democratic. We tend to vote for the best person, and Iowans have liked that arrangement where they cover both bases with a Democratic senator or a Republican senator. I think they will want to continue to have that kind of broad-based coverage in the United States Senate."
While that tradition has not always stopped Harkin from campaigning for Democrats against Grassley over the last three decades, the duo's long service together in the chamber cannot be overlooked.
Overall, Grassley and Harkin have served side-by-side in the U.S. Senate for the fifth longest period in the chamber's history for members from the same state delegation: 29 years, 8 months, 25 days through Sunday.
The pair trail only South Carolina's Strom Thurmond and Fritz Hollings (36 years, 1 month, 26 days), Mississippi's James Eastland and John Stennis (31 years, 1 month, 22 days), Arkansas' John McClellan, and J. William Fulbright (29 years, 11 months, 28 days), and Maine's Eugene Hale and William Frye (29 years, 11 months, 13 days).
Grassley/Harkin will pass Hale/Frye in December and McClellen/Fulbright a few days before the end of the 113th Congress for third place on the all-time list.
This is an impressive feat in and of itself, but what makes the Grassley/Harkin pairing particularly unique, however, is the fact that they hail from different political parties.
Of the 29 pairs of state delegation members who have served at least 20 years together in the U.S. Senate, only seven had different partisan affiliations including the Iowa duo:
● Strom Thurmond (R) and Fritz Hollings (D) of South Carolina (1966-2003): 36 years, 1 month, 26 days (all-time rank = #1)
● William Roth (R) and Joe Biden (D) of Delaware (1973-2001): 28 years (tied #6)
● Pete Domenici (R) and Jeff Bingaman (D) of New Mexico (1983-2009): 26 years (#10)
● Milton Young (R) and Quentin Burdick (D) of North Dakota (1960-1981): 20 years, 4 months, 26 days (#26)
● Claiborne Pell (D) and John Chafee (R) of Rhode Island (1976-1997): 20 years, 5 days (#27)
● Clifford Case (R) and Harrison Williams (D) of New Jersey (1959-1979): 20 years (tied #28)
But Grassley and Harkin only tell part of the story of Iowa's split delegation tradition in the U.S. Senate.
A Smart Politics analysis finds that Iowa has been represented by two different political parties in the U.S. Senate for 53 of the last 100 years – the second highest rate in the nation.
In addition to the 30-year Grassley-Harkin period, the Hawkeye State has had a split partisan U.S. Senate delegation during six other stints over the last century:
● 1926 to 1930: Democrat Daniel Steck and Republicans David Stewart and Smith Burkhart
● 1933 to 1936: Democrat Richard Murphy and Republican L.J. Dickinson
● 1943 to 1944: Democrat Guy Gillette and Republican George Wilson
● 1949 to 1954: Democrat Guy Gillette and Republican Bourke Hickenlooper
● 1969 to 1972: Democrat Harold Hughes and Republican Jack Miller
● 1979 to 1980: Democrat John Culver and Republican Roger Jespen
Only Delaware has had a higher rate of split delegation representation since 1915 at 59 out of 100 years.
Iowa's split delegation mark is also 16 years greater than the Midwestern region average of 37 years.
Neighboring Illinois has had members of two parties in office for 52 of the last 100 years with South Dakota at 48, Minnesota and Missouri at 38, and Nebraska and Wisconsin at 36.
Michigan and Ohio have also had different parties in their U.S. Senate delegations for 36 years since 1915, with Indiana at 31, North Dakota at 30, and Kansas at just eight.
Eight states in the Midwest region are currently represented by a split delegation in the chamber.
After Iowa, South Dakota has the next longest current streak in the region at 10 years in a row by the end of 2014, followed by Missouri and Ohio at eight, Illinois, North Dakota, and Wisconsin at four, and Indiana at two.
The South Dakota streak is likely to end at the close of the 113th Congress with the retirement of Democrat Tim Johnson with Republican Mike Rounds the favorite to pick up the seat and join fellow GOPer John Thune.
On the heels of the recently released poll Ernst and Braley debated at Simpson College in Indianola Sunday evening but without the four additional non-major party candidates who will also appear on the November ballot: Libertarian Douglas Butzier, Bob Quast (running under the Bob Quast for Term Limits banner), independent Rick Stewart, and Ruth Smith.
Follow Smart Politics on Twitter.