Rise of the Independents? Greg Orman Victory Would Make Senate History
No more than two independents have served in the chamber at the same time; the last time three non-major party officeholders served in the U.S. Senate was 1940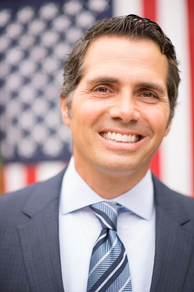 A new USA Today/Suffolk University poll was released Wednesday which continues to show three-term Kansas Republican U.S. Senator Pat Roberts in trouble this cycle.
The survey found Roberts trailing independent businessman Greg Orman by a 46 to 41 percent margin with Libertarian Randall Batson at 1 percent and 11 percent undecided.
A loss by Roberts on November 4th not only might keep control of the nation's upper legislative chamber in the hands of Democrats, but it would also be the first defeat suffered by the party in a Kansas U.S. Senate race after 29 consecutive wins dating back to 1936.
But something even more historic than that would take place – there would be a third independent in the U.S. Senate.
A Smart Politics analysis finds that if Greg Orman is elected in 2014 he would join Vermont's Bernie Sanders and Maine's Angus King as the first trio of independents ever to serve in the U.S. Senate at the same time.
To date, there have been nine U.S. Senators who, at some point during their tenure, officially identified as an "independent."
● David Davis of Illinois (1877-1883)
● George Norris of Nebraska (1937-1943)
● Wayne Morse of Oregon (1953-1955)
● Harry Byrd, Jr. of Virginia (1971-1983)
● Bob Smith of New Hampshire (1999)
● Jim Jeffords of Vermont (2001-2007)
● Dean Barkley of Minnesota (2002-2003)
● Bernie Sanders of Vermont (2007-present)
● Angus King of Maine (2013-present)
Note: Other U.S. Senators have identified as "Independent Republicans" (California's Newton Booth) or "Independent Democrats" (John Hale of New Hampshire, Strom Thurmond of South Carolina, and Joe Lieberman of Connecticut).
To date, no more than two independents have served in the chamber at the same time.
Republican-turned-independent Jim Jeffords of Vermont and Dean Barkley of Minnesota were the first, serving together for 52 days from November 12, 2002 to January 3, 2003 after Barkley was appointed by Minnesota Governor Jesse Ventura to fill the vacancy caused by the death of Democrat Paul Wellstone.
(Note: Barkley has long been associated with the Independence Party of Minnesota, but is listed as an "independent" on the U.S. Senate website here and here).
The second time occurred after Angus King of Maine was sworn into office on January 3, 2013 when he joined fellow Northeastern independent Bernie Sanders of Vermont who had just won election to a second term.
Sanders and King will serve together until at least January 2019 when both Senators will be up for reelection.
And so, if Orman defeats Roberts next month, the 114th Congress will be the first in history with three independents among the chamber's ranks.
A few other notes about independents who have served in the U.S. Senate.
Five of the nine independents listed above had previously been elected to the chamber as a partisan: George Norris, Wayne Morse, Bob Smith, and Jim Jeffords as Republicans and Harry Byrd, Jr. as a Democrat.
Only the last two independents to serve in the chamber – Sanders and King – were popularly elected as an independent to their first term.
Additionally, only two Senators have been reelected as an independent: Byrd in 1976 and Sanders in 2012.
The last time at least three non-major party U.S. Senators (third party affiliated members or independents) served together simultaneously was during the 76th Congress more than 70 years ago.
From 1939 to 1940, independent George Norris was joined in the chamber by Progressive Robert La Follette, Jr. of Wisconsin and Farmer-Laborites Henrik Shipstead and Ernest Lundeen of Minnesota.
Lundeen died in a plane crash on August 31, 1940 and a Republican was subsequently appointed to his seat while Shipstead ran for reelection and won in November 1940 as a Republican.
2014 might turn out to be a banner year for independents: in addition to Orman's viable candidacy to win a U.S. Senate seat, independent Bill Walker has led in polling over incumbent Republican Governor Sean Parnell in Alaska for the last two months.
Follow Smart Politics on Twitter.