Could Paul LePage Become the First 30/30 Governor in History?
No popularly elected governor has ever been victorious with less than 40 percent of the vote in back-to-back elections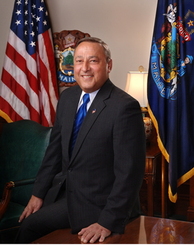 Three new polls of Maine's gubernatorial contest were released within the last week, and all confirm that while Republican Paul LePage remains one of the most vulnerable governors in the 2014 election cycle, he still has a pathway to victory.
Polls released by Pan Atlantic SMS, CBS News/New York Times/YouGov, and Rasmussen all show LePage with the support of between 37 and 41 percent of likely Maine voters, and leading Democratic Congressman Mike Michaud and independent Eliot Cutler in two of them.
Cutler, whose support some political observers believed was waning in recent months, earned an average of 15 percent across these three surveys, and – in the view of Smart Politics – is not likely to drop much further.
While third party/independent support is known to decline in the closing weeks before Election Day, this is Maine – a state with one of the richest traditions in supporting non-major party candidates over the last 40+ years.
No doubt the prospect of another close victory by LePage, who defeated Cutler in 2010 by 1.7 points with 38.1 percent of the vote, gives Democrats sleepless nights in the Pine Tree State.
But if LePage ekes out a second consecutive victory with less than 40 percent of the vote, such a win would be noteworthy to say the least.
Smart Politics examined the approximately three thousand gubernatorial elections conducted in post-colonial times and found that no governor has been popularly elected with less than 40 percent of the vote in back-to-back elections in U.S. history.
For starters, only 11 sitting governors have ever won reelection without the support of 40 percent of the electorate – and only two in the last 100 years.
In 2006, Texas Republican Rick Perry won his second full term with 39.0 percent of the vote in a five-candidate field in which four candidates landed in double-digits.
Maine Democrat John Baldacci also won a second term with 38.1 percent that cycle.
Prior to that, the last governor to get reelected with less than 40 percent of the vote was Republican William Spry of Utah in 1912.
Spry won 38.2 percent to win a second term over Democratic challenger John Tolton while Progressive and Socialist nominees recorded more than 29 percent of the vote.
The only other governors to win reelection without 40 percent of the vote are:
● 1828: Clay Republican James Ray of Indiana (39.5 percent)
● 1855: American Party nominee Henry Gardner of Massachusetts (37.7 percent)
● 1856: American Party nominee William Minor of Connecticut (39.0 percent)
● 1874: Democrat LaFayette Grover of Oregon (38.2 percent)
● 1890: Republican Lyman Humphrey of Kansas (39.1 percent)
● 1890: Republican William Merriam of Minnesota (36.6 percent)
Two other sitting governors were elected with less than 40 percent of the vote, but neither had been popularly elected to their seat for their first term: Jeffersonian Republican James Garrard of Kentucky in 1800 (39.4 percent) and Silver nominee Reinhold Sadler of Nevada in 1898 (35.6 percent; Sadler became Acting Governor after the death of Governor John Jones in April 1896).
Note: Wisconsin Progressive Philip La Follette (in 1934) and the Non-Partisan League's Wild Bill Langer (in 1936) each won their second term with 39.1 percent and 35.8 percent respectively, but neither were sitting governors at the time.
What would distinguish LePage from the short list above is that he also won his first term with less than 40 percent of the vote.
No popularly elected governor has ever won reelection with less than 40 percent of the vote in back-to-back cycles.
Two northeastern governors were elected by the legislature in back-to-back races after no candidate won a majority of the popular vote.
In 1850 and 1851, the Massachusetts legislature elected Democrat George Boutwell after he won only 29.7 percent and 31.9 percent of the popular vote respectively.
Meanwhile, in 1852 and 1853 Whig William Crosby was elected by the Maine legislature after notching just 30.8 percent and 32.4 percent respectively.
With three candidates in the 2014 race, the vote for Cutler would need to eclipse the 20 percent mark for LePage (or Michaud) to win the election with 39 percent of the vote or less.
Note: This post has been updated to reflect independent Lee Schultheis' withdrawal from the race prior to the September 5th deadline.
Follow Smart Politics on Twitter.