Mike Rounds Fact Check: Is South Dakota a Purple State?
Rounds stretches the truth about the electoral history of the Mount Rushmore State in an interview with Bloomberg News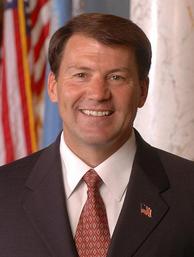 A recent report by Bloomberg's Dave Weigel on South Dakota's U.S. Senate race quotes Republican nominee and former Governor Mike Rounds explaining how he finds himself in a competitive race three weeks out from Election Day.
"South Dakota hasn't sent three Republicans to Washington in 50 years. It's a purple state, not a red state."
Let's break down that statement.
For starters, Rounds asserts that South Dakota has not sent three Republicans to the nation's capitol in 50 years.
That is factually incorrect. And it's not really close.
In fact, the state has sent three Republicans to D.C. across three different Congresses inside of the last 50 years.
The last time three South Dakotans from the GOP represented the state in the U.S. Senate and U.S. House was the 97th Congress from January 1981 to January 1983.
In that Congress, the state was represented in the upper legislative chamber by Republicans Larry Pressler and James Abdnor (both in their first term) as well as by GOPer Clint Roberts from the 2nd Congressional District (also in his first term).
Democrat Tom Daschle represented the state's 1st CD (and narrowly defeated Roberts in 1982 for the at-large seat after reapportionment downsized the South Dakota delegation to its current one seat).
In short, South Dakota last had three Republicans representing the state in D.C. 32 years ago – not 50.
(The state also sent three Republicans to the 90th (1967-1969) and 91st Congresses (1969-1971) – 48 and 46 years ago respectively).
As for Rounds' comment that South Dakota is a purple state and not a red state – the numbers don't add up.
The best case Rounds could make would be to look only at congressional races, where the Democrats have held a slight advantage in recent decades, but not overall.
Since 1978, Republicans and Democrats have split the last 12 U.S. Senate races, with Democrats winning 13 of 21 contests for the House of Representatives.
The GOP has won the last three races from the state to Capitol Hill.
However, during this same 30+-year span, South Dakotans have cast their Electoral College votes for the Republican presidential nominee in every cycle, including each of the last 12 cycles dating back to 1968.
South Dakota is tied for the longest streak in the country for giving its support to the GOP presidential nominee with eight other states: Alaska, Idaho, Kansas, Nebraska, North Dakota, Oklahoma, Utah, and Wyoming.
South Dakota also has the largest and longest current Republican gubernatorial victory streaks in the nation – with the GOP nominee winning nine in a row dating back to 1978.
Utah is second with eight straight Republican victories in races for governor since 1980.
Looking at the broader picture of South Dakota electoral politics, Republicans have thoroughly dominated statewide races over the last century.
Overall, during the last 125 years since statehood, Republicans have won 437 of the 525 elections for partisan statewide office, or 83.2 percent of all contests.
Democrats have won just 83, or 15.8 percent of these contests, with third parties capturing five elections (1 percent).
Offices for which South Dakota currently conducts statewide elections finds Republicans have won:
● 92.5 percent of races for Auditor (49 of 53)
● 90.6 percent of races for Treasurer (48 of 53)
● 88.7 percent of races for Secretary of State (47 of 53)
● 88.7 percent of races for Attorney General (47 of 53)
● 83.0 percent of races for Commissioner of Schools & Public Lands (44 of 53)
● 81.1 percent of races for Governor (43 of 53)
● 76.7 percent of races for Public Utilities Commissioner (46 of 60)
● 69.8 percent of races for At-large U.S. Representative (30 of 43)
● 60.6 percent of races for U.S. Senate (20 of 33)
Republicans also won 100 percent of elections for Commissioner of Labor Statistics (1890-1894), 88.4 percent of races for lieutenant governor (1889-1972), and 88.0 percent of elections for Superintendent of Public Instructions (1889-1936).
At the state legislative level, the GOP has carried more than 76 percent of races for the State House since 1900 and 71 percent for the State Senate.
The GOP has held a majority of seats in the South Dakota House for 55 of the 58 cycles during this span and for 51 of the 58 in the Senate.
In sum, it is true Mike Rounds may indeed be in a competitive race this cycle, and could possibly even lose.
But it is not because South Dakota is a purple state.
Follow Smart Politics on Twitter.