Will Alaskans "Throw All the Bums Out" for the First Time in History?
Alaskans have never voted both gubernatorial and U.S. Senate incumbents out of office in the same cycle; incumbents in all three statewide offices could lose Tuesday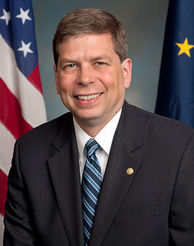 Tight top of the ticket races in November's midterm election will surely make for a long night Tuesday, with some races inevitably not going to be decided until Wednesday or beyond.
One of those states for which the majority of the nation will not know the results before bedtime – even if the races were not competitive – is Alaska, where the last of the polls close at 1 am EST.
But Alaska could have as many as three barn burner statewide races in 2014 in a state known to churn out unusual electoral outcomes, such as electing a third-party governor in 1990 (Wally Hickel) and a write-in candidate for U.S. Senator in 2010 (Lisa Murkowski).
This November's races for governor, U.S. Senate, and at-large seat in the U.S. House of Representatives are all in the mix, and could result in an outcome never before seen in the Last Frontier State.
Smart Politics examined the nearly five-dozen statewide elections for governor, U.S. Senate, and U.S. House in Alaska conducted since statehood and found at least one incumbent has been victorious in every cycle and there has yet to be a cycle in which both gubernatorial and U.S. Senate incumbents were defeated at the ballot box.
Could this happen in 2014?
The U.S. Senate race between Democratic incumbent Mark Begich and former state attorney general and DNR commissioner Dan Sullivan has stolen most of the headlines nationally – owing to the fact that the balance of power in the chamber could hinge on the outcome of this race.
Begich had the advantage early while Sullivan was in the trenches fighting for the GOP nomination, but has trailed in most surveys conducted since mid-September.
Similarly, in the race for governor, Republican incumbent Sean Parnell was the early favorite until Democratic nominee Byron Mallot agreed to withdraw to become the running mate of independent candidate Bill Walker.
The Walker/Mallot "unity" ticket has led Parnell in a majority of surveys conducted since early September.
And so, if both Begich and Parnell lose, it would be the first time incumbents in both offices were defeated in the same cycle in Alaska history.
Both the incumbent governor and U.S. Senator were reelected in four cycles:
● 1962: Democrats William Egan and Ernest Gruening
● 1978: Republicans Jay Hammon and Ted Stevens
● 1998: Democrat Tony Knowles and Republican Frank Murkowski
● 2010: Republicans Sean Parnell and Lisa Murkowski (as a write-in candidate)
Gubernatorial incumbents were defeated while U.S. Senators won reelection in four cycles:
● 1966: Democrats William Egan (lost) and Bob Bartlett (won)
● 1970: Republicans Keith Miller (lost) and Ted Stevens (won)
● 1974: Democrats William Egan (lost) and Mike Gravel (won)
● 1986: Democrat Bill Sheffield (lost primary) and Republican Frank Murkowski (won)
Incumbent U.S. Senators were also reelected during two cycles during which the incumbent governor did not run for reelection:
● 1990: Democrat Steve Cowper (did not run) and Republican Ted Stevens (won)
● 2002: Democrat Tony Knowles (term-limited) and Republican Ted Stevens (won)
Add into the mix 21-term at-large U.S. Representative Don Young, who also has the chance of losing his seat on Tuesday.
Young has only faced a handful of close races since his 1973 special election victory (in 1974, 1990, 1992, and 2008) but Democratic nominee Forrest Dunbar has an opening with Young's controversial remarks about suicide in the closing weeks of the campaign.
Young initially made a statement to a Wasilla High School assembly, which had lost a student to suicide five days prior, that suicide reveals a lack of support from friends and family.
The Congressman followed that up in a statement that the Frontier State's highest in the nation suicide rate was due in large part to government largesse.
Young's reelection prospects are also complicated by the candidacy of Libertarian Jim McDermott, who garnered 5.2 percent of the vote last cycle and has consistently polled north of that mark throughout the autumn.
Incumbent U.S. Senators and U.S. House members from Alaska have also never lost in the same cycle in state history, with an incumbent governor and U.S. Representative doing so just once (Democrats William Egan and Ralph Rivers in 1966, with Democratic U.S. Senator Bob Bartlett winning reelection).
What's more, if Parnell, Begich, and Young all lose this cycle it would mark the first time in state history in which Alaskans elected members with three different partisan affiliations (an independent, Republican, and Democrat) to three statewide offices.
Follow Smart Politics on Twitter.