Democrats Claim Connecticut's Longest Partisan US House Streak in 100+ Years
Connecticut Democratic U.S. House candidates have now won 20 elections in a row – the most by either party in the state since 1908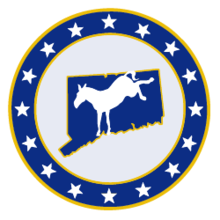 Although they faced a few close shaves, all five Democratic incumbent U.S. Representatives were reelected in Connecticut on Tuesday.
As expected, three-term 4th CD Rep. Jim Himes and freshman 5th CD Rep. Elizabeth Esty faced competitive challenges by Dan Debicella and Mark Greenberg respectively, but emerged with single-digit victories.
Meanwhile, eight-term Rep. John Larson (1st CD), four-term Rep. Joe Courtney (2nd CD), and 12-term Rep. Rosa DeLauro (3rd CD) cruised to double-digit victories.
The 2014 sweep by Democrats marks the fourth consecutive cycle in which the party has won all U.S. House elections in the state bringing their current winning streak to 20 in a row.
The Nutmeg State now has the third longest Democratic congressional streak in the nation behind Massachusetts at 101 in a row dating back to 1996 and Rhode Island at 22 since 1994.
The current undefeated run by the Connecticut Democrats in the Nutmeg State is by far the party's best run in state history.
Prior to this streak, Democrats had never previously swept all Connecticut congressional races in even back-to-back cycles since the founding of the party in 1828 – sweeping the delegation only in single cycles in 1842 (winning all four seats), 1852 (four), 1912 (five), 1936 (six), 1940 (six), 1958 (six), and 1964 (six).
Moreover, the current Democratic streak is the longest by either party in more than a century in the state, breaking a tie with the three-cycle, 15-seat streak Republicans enjoyed in the Elections of 1924, 1926, and 1928.
The 20 consecutive Democratic victories is now second longest by any party in Connecticut since the birth of the modern two-party system in 1828.
The state record is held by the Republican Party which was victorious in 38 consecutive general and special U.S. House elections from 1894 to 1908.
Follow Smart Politics on Twitter.