Scott Brown Becomes 1st US Senate Nominee to Lose to 2 Women
Brown is just the fourth U.S. Senate candidate in history to face major party female nominees in three different cycles; he is also the first to lose in two of them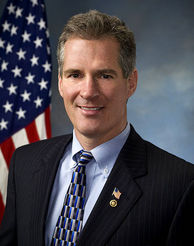 In what was a must-win race for Democrats this cycle, one-term New Hampshire U.S. Senator Jeanne Shaheen defeated former Massachusetts Senator Scott Brown Tuesday.
This marked the third U.S. Senate election for Brown in less than five years in his attempt to become just the third person to ever serve in the chamber from more than one state. (Only 19th Century U.S. Senators Democrat James Shields (Illinois, Minnesota, Missouri) and Unionist / Republican Waitman Willey (Virginia, West Virginia) have been able to make that claim).
But Brown still made the history books.
A Smart Politics analysis finds Scott Brown is just the fourth major party politician in U.S. history to face three female major party U.S. Senate nominees, and, with his loss to Jeanne Shaheen, is the first to lose to two of them.
In total, there have been more than 180 major party female U.S. Senate nominees since the first such candidates – Illinois Republican Ruth McCormick and New Jersey Democrat Thelma Parkinson – were defeated in general and special elections respectively back in 1930.
Fourteen female nominees have squared off against other women, including two this cycle: Republican Shelley Moore Capito versus Democrat Natalie Tennant in West Virginia and three-term Republican Susan Collins versus Democratic challenger Shenna Bellows in Maine.
Of the remaining (male) candidates who have faced female U.S. Senate nominees, 13 have done so in two cycles and four others have done so three times.
Brown first faced female nominees when he defeated Democrat Martha Coakley in Massachusetts' 2010 special election and then lost to Elizabeth Warren in 2012.
The first major party nominee to face three female candidates was Rhode Island Democrat Claiborne Pell.
Pell faced female nominees from the Republican Party during his campaigns for a second term in 1966 (Ruth Briggs), a fifth term in 1984 (Barbara Leonard), and a sixth and final term in 1990 (Claudine Schneider).
Senator Pell won these three contests by an average of 34 points.
Next was Missouri Republican Kit Bond who defeated female Democratic nominees for his first, second, and fourth terms in 1986 (Harried Woods), 1992 (Geri Rothman-Serot), and 2004 (Nancy Farmer) respectively.
The average margin of victory for Bond against these three women was just eight points.
The most recent male U.S. Senate candidate to face female nominees in three different cycles was Democrat Daniel Akaka of Hawaii.
Senator Akaka faced Republican women en route to a special election victory in 1990 (Pat Saiki) and successful reelection bids in 1994 (Maria Hustace) and 2006 (Cynthia Thielen).
Akaka won these races by an average of 27 points.
Brown is also the first nominee to face a female nominee in three consecutive cycles: in 2010, 2012, and 2014.
Through the 2012 cycle, male U.S. Senate nominees have defeated major party female nominees 62 percent of the time – winning 98 contests and losing 60. (Female nominees did not face a male major party nominee in 14 other contests).
Follow Smart Politics on Twitter.