Rock Bottom: Democrats Hit Multiple Low Water Marks in US Senate Elections
Ten of the 34 states with U.S. Senate races in 2014 found the Democratic Party endure one of its three worst performances in the direct election era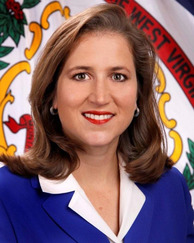 Losing at least seven U.S. Senate seats in 2014 – and probably nine after all of Alaska's votes are counted and Louisiana's runoff in December – this election cycle has been brutal for the Democratic Party.
But not only did Democrats lose control of the nation's upper legislative chamber – in a large number of races they lost badly.
Historically bad, in fact, in many states.
A Smart Politics analysis finds that the Democratic Party turned in one of its three worst ever performances in 10 of the 34 states with U.S. Senate elections on the ballot this cycle and set or tied election record lows in four of them.
A majority of these poor showings by Democratic candidates came in the South with a few in the West and one in the Midwest.
West Virginia
Perhaps the most disappointing of these nominees was West Virginia Democrat and Secretary of State Natalie Tennant.
Tennant won only 34.5 percent against Congresswoman Shelley Moore Capito in what was the first loss by the Democratic Party in a Mountain State U.S. Senate race since 1956 – the longest Republican drought in the nation heading into the 2014 election.
Tennant's percentage was the worst showing by a Democrat across the 38 U.S. Senate races in West Virginia history.
In fact, it was more than 10 points below the previous Democratic low water mark when nominee Matthew Neely claimed 44.6 percent of the vote in defeat to W. Revercomb Chapman in the Election of 1942.
The lone bright spot for West Virginia Democrats in 2014 was the GOP's failed attempt to get Senator Joe Manchin to switch parties as a result of the Republican wave.
Wyoming
Less surprising, but no less embarrassing, was the Democratic showing in Wyoming's U.S. Senate race where Republican Mike Enzi won reelection to a third term.
The Democratic nominee Charlie Hardy mustered only 17.6 percent of the vote against Enzi's 72.3 percent with independent Curt Gottshall winning nearly half the support of Hardy (8.0 percent).
Hardy is now in the record books owning the lowest percentage of the vote for any major party nominee in Wyoming U.S. Senate electoral history out of the 39 races conducted during the direct election era.
The previous low in the state was the 21.7 percent won by Democrat Tim Chestnut last cycle in his failed bid to oust John Barrasso as he won his second term.
Democrats have endured their second longest U.S. Senate drought in the Cowboy State – losing 16 contests in a row dating back to 1970, behind only Kansas.
Kansas and Alabama
Speaking of Kansas, the Sunflower State is one of two states in which the Democratic Party did not even field a nominee on the general election ballot this cycle, along with Alabama.
In Alabama, Republican Jeff Sessions won his fourth term to the chamber without any Democratic opposition.
That marked the first time in 39 races that the Democratic Party failed to recruit a candidate in a U.S. Senate race in the direct election era and thus set a party low for its worst showing in state history.
The previous low water mark for the party came in 2004 when nominee Wayne Sowell won 32.4 percent of the vote in an election that saw Richard Shelby win his fourth term.
In Kansas, Shawnee County District Attorney and Democratic primary winner Chad Taylor famously – and with some controversy – withdrew from the general election ballot shortly after winning a competitive primary against attorney Patrick Wiesner.
Taylor was underfunded and not seen as a viable candidate and was encouraged to get out of the race.
Instead, Democrats threw their lot in with wealthy independent candidate Greg Orman, who ultimately fell 10.8 points short against embattled GOP incumbent Pat Roberts.
That marked the second time in state history that Democrats did not have a nominee in a U.S. Senate election across 39 contests since 1912.
Pat Roberts also faced no Democrat en route to his victorious reelection bid for a second term in 2002.
Democrats have now lost 30 consecutive Kansas U.S. Senate elections since their last victory in 1932 – by far the longest such partisan losing streak in any state in the nation.
Almost Rock Bottom
Democratic nominees in two other states nearly set party records in futility as well.
In Montana, Amanda Curtis won 40.0 percent of the vote against Congressman Steve Daines.
Curtis replaced appointed Senator John Walsh at a party nominating convention in mid-August, two weeks after Walsh withdrew from the race after allegations surfaced he had plagiarized a paper while studying at Army War College.
Curtis owns the second worst mark in party history across 36 U.S. Senate races, besting only the 37.6 percent won by nominee Jack Mudd in the 1994 election that saw Conrad Burns win a second term.
Curtis' loss means Democrats will not hold the state's Class II seat for the first time since nominee Thomas Walsh won the Election of 1912.
In Oklahoma, Democratic nominee Matt Silverstein won just 28.5 percent against four-term incumbent Jim Inhofe.
That's just a few clicks above Jim Rogers' 26.1 percent performance against Tom Coburn in 2010 for the worst Democratic showing out of the 38 races in state history.
In the Sooner State's special election to replace Coburn, Democratic nominee Connie Johnson fared only slightly better than Silverstein.
Her 29.0 percent is the third lowest mark for Democratic U.S. Senate nominees.
In sum, the three poorest performances by Democrats in Oklahoma history have been turned in by the party's last three nominees.
Democratic U.S. Senate nominees also registered the third lowest voter support ever recorded for the party in four other southern states in 2014:
● Alison Lundergan Grimes in Kentucky (40.7 percent, third lowest of 41 races): besting only Lois Combs Weinberg in 2002 (35.3 percent) and John Brown in 1966 (35.5 percent)
● Senator Mark Pryor of Arkansas (38.9 percent, third lowest of 37 races): ahead of Senator Blanche Lincoln in 2010 (37.0 percent) and Carl Bailey in 1937's special election (39.3 percent)
● David Alameel in Texas (34.4 percent, third lowest of 38 races): besting only Gene Kelly in 2000 (32.4 percent) and incumbent Senator Robert Krueger in 1993's special election (32.7 percent)
● Gordon Ball in Tennessee (31.8 percent, third lowest of 39 races): ahead of Bob Clayton in 2012 (30.4 percent) and Bob Tuke in 2008 (31.6 percent)
Democratic nominees who were blown out last Tuesday but did not crack the Bottom 3 showings in state history include Rick Weiland in South Dakota at 29.5 percent, David Domina of Nebraska at 31.3 percent, Shenna Bellows of Maine at 31.6 percent, Nels Mitchell in Idaho at 34.7 percent, and Travis Childers of Mississippi at 37.4 percent.
Follow Smart Politics on Twitter.