Minnesotans Elect Oldest Governor, US House Delegation in State History
Plus, with his reelection, Al Franken is poised to become Minnesota's second oldest Senator since statehood in his second term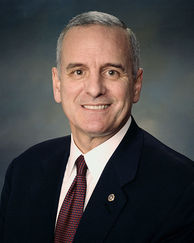 Minnesota raised a few eyebrows after the 2014 election for bucking the GOP wave that hit many purple and bluish states this cycle in prominent statewide and congressional elections.
As a result, with an incumbent governor, U.S. Senator, and seven out of seven U.S. Representatives winning reelection last week, Gopher State voters seem content with the status quo with their leaders in high profile offices.
And now, as Minnesota's officeholders are getting older, they are rewriting the history books along the way…
Governor
At the top of the ticket, Mark Dayton beat his old record by becoming once again the oldest candidate ever to win a Minnesota gubernatorial election at the age of 67.
Dayton set that record four years ago winning his first term at the age of 63.
About a half-year into his first term, on May 12, 2011, he became the state's oldest governor in history at 64 years, 3 months, 12 days – one day older than Republican Arne Carlson was when he left office in January 1999.
Carlson is the only other Gopher State gubernatorial candidate to be elected in his 60s (Carlson was 60 when he won his second term in 1994), although three other governors have reached that mark while in office:
● DFLer Rudy Perpich exited office during his second stint in 1991 at the age of 62 years, 6 months, 11 days
● Republican Samuel Van Sant left office in 1905 at 60 years, 7 months, 24 days
● Republican Harold LeVander completed his first and only term in 1971 at 60 years, 2 months, 25 days
Dayton is set to become the first Minnesotan to govern the state in his 70s and will be 71 years, 11 months, 12 days old at the end of his second term in January 2019.
U.S. House
In races for the nation's lower legislative chamber, all seven incumbents on the ballot were victorious, along with Republican Tom Emmer in the open 6th CD race to fill Michele Bachmann's seat.
As a result, Minnesota voters elected the oldest delegation to D.C. in the history of the Gopher State.
Smart Politics tallied the average age of the 80 U.S. House delegations from Minnesota since statehood and found that the eight men and women elected to the 114th Congress in 2014 is the oldest since statehood.
On Election Day, DFLers Rick Nolan (age 70), Collin Peterson (70), Betty McCollum (60), Keith Ellison (51), and Tim Walz (50), and Republicans John Kline (67), Tom Emmer (53), and Erik Paulsen (49) were an average 58.8 years of age.
That breaks the record for the oldest delegation ever elected to the chamber set a decade ago when Jim Oberstar (70), Martin Sabo (66), Peterson (60), Jim Ramstad (58), Kline (57), Gil Gutknecht (53), McCollum (50), and Mark Kennedy (47) were an average 57.6 years old on Election Day in 2004.
Since statehood, the average age of Minnesota's newly elected House delegation has been 48.0 years old. All eight of the state's recently elected members are older than that mark.
Longer life spans and low turnover in U.S. House seats in recent decades have contributed to an increase in the average delegation age in the state.
However, despite these older delegations, only one Minnesota U.S. Representative has died in office during the last 66 years – 16-term Republican August Andresen in 1958.
Prior to Andresen, the last Gopher State delegation members to die in office were one-term DFLer William Gallagher in 1946 and four-term Farmer-Laborite Ole Kvale in 1929.
The youngest delegation in Minnesota history was its first when at-large Democrats James Cavanaugh (34) and William Phelps (31) entered Congress in 1858, for an average of 32.5 years.
Nolan and Peterson are currently the seventh and ninth oldest U.S. Representatives in Minnesota history out of the 134 to serve in the chamber since statehood.
U.S. Senate
Finally, in the state's U.S. Senate race, DFLer Al Franken was reelected at the age of 63.
That puts Franken on track to become the second oldest Minnesotan to serve in the chamber a little over halfway into his second term, on February 9, 2018 when he will be 66 years, 8 months, 19 days.
That will make Franken older than each of the 39 men and women to serve in the U.S. Senate from the Gopher State except for Republican Knute Nelson (1895-1923).
The Norway-born Nelson died in office during his fifth term in 1923 – a few months after celebrating his 80th birthday.
Franken is currently the eighth oldest Minnesotan to serve in the U.S. Senate, but in his second term will pass the following six U.S. Senators to land him at #2 on the all-time list:
● Republican William Washburn (1889-1895): 64 years, 1 month, 17 days old upon leaving office
● Republican Moses Clapp (1901-1917): 65 years, 9 months, 10 days
● Farmer-Laborite / Republican Henrik Shipstead (1923-1947): 65 years, 11 months, 26 days
● Republican Frank Kellogg (1917-1923): 66 years, 2 months, 9 days
● DFLer Hubert Humphrey (1949-1964; 1971-1978): 66 years, 7 months, 17 days
● DFLer Muriel Humphrey (1978): 66 years, 8 months, 18 days
At a collective 117 years of age, the Franken/Klobuchar delegation is currently the seventh oldest of the 43 pairs of Minnesotans to serve the state in the upper legislative chamber.
At the end of Klobuchar's second term in January 2019, the DFL duo will be the third oldest in state history (at 125 years combined) trailing only Knute Nelson and Frank Kellogg (146 years) and Nelson and Moses Clapp (139 years).
Follow Smart Politics on Twitter.